Growing up, many of us form special bonds with our toys, creating entire worlds around them, building memories that will last us a lifetime.
But did you know that's how the story of famed teddy bear Winnie the Pooh came along?
Back in 1920's England, one little boy Christopher Robin Milne love of his stuffed toys inspired his father Author A.A. Milne, to create the series we all know and love, Winnie the Pooh.
Today, the now treasured stuffed animals which include a bear, tiger, donkey, kangaroo and small pig can be found on display in the New York Public Library. They've actually been there since about 1987, bringing in fans of the classic children's book from all around the world.
To Listen to the AA Milne Classic Winnie the Pooh, Click >>here<<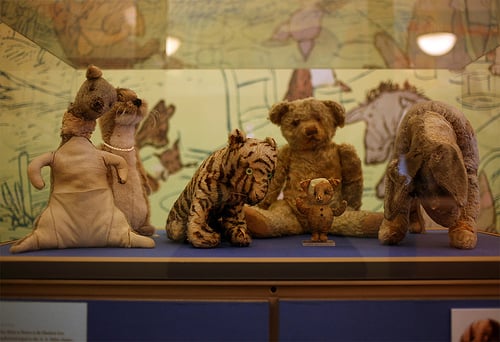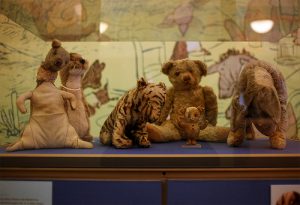 _______________________________________
"See What Our Friends Remember Most About The Winnie the Pooh and His Friends "
"Remember the Winnie the Pooh Song? Sing a long with Winnie the bear and friends!"
"Did You Know…"
Winnie-the-Pooh was actually inspired by a real bear! The real-life Winnie was a Canadian black bear that Christopher Robin Milne often saw at the London Zoo.
Milne's stories take place in the Hundred Acre Wood, which was based on the real-life Ashdown Forest, near where the Milne family lived.
The characters of Owl and Rabbit were created by Milne and not based on toys.

The original toys, were all given as gifts to Christopher Robin Milne between 1920, when he was born, and 1928. 

As new toys were added to Christopher Robin's collection, they were introduced as characters in the Pooh books. Tigger, for example, appears in the second book.

Winnie's got his own star in Hollywood!