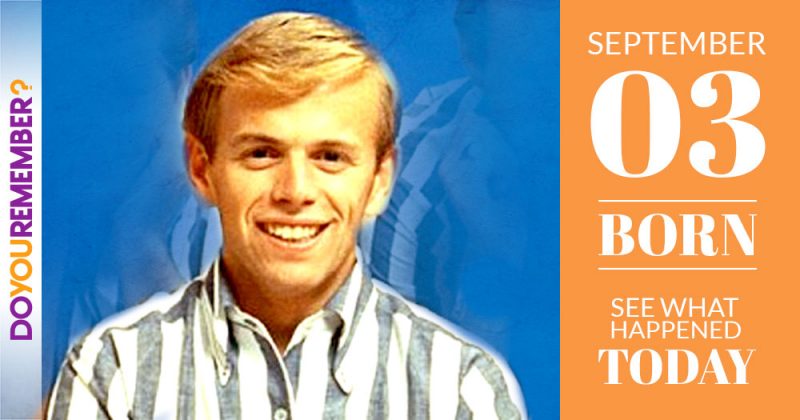 "Born Today"
OMI (29)

Shaun White (29)

Garrett Hedlund (31)

Paz de la Huerta (31)

Fearne Cotton (34)

Nick Wechsler (37)

Redfoo (40)

Jennifer Paige (43)

Costas Mandylor (50)

Charlie Sheen (50)

Adam Curry (51)

Amber Lynn (51)

Steve Jones (60)

Valerie Perrine (72)

Al Jardine (73) Featured Above
"Died Today"
E.E Cummings (Born: December 10, 1894 / Died: September 3, 1962)

Michael Clark Duncan (Born: May 24, 1957 / Died: September 3, 2012)

Frank Capra (Born: May 18, 1897 / September 3, 1991)
"Movies"
"Music"
1955 – Bill Haley & the Comets refused an offer to tour Australia because of a fear of flying.

1955 – Chuck Berry logged a third week at #1 on the R& B chart with "Maybellene"

1962 – The Beatles, Billy J. Kramer, the Coasters, and Rory Storm and the Hurricanes played the first of three Monday night gigs at the Queen's Hall in Widnes, Cheshire, England.

1963 – Frank Sinatra's Reprise Records was absorbed by Warner Brothers Records.

1966 – The Supremes stood on top of the R&B chart with "You Can't Hurry Love"

1966 –

What Now My Love

gave Herb Alpert & the Tijuana Brass their third #1 album out of six released.  

1966 – The great song "Born Free" was #1 on the Easy Listening chart for Roger Williams.

1966 – The Association were making their move as "Cherish" jumped from #66 to #27.
1966 – Donovan's "Sunshine Superman" took over #1 from the Lovin' Spoonful, which dropped to 2 with "Summer In The City"
1970 – Alan Wilson, guitarist, harmonica player, singer and main songwriter of Canned Heat, died in Topanga Canyon, California from barbiturates.

1977 – The Grateful Dead, the Marshall Tucker Band and the New Riders of the Purple Sage performed at Old Bridge Raceway Park in Englishtown, New Jersey.

1977 – "Handy Man" by James Taylor ruled the Adult chart.
1979 – Monday, the date for new releases, fell on this date and Foreigner provided "Dirty White Boy"

1979 – Kenny Rogers released the single "You Decorated My Life"
1982 – The Police, the Talking Heads, the B-52's, Oingo Boingo, the English Beat and the Ramones performed on the opening day of the three-day US Festival in San Bernadino, California. The Festival attracted 400,000 people.

1983 – Metallica wrapped up their first tour at The Stone in San Francisco, California.

1983 – Laura Branigan reached #1 on the Adult Contemporary chart with "How Am I Supposed To Live Without You"
1983 – The Eurythmics scored #1 with "Sweet Dreams (Are Made Of This)."  Michael Sembello's "Maniac" from the movie

Flashdance

edged up and the Police finally fishtailed from #1 with "Every Breath You Take"
1984 – "All Through The Night" from Cyndi Lauper was released

.
https://youtu.be/fqDSNZTo8js
1988 – Peter Cetera of Sun Valley, Idaho enjoyed a huge Adult Contemporary hit as "One Good Woman" reached #1.
1990 – INXS released the single "Suicide Blonde"
https://youtu.be/psDTiUV0PNI
1992 – David Bowie appeared on the cover of

Architectural Digest

.

1993 – Kenny G & Peabo Bryson combined for the #1 Adult Contemporary hit on this date "By The Time This Night Is Over"
1994 – Brian Setzer (Stray Cats and solo performer) married Christine Schmidt.

1994 – Boyz II Men could not be stopped as "I'll Make Love To You" remained #1 on the R&B chart for the third week.
1999 – Scott Weiland of the Stone Temple Pilots was sentenced to one year in jail for violating parole.
"TV/Radio"
1951 – "Search for Tomorrow" debuted on CBS-TV.

1954 – "The Lone Ranger" was heard on radio for the final time after 2,956 episodes over a period of 21 years.

1967 – The TV game show "What's My Line?" broadcast its final episode. The show aired over 17 years on CBS.

1966 – The television series "The Adventures of Ozzie and Harriet" ended after 14 years.

1981 – David Brinkley left NBC News after 38 years to join with ABC
"Other Important Events…"
1974

– NBA guard Oscar Robertson retires

1967 – Sweden begins driving on right-hand side of road