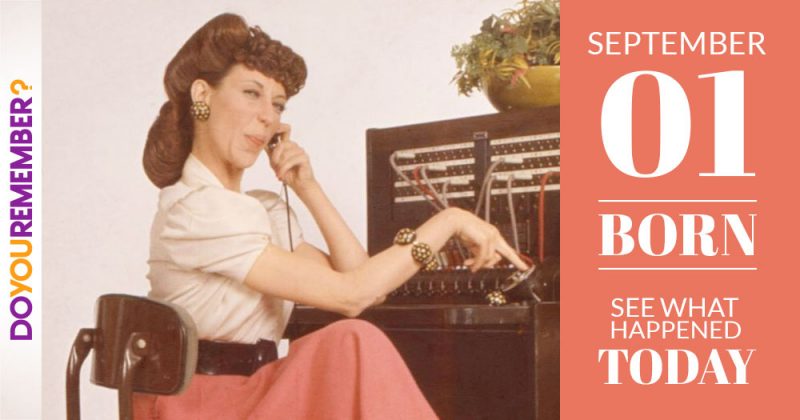 "Born Today"
Zendaya Coleman (19)

Bill Kaulitz (26)

Tom Kaulitz (26)

Chanel West Coast (27)

Babydaddy of the Scissor Sisters (39)

Scott Speedman (40)

J.D. Fortune (42)

Ricardo Chavira (44)

Rachel Zoe (44)

Padma Lakshmi (45)

Gloria Estefan (58)

Dr. Phil (65)

Barry Gibb (69)

Lily Tomlin (76) Featured Above
"Died Today"
Ethel Waters (Born: October 31, 1896 / Died: September 1, 1977)

Tommy Morrison (Born: January 2, 1969 / Died: September 1, 2013)

Murray Hamilton (Born: March 24, 1923 / September 1, 1986)
"Movies"
"Music"
1958 – "Little Star" from the Elegants was #1 on the R&B chart.

1965 – Glen Campbell, the Kinks, James Brown and Booker T. & the M.G.'s appeared on

Shindig!

1966 – The Byrds began an 11-day run at the famous Whisky a Go Go in Los Angeles.

1967 – Boz Scaggs joined the Steve Miller Band.

1967 – The Beatles met to decide strategy following the death of manager, Brian Epstein. The group decided to postpone their trip to India and begin the already-delayed production of the

Magical Mystery Tour

.

1967 – Roy Orbison and Sheb Wooley starred in the movie

The Fastest Guitar Alive

, which opened on this date.

1973 – Elton John and Steely Dan shared a bill at Balboa Stadium in San Diego, California.

1973 – Rod Stewart rose to the top of the U.K. Album chart with

Sing It Again

.

1973 – "Let's Get It On" from Marvin Gaye remained #1 for a fourth week on the R&B chart.

Chicago VI

remained at #1, Pink Floyd moved back up to #2 with

The Dark Side of the Moon

,

Foreigner

from Cat Stevens was third.

1974 – The Osmonds were on top in the U.K. with "Love Me for a Reason"

1977 – Blondie signed a recording contract with Chrysalis Records.

1977 – The Eagles played at the Alpine Music Theater in East Troy, Michigan.

1978 –  Styx released the album

Pieces of Eight

on A&M Records.

1979 – Chic registered week #6 at #1 on the R&B chart with "Good Times"
1979 – On this date, "I'll Never Love This Way Again" by Dionne Warwick moved from 14 to 10.
1980 – Stevie Wonder opened a six-night sold-out series of shows at Wembley Arena in London.  Paul McCartney was one of the many fans in the audience.

1980 – Fleetwood Mac finished a nine-month tour at the Hollywood Bowl in California.

1983 – Lead guitarist Mick Jones was fired from the Clash.

1984 – Lionel Richie's third #1 Adult Contemporary song from his album

Can't Slow Down

, "Stuck On You" landed its fifth week at the top.
1984 – Tina Turner scored one of the biggest comebacks of the Rock Era, hitting #1 on this date with "What's Love Got To Do With It"
1990 – Fleetwood Mac performed at Wembley Stadium in London.

1990 – Prince topped the U.K. Album chart with

Graffiti Bridge

.

1990 – "Unchained Melody" by the Righteous Brothers hit #1. The song had reached #4 25 years previously, but had gained newfound popularity after being featured in the movie

Ghost

.
1991 – Boyz II Men released the single "It's So Hard To Say Goodbye To Yesterday"
1992 –

MCA released

Hearts in Armor,

the second studio album by Trisha Yearwood. Four of its tracks became hits in the

Billboard

Hot Country Singles chart in 1992 and

1993 – "Wrong Side of Memphis," "Walkaway Joe," "You Say You Will" and "Down on My Knees"
1992 – Gloria Estefan and husband Emilio organized a relief organization for victims of Hurricane Andrew in Miami, Florida.

1995 – The United States Postal Service honored Louis Armstrong with his own postage stamp.

1998 – David Bowie opened Bowienet, which offers basic Internet services and keeps fans informed with Bowie news and releases.

1999 – Van Morrison was the first inductee into the Irish Music Hall of Fame in Dublin.

2000 – A judge awarded Herb Reed of the Platters an injunction against another group posing as the Platters.
"TV/Radio"
1949 – "Martin Kane, Private Eye" debuted on NBC-TV.

1953 – Buddy Holly and Bob Montgomery auditioned for KDAV's Sunday Party in Lubbock, Texas. The duo began a Sunday afternoon slot that became

The Bob and Buddy Show

.

1970 – The last episode of "I Dream of Jeannie" aired on NBC-TV. The show premiered was on September 18, 1965.

1995

– Cable News Network joins internet
"Other Important Events…"
1985 – The

Titanic

was found by Dr. Robert Ballard and Jean Louis Michel in a joint U.S. and French expedition. The wreck site is located 963 miles northeast of New York and 453 miles southeast of the Newfoundland coast.

1995 – The Rock and Roll Hall of Fame and Museum opened in Cleveland, Ohio with a seven-hour concert featuring dozens of artists.