It was on this day in 1978 that the iconic musical Grease made its debut on the big screen. In honor of its 35 years of making us all sing along, DYR dug up seven little-known facts about the movie to share with our readers.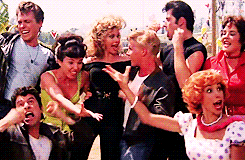 Lucie Arnaz was originally courted by producers for the role of Betty Rizzo, but when they requested a screen test, Lucie's mom, Lucille Ball, reportedly called Paramount informing the execs, "I used to own that studio; my daughter's not doing a screen test!" Stockard Channing was eventually cast in the part.
Grease was released under the name Vaselina in several Spanish-speaking countries.
Before John Travolta hit the jackpot as Danny Zuko, Henry Winkler was being considered for the part but turned it down to avoid being typecast due to his success as Fonzie on Happy Days.
In the scene at Frenchy's house where Rizzo sings "Look at Me, I'm Sandra Dee," a line referencing Elvis Presley was reportedly shot on the day he died.  Ironically, that lyric was inserted in place of one from the stage version, which referenced actor Sal Mineo, who was murdered in 1976, one year before Grease was shot.
Adult film actor Harry Reems, who starred in the skin flick Deep Throat, was originally cast in the role of Coach Calhoun, but after angry protestors made their disapproval clear, producers gave the part to funnyman Sid Caesar.
The hickeys that are seen on Stockard Channing's neck during a scene at the diner were real, and according to Channing, planted on her off camera by her love interest in the film, Jeff Conaway, who played Kenickie.
Before she took the part of Sandy, Olivia Newton-John felt she didn't have much to offer as an actress. For this reason, she reportedly requested a screen test with John Travolta to be certain they had good onscreen chemistry.