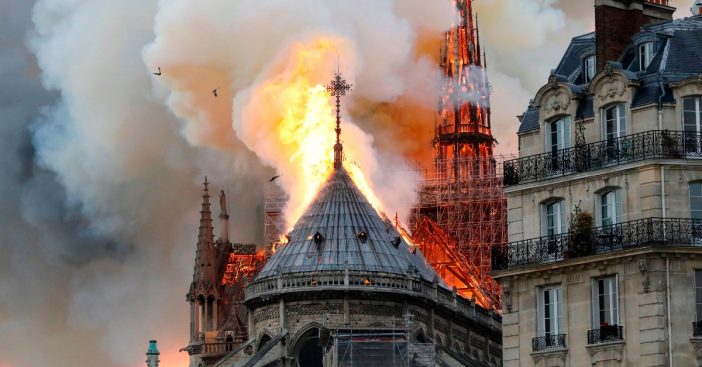 UPDATE April 15, 2019, 3:20 ET:
The fire taking place at the Notre Dame Cathedral continues to burn into the night in Paris. The spire has officially collapsed and the fire is now reportedly spreading to one of the towers. The fire is expected to continue to tear into the interior part of the Cathedral.
WATCH: Notre Dame's spire collapses into the flames, video from witness Nicolas Marang shows. https://t.co/MaEI5HttSM pic.twitter.com/gHhwMrRYmS

— NBC News (@NBCNews) April 15, 2019
It has been reported that the medieval Notre-Dame Cathedral in central Paris broke out in flames on Monday afternoon, April 15th, 2019. The area is one of the city's most-visited landmarks, which prompted firefighters to delegate visitors to safety. It is not clear what has caused the fire at this time, but police are treating the situation as an 'accident'.
The Cathedral was allegedly in the midst of renovations with some sections under scaffolding. Unconfirmed reports say that the fire could be related to the renovation efforts. Smoke and flames can be seen captivating the spire of the Cathedral in photos and videos taken by bystanders and visitors.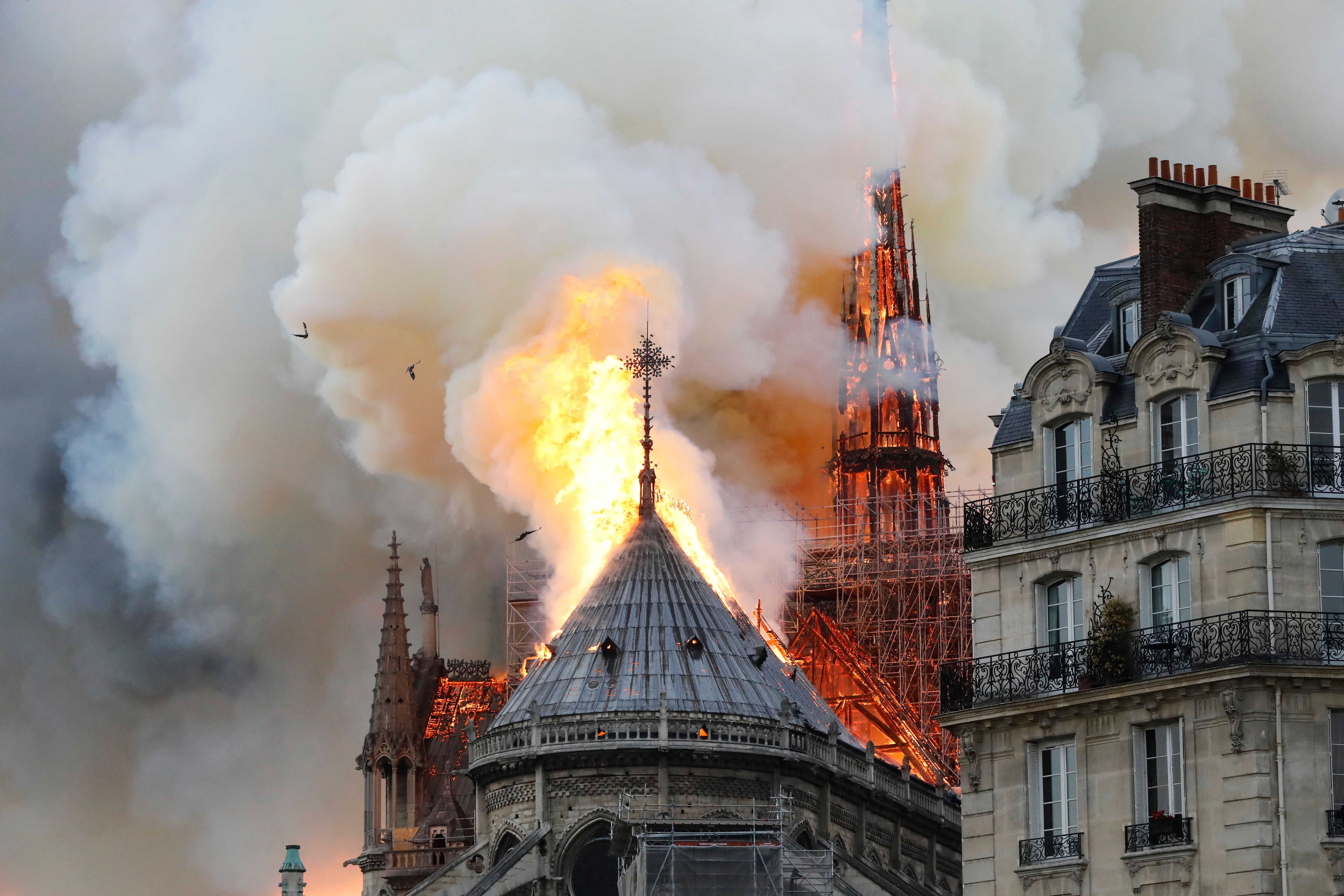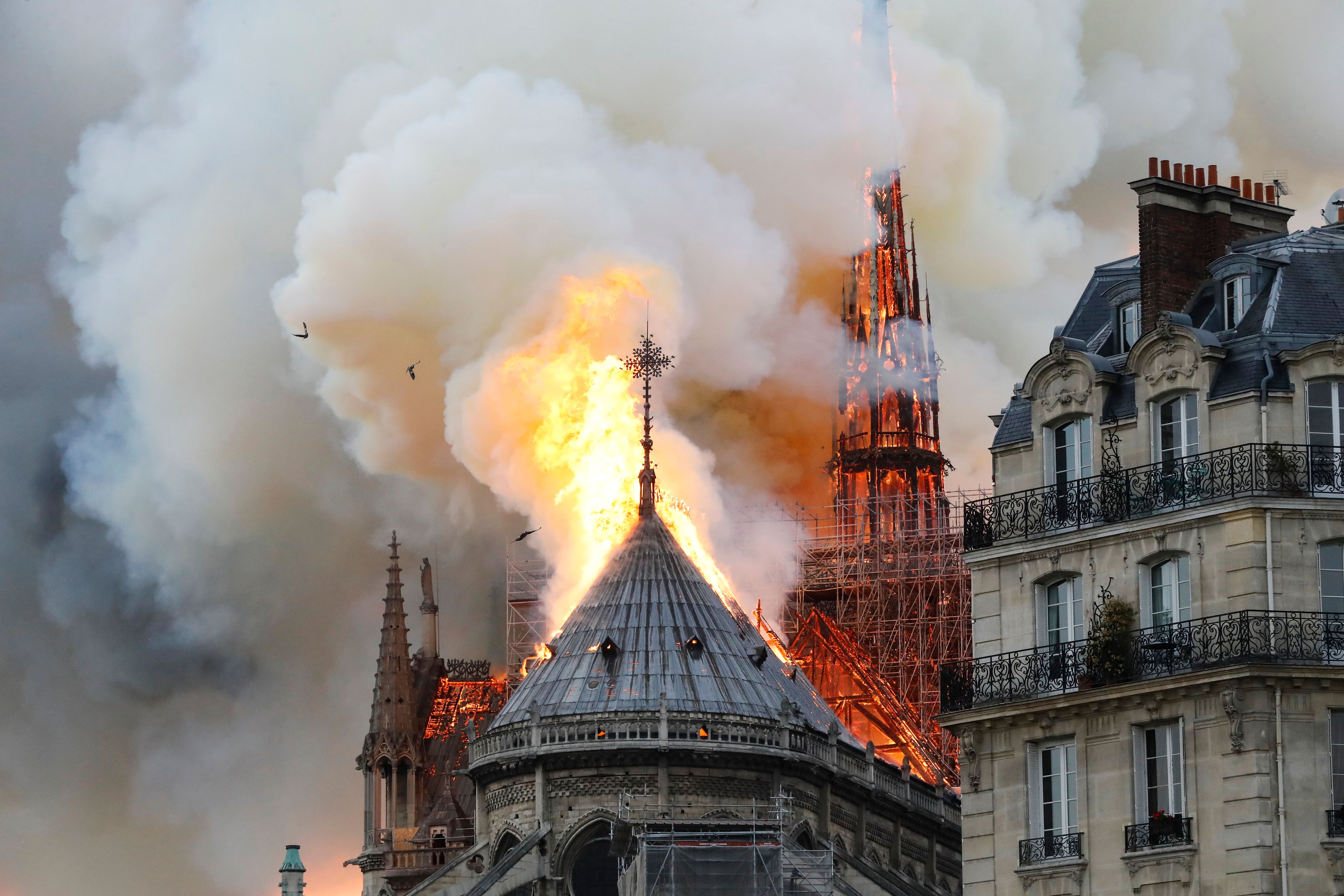 The cathedral dates all the way back to the 12th century and is famous for its connection to Victor Hugo's classic novel The Hunchback of Notre-Dame. Because of this reason alone, it attracts millions of visitors each year.
The mayor of Paris has been briefed on the situation and has released a statement, urging citizens to stay away from the area. President Donald Trump has also been briefed on the situation and has expressed his concern and urgency for the people of Paris and getting them to safety as quickly as possible.
Un terrible incendie est en cours à la cathédrale Notre-Dame de Paris. Les @PompiersParis sont en train de tenter de maîtriser les flammes. Nous sommes mobilisés sur place en lien étroit avec le @dioceseParis. J'invite chacune et chacun à respecter le périmètre de sécurité. pic.twitter.com/9X0tGtlgba

— Anne Hidalgo (@Anne_Hidalgo) April 15, 2019
At this time, there are currently no known injuries or casualties and it is unknown if there was a mass service going on at the time of the fire. Ambulances have been reported at the scene as parts of the tops of the Cathedral begin to crumble inside itself.
This is a developing story and we will update as more information becomes available. 
Stay up to date on this story by following along with the breaking news Livestream below: