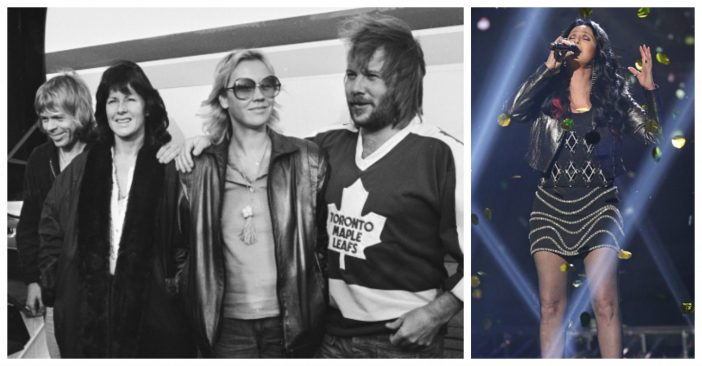 The 72-year-old singer has just released a full video on YouTube of her singing "Gimme! Gimme! Gimme! (A Man After Midnight)" by ABBA in light of the release of her tribute album. Cher announced last month that she would be covering a number of hits from the Swedish pop group and the tribute album will be called Dancing Queen.
"I was a huge fan. I saw the musical on Broadway three times and was dancing in the aisles with everybody. And Ron Meyer — who was my agent, who's the head of Universal — he called me up and said, 'You're doing Mamma Mia!' and hung up," Cher said, recalling her love for Mamma Mia! and what ultimately helped start the tribute album. It's no surprise that her being cast in Mamma Mia! 2 was a big influence. She is remembered fondly of singing hit songs "Fernando" and "Super Trooper" for the film.
https://www.instagram.com/p/BleIT-ulrho/?taken-by=cher
Cher has recently shared a track list on Twitter but is keeping hush-hush about the 10th track on the album. Replies in the same thread as this tweet have theorized that it simply must be Cher singing a solo "Fernando," since the star sang this song on the soundtrack for the second film.
SONGS
1.WATERLOO
2.GIMME,GIMME
3.DANCING👑
4.CHIQUITITTA
5. NAME OF THE GAME
6.MOMMA MIA
7. ONE OF US
8.WINNER TAKES IT ALL
9.SOS
10.⁉️

— Cher (@cher) July 25, 2018
The music icon has worked alongside stars such as Lily James, Amanda Seyfried, Christine Baranski, Pierce Brosnan, Colin Firth, Andy Garcia, and Meryl Streep for the filming of Mamma Mia! 2. She recalls it as one of the best experiences of her life. She says, "This was one of the most extraordinary adventures of my life. Everyone was so gracious and they just loved me. Meryl was hiding when I was doing 'Fernando'. I never thought I would do many movies. I believe what belongs to you comes to you and I would have never thought this belonged to me, but obviously, it did."
https://www.instagram.com/p/fbKbKTS77d/?taken-by=cher
Cher's ABBA-inspired album Dancing Queen is set for release on September 28th. The album is available for pre-order for just $9.49. Fans can pre-order the album here.
https://www.instagram.com/p/BlrxCRiF6Wz/?taken-by=cher
Be sure to SHARE this article if you're excited about Cher's new ABBA tribute album, and check out the full video of Cher's rendition of "Gimme! Gimme! Gimme! (A Man After Midnight)" below!