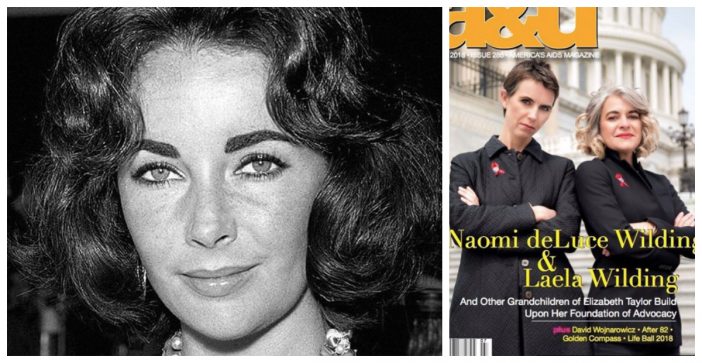 Elizabeth Taylor was a well-known name in the limelight of Hollywood. She was also known for her passion for activism, of which her grandchildren deem one of her best qualities. Shortly after her death, some of her grandchildren carried on with their grandmother's work in their own individual ways.
Her primary focus on activism was for the stigma surrounding HIV/AIDS. She was one of the very first celebrities to put philanthropic work towards this cause. Elizabeth helped raise more than $250 million.
https://www.instagram.com/p/BiSUXZ1nVMG/?taken-by=elizabethtaylor
Quinn Tivey is one of Elizabeth's grandchildren who is keeping the work alive by being one of the co-trustees of the Elizabeth Taylor Trust.
"Hearing from people personally about how the work that she had done touched so many people, my cousin and I were both so moved. I immediately thought, I need to get more involved. I want to dive into the deep end of this. Through that experience we had the opportunity to see how crucial it was for her family to be participating in her legacy," says Tivey.
https://www.instagram.com/p/BcOc6gPDIp5/?tagged=quinntivey
Laela Wilding, another grandchild, explains that they all saw Elizabeth as 'grandma' and not a movie star. "She became impassioned about activism, and I can't think of anything more inspiring than our grandmother's compassion and determination for other people," Wilding says.
https://www.instagram.com/p/BCZVVSCxF0R/?tagged=laelawilding
In 1985, Elizabeth started amfAR (The Foundation for AIDS Research) and testified before Congress, appearing on live television during the fact. In 1991, she used the $1 million she made from magazines requesting photos of her wedding to launch the Elizabeth Taylor AIDS Foundation. The foundation provided grants to organizations to provide direct care for those suffering from HIV and AIDS.
Today, Elizabeth's grandchildren, including Naomi deLuce Wilding and Laela Wilding, take part in helping the foundation prosper.
https://www.instagram.com/p/Bkvg03mlx6A/?taken-by=elizabethtayloraidsfoundation
Since the creation of the foundation, it has made grants to more than 675 groups in 44 countries. The foundation continues to prosper with funding for HIV education, advocacy programs, and support communities, all of which has been mandated by Elizabeth's grandchildren.
Grandchild Rhys Tivey says, "My grandmother wanted to go right for the jugular of the problem," he says. "She always wanted to do the hardest and most unlikely thing first."
https://www.instagram.com/p/BdwLpCJgOFF/?taken-by=rhystivey
Naomi Wilding concluded by saying, "I think I can speak for the family in saying that it's an opportunity we were always hoping would come to us."
Granddaughter Elizabeth Carson also states that being a part of the foundation is the most meaningful part of their lives. Grandson Tarquin Wilding and great-grandson Finn McMurray also feel a great sense of pride in being part of the foundation and being able to change people's lives for the better.
https://www.instagram.com/p/Bih5Vl8FTuU/?taken-by=elizabethtayloraidsfoundation
Be sure to SHARE this article to honor Elizabeth Taylor and her legacy for activism!