UPDATE 07/10/18: We are happy to report that all 12 boys and their coach have been rescued! The Thai Navy SEALs and other foreign rescue divers got out the final four boys and their coach out this morning, July 10, 2018.
The Thai Navy SEALs updated their Facebook page to let the world know that all 13 Wild Boars (their soccer team is called The Wild Boars) have been rescued. They also noted that they weren't sure if it was a miracle or science that saved the boys. They spent two weeks in the tight cave trapped in darkness after heavy rains quickly flooded their passage ways.
All of the boys and their coach are now in the hospital receiving treatment and it looks like they will all be okay. The world can now sigh in relief. We are so glad this story has a happy ending!
https://www.instagram.com/p/BlDRNd8jBlI/?tagged=thaicaverescue
UPDATE 07/09/18: Eight members of the youth soccer team have now been rescued. Thailand Cave Rescue is now called off for the day. Four boys were rescued on Sunday, July 8, 2018, and four more were rescued on Monday, July 9, 2018. The boys who were rescued on Sunday are currently seeking medical treatment.
Former Thai Navy SEAL Saman Gunan died on Friday, July 6, 2018, after delivering oxygen tanks to the boys and their coach in the cave. They had an honor ceremony for him on Friday.
https://www.instagram.com/p/Bk5yes9nlrJ/?tagged=caverescue
We will keep updating you as we know more.
https://www.facebook.com/ThaiSEAL/posts/1641670585956334
After finishing soccer practice last Saturday, June 23, 2018, twelve boys and their assistant coach went missing. 10 days later, two British divers found the boys and their coach in a cave. In a perfect world, the story would end here with the boys being reunited with their families and the British Divers being celebrated for their heroic discovery. Tragically, this is not the case. At this very moment, the boys are still trapped in the 'Tham Luang Nang Non' cave system located in Northern Thailand. The trapped boys are in serious need of rescue.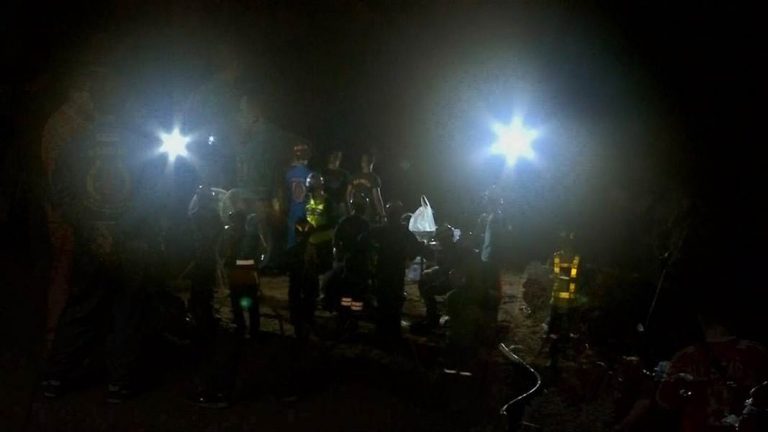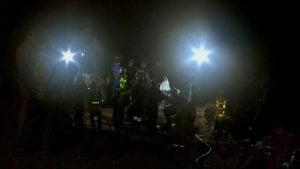 Currently, there are several rescue options on the table. Fortunately, the world has taken notice of this tragedy and many countries including the USA have sent help. Just recently, Tesla founder Elon Musk offered his support looping in his top engineers to work on rescue options. One idea coming from Musk that made a few headlines is to build a tiny submarine for the rescue.
Got more great feedback from Thailand. Primary path is basically a tiny, kid-size submarine using the liquid oxygen transfer tube of Falcon rocket as hull. Light enough to be carried by 2 divers, small enough to get through narrow gaps. Extremely robust.

— Elon Musk (@elonmusk) July 7, 2018
This footage comes from the Thai Navy SEALs' Facebook page
https://www.facebook.com/ThaiSEAL/videos/1631228493667210/
Currently, the boys are still trapped and the situation is becoming more complex. Oxygen is now becoming a big concern. According to Vox, "The oxygen in the cave is depleted because the area where the kids are trapped does not seem to be receiving much ventilation from the surface. Which means every breath they breathe in, and every breath their rescuers breathe in, strips a tiny about of oxygen from their environment. And every exhalation also increases the amount of carbon dioxide in the environment, which too, over some time, can make it harder to breathe."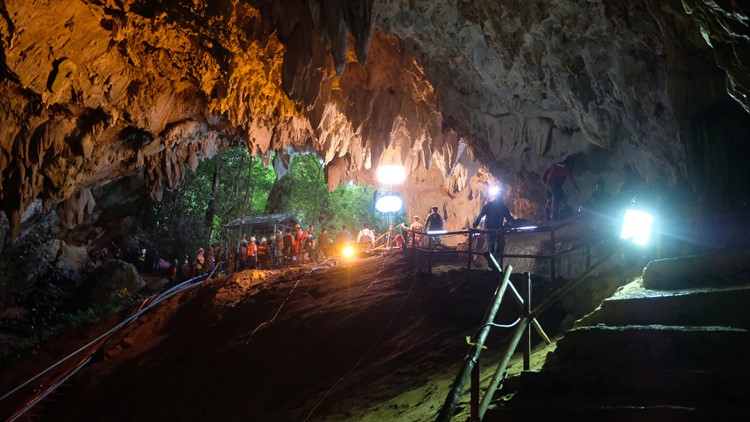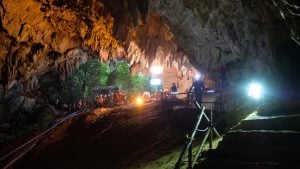 For now, all we can do is send our prayers to the trapped boys and their families. As we receive more information about this tragic story we promise to keep you updated. It is our hope that the next update we share is a positive one.
Please SHARE this article to spread positive thoughts for the boys and their coach!