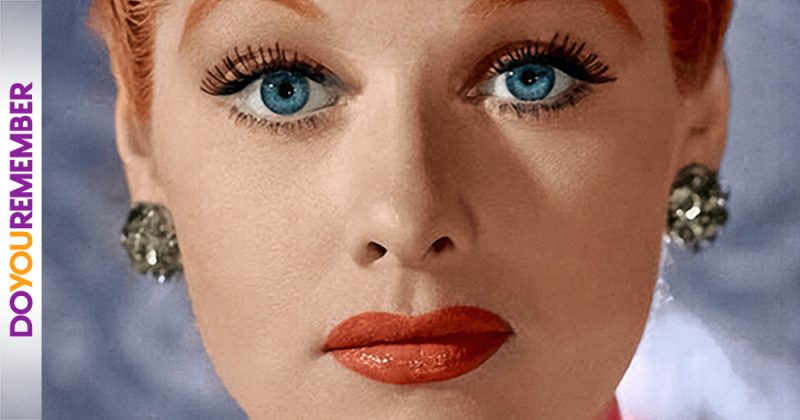 Lucille Ball, one of TV's earliest and zaniest madwomen, appeared on the highly rated I Love Lucy show from 1951 to 1957. Cast as the wife of the sophisticated Tropicana Club bandleader Ricky Ricardo, Lucy was the madcap redhead whose aspirations to be a star in her own right inevitably landed her in hot water. Her hysterical co-conspirator was the brilliant Vivian Vance.
The Ricardos lived in swanky Manhattan, and the most famous celebrities passed through their lives, either as fellow performers or as a result of Lucy's relentless star stalking. Despite the affluent glamour of her life, Lucy aspired for more, much like Ralph Kramden's (The Honeymooners) burning desire to transcend his minimum-wage life.
While her delivery and timing were impeccable and she could hysterically goose her husband's unctuous Latin speech and mannerisms, Lucy's comedic genius resided in her physicality. Her face was a brilliant canvas, expressing hundreds of wordless emotions. One of TV's greatest moments occurred when she and her partner-in-crime, Ethel Mertz, got a job on a candy-assembly line. They had to pack an assortment of sweets quickly, as the product passed by at an ever-faster speed. Wonderful stuff. Life imitated art, as well, when Lucy's real-life pregnancy transfixed America, crescendoing with the birth of Little Ricky/Desi, Jr.
Lucy continued on TV and in movies after I Love Lucy left the airwaves. She grew into a formidable (and very rich) entertainment executive at Desilu Productions, where she was the first woman to head a studio. She appeared on more TV Guide covers than anyone; the magazine named I Love Lucy the second-best TV show ever, after Seinfeld. And Google bestowed upon her a very modern accolade: On August 6th, 2011, when Lucy would have been 100 years old, the famous search engine displayed an interactive doodle featuring six of her best TV moments.
Check Out Little Collection of Wonderful "Lucy" Moments Below