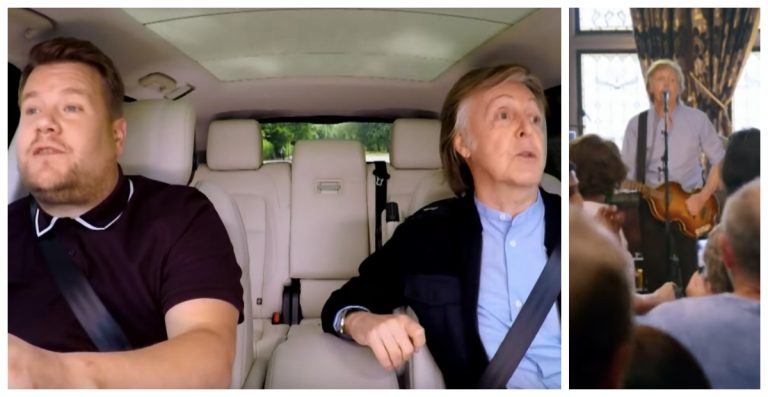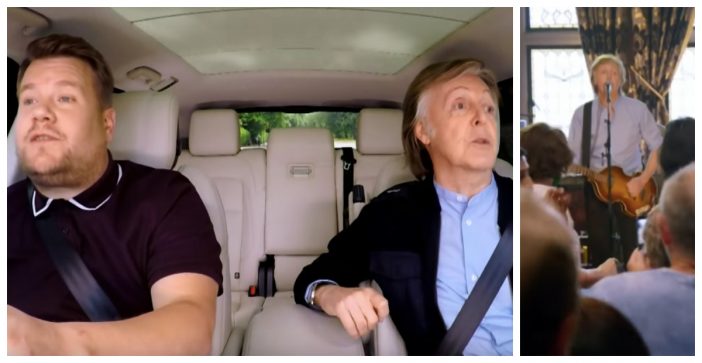 James Corden has taken many celebrities out for a drive for his Carpool Karaoke segment on "The Late, Late Show." But he hasn't taken anyone for a ride in his car quite like Sir Paul McCartney.
McCartney, 76, joined Corden in singing some classic Beatles tunes like "Penny Lane" and "Blackbird." Additionally, he promoted his own songs from his upcoming album Egypt Station, one of them being an already released single called "Come On to Me."
The reason why this particular Carpool Karaoke segment was so inspiring and emotional is because the two got deep into McCartney and Beatles history. They even stopped by the real Penny Lane! McCartney added his autograph to one of the signs and they even took selfies with it. They even took a detour to McCartney's childhood home.
https://t.co/7iwvw6Iyia pic.twitter.com/A8YX2U1Xza

— James Corden (@JKCorden) June 22, 2018
McCartney was more than happy to explain all the details of his own home to Corden. He even played a couple tunes on the piano! Afterwards, the two went out on the town for a bit to meet some local fans before getting back in the car and resuming the actual karaoke.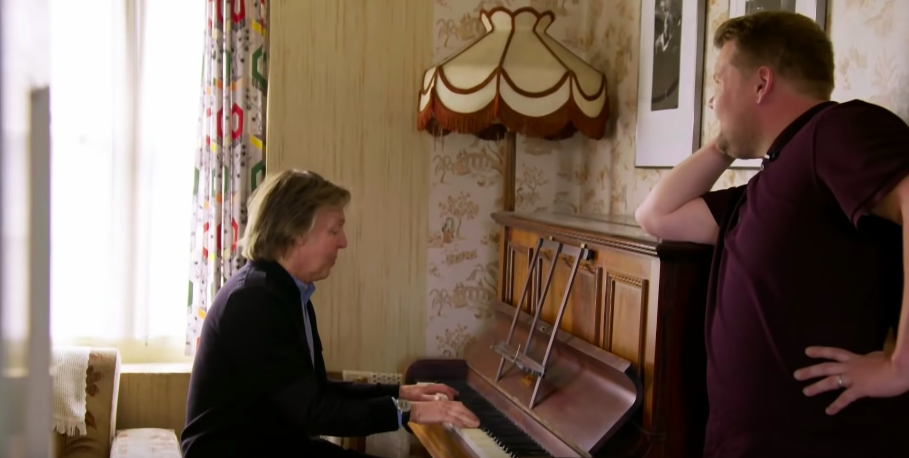 Corden wasn't afraid to poke a little fun at the Beatles history by dressing up in some of the most notable Beatles costumes. He sported the mop-top hairstyle and "Sgt. Pepper's Lonely Hearts Club Band" colorful military garb. They both definitely got a kick out of that one!
The mood turned a bit somber when McCartney began to reflect on the meaning of one very popular Beatles tune. He had a dream where his late mother visited him and told him everything would be alright. Additionally, she said to just 'let it be.' And that's when the classic Beatles song "Let It Be" was born. The pair sang that tune together and it left Corden in tears. "That's the power of music," McCartney said. "It's weird, isn't it, how it can do that to you."
Ultimately, they ended up at a pub for a surprise Paul McCartney concert. Every single person in the pub, young and old, knew exactly who he was. He sang a ton of familiar Beatles tunes and everyone was stunned.
We have to agree this was a pretty stellar Carpool Karaoke! Be sure to share this article with your friends if you loved it, too!