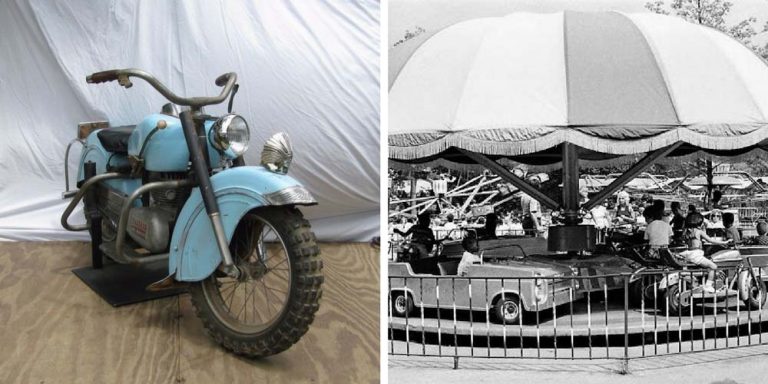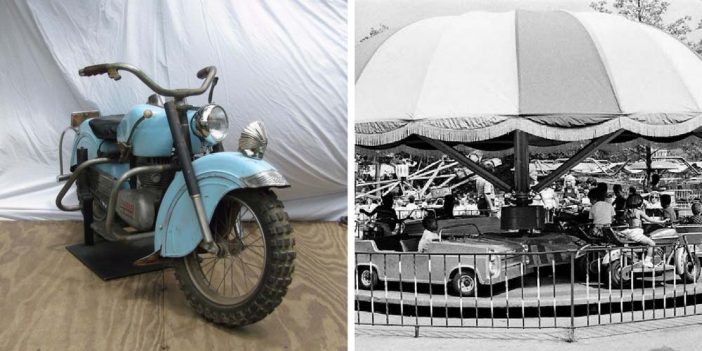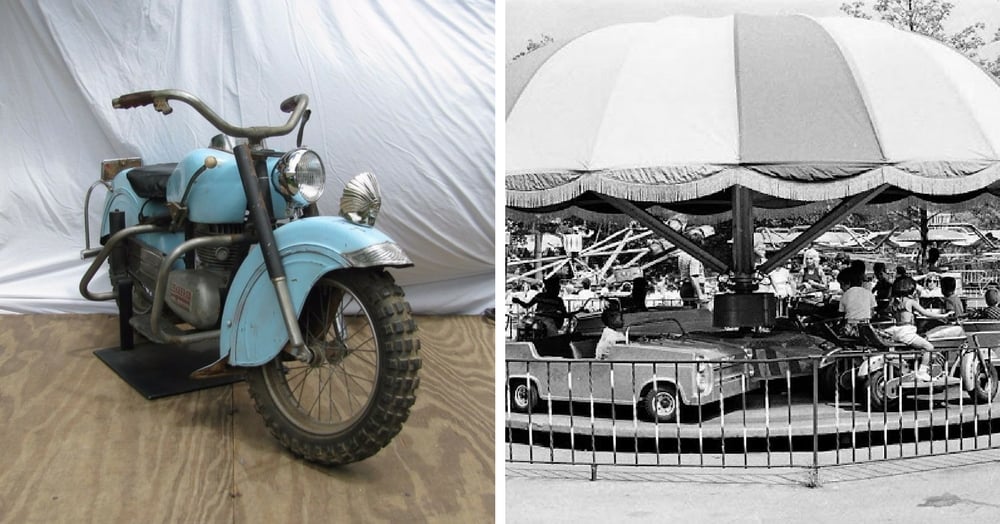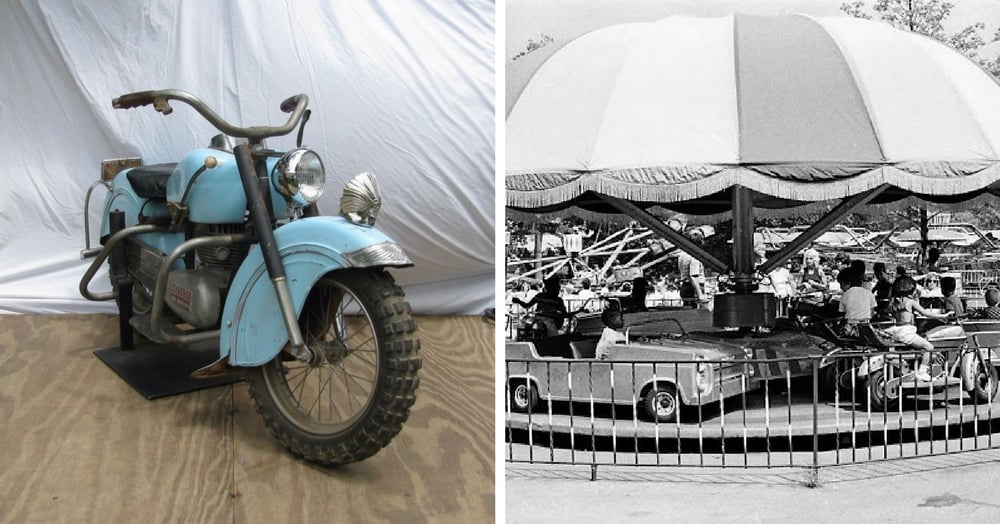 I'm betting that  Mike and Frank from the American Pickers-when they were youngins, waiting in line just to be the first one to ride on this '50s-1937 Indian Motorcycle kiddie ride! Today, they can rekindle amusement park thrills by purchasing it online for only $4,650! "Wow, what a deal!"
Since the 19th century, just about every person in America has been on an amusement park or carnival ride at least once in their life. Whether it be via a local carnival festival celebration or the nearest- and grander- amusement park venues.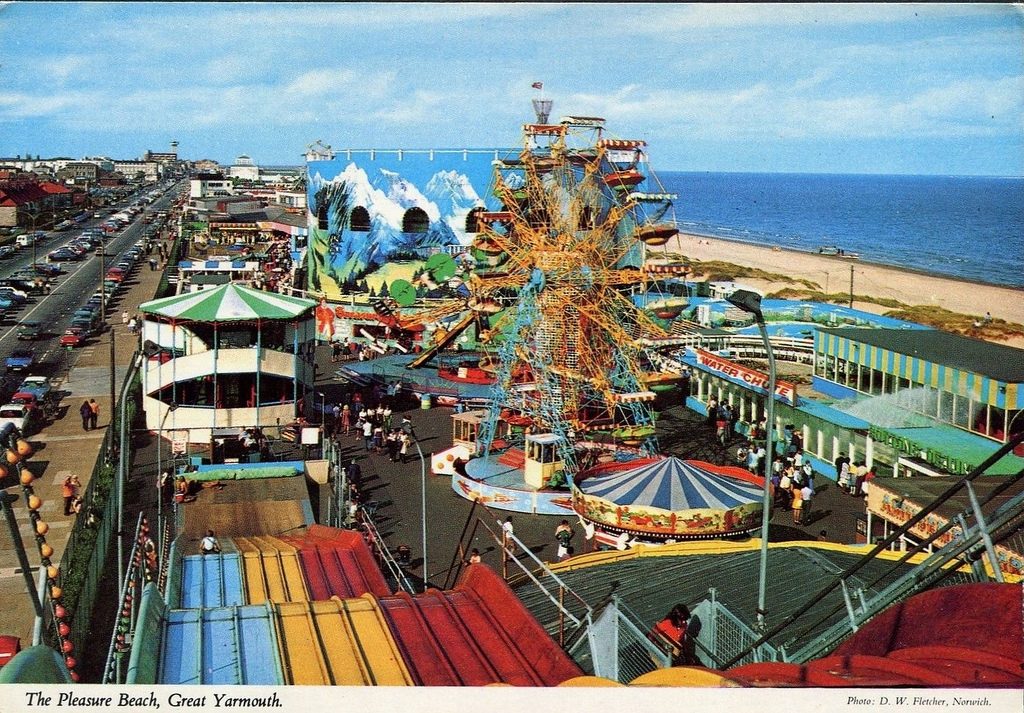 During the mid-century, going to an amusement park not only meant going on thrilling rides, it also meant participating in enjoyable activities, such as dancing and enjoying music at a concert hall; indoor roller skating, playing midway and arcade games; swimming; picnics with friends and family, and last but not least-eating yummy junk food from concession stands! (Give me a Coney Island hot dog with an Orangeade please!)
All these entertainment avenues were meant to provide pleasure to the masses, and of course, it created huge profits for their owners.
If you lived in New York during the last century, Coney Island's aspiring Dreamland Park was the place to go. Since I was born in Massachusetts, Canobie Lake and Whalom Park were considered prime amusement venues. Where ever their was a big city; you could find a crowd-pleasing amusement park.
Unfortunately, most pre-1980's amusement parks, no longer exist anymore except in our memories.
Here in the states and all over the world, once famous amusement parks have been abandoned and left to decay and rot. .As the decades went by, the interests of visiting an amusement park were outweighed by the need for urban development in most areas of the states. Sadly, because once those fantastic parts of yesterday's amusement park rides and pieces of nostalgia are bulldozed down and sent to the landfills; they're gone forever.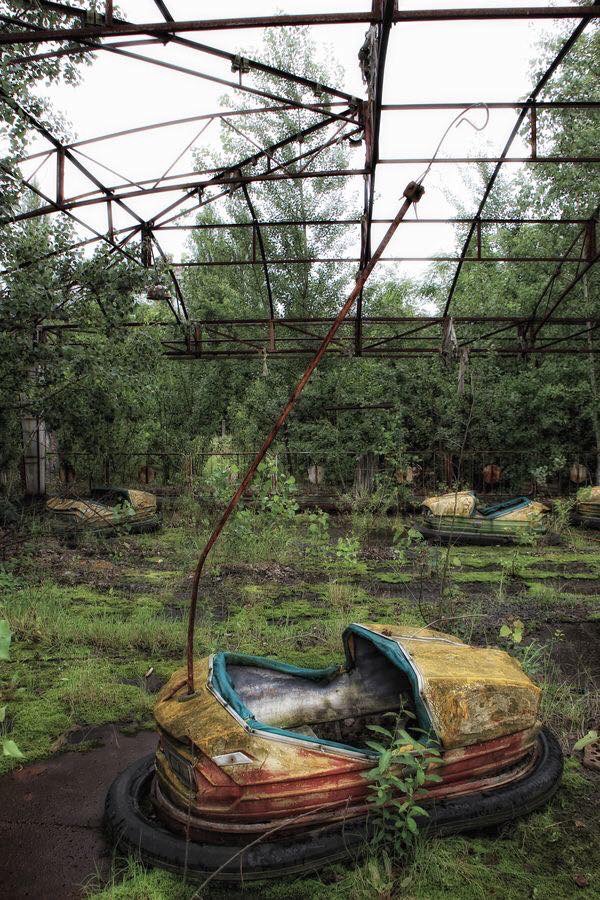 Today, only a  scant amount of those early amusement parks still exist, but if you are lucky enough, you can find, and purchase your very own fragment of a nostalgic amusement park through the internet.
Why not own a piece of those most cherished days of laughter and fun and place them in your yard or home? (Of course, you need to have a considerable piece of land to place actual working amusement park rides on.)
Whether it just be for nostalgic yard art, or family fun; people want to own these historical amusement pieces for themselves. If you can't build your own, why not buy one?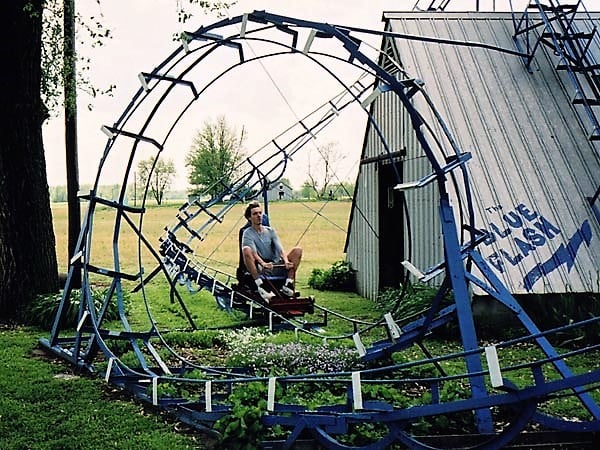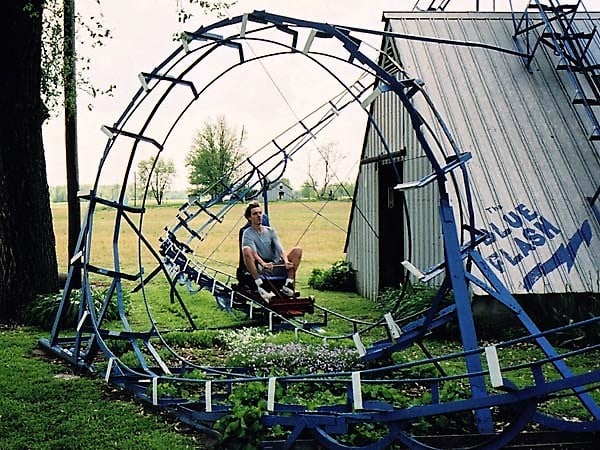 Wow, backyard roller coaster thrill-ride rush! John calls the coaster the "Blue Flash" because of its color, and in a flash, you're upside down!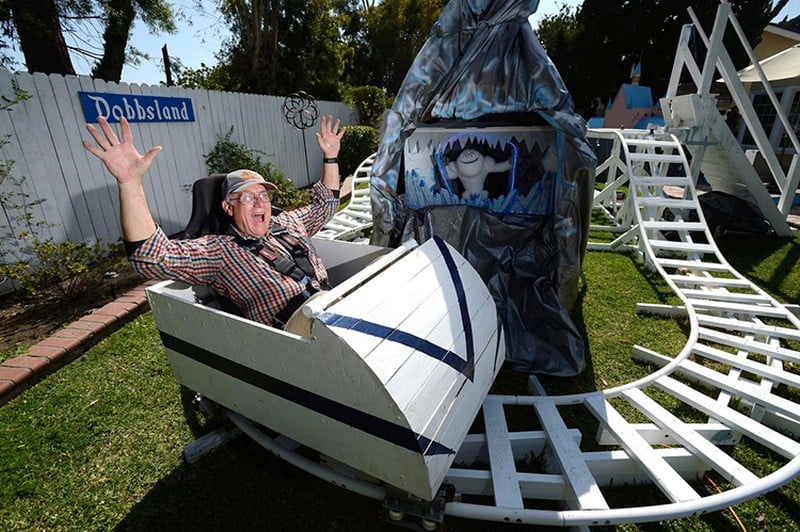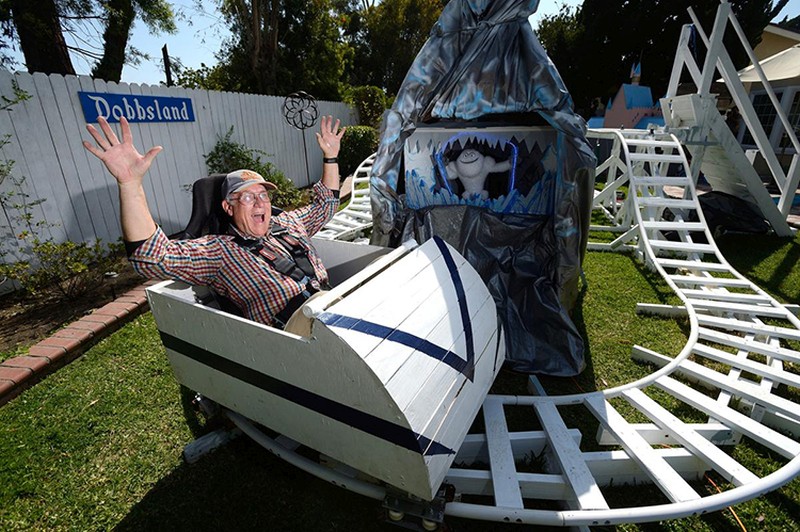 Mr. Steven Dobbs (pictured above), is a former Boeing aerospace engineer who built some Disneyland type rides in his own backyard including an adult-sized roller coaster. He named his mini-amusement park "Dobbsland."
(Personally, I was a roller coaster-riding freak myself, but after going on Busch Gardens roller coaster "Montu" three times in a row at the age of 55, I decided it was time to retire from thrill-seeking rides.)
Any bumper car, kiddie car ride, Ferris wheel chair, or carousel animal- can be a piece of joyous architectural yard art, or to provide some fun backyard parties for family and friends. People pay big bucks for anything related to nostalgic childhood amusements.
Here are some memorable amusement park-type rides I recently found for sale on eBay, and how much they are asking for them.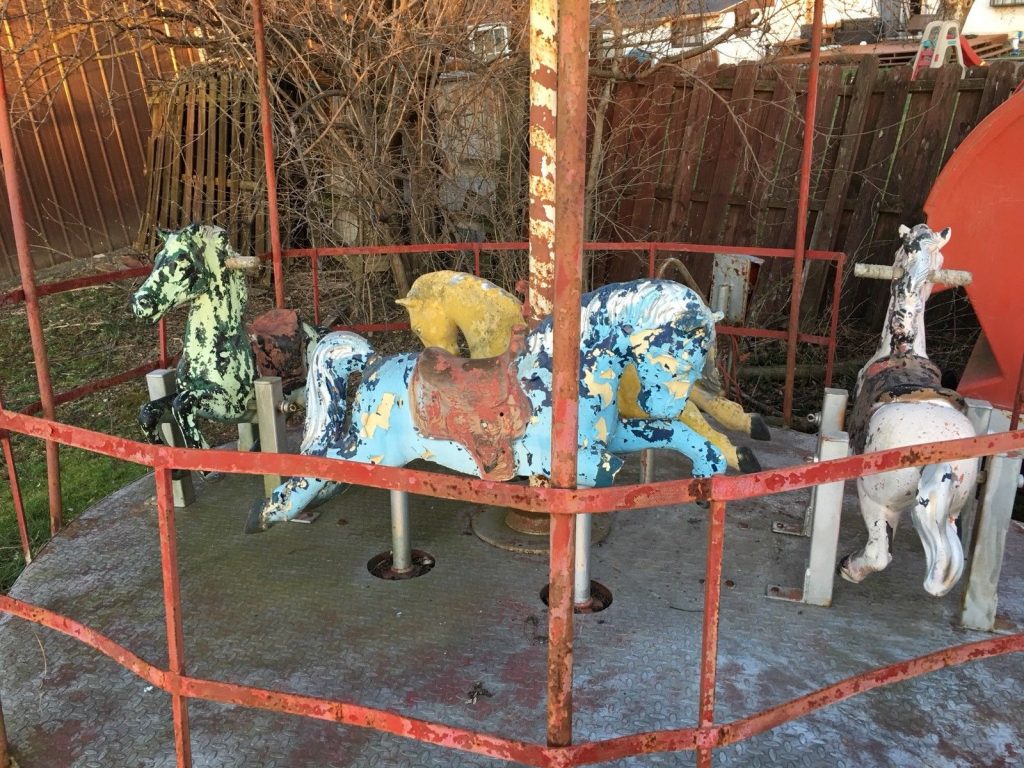 How about having your very own vintage "Tunnel of Love" chair? This amusement park "Tunnel of Love" chair is for sale on eBay for $1,999! (Everyone needs some good old romantic memories from our youthful years!)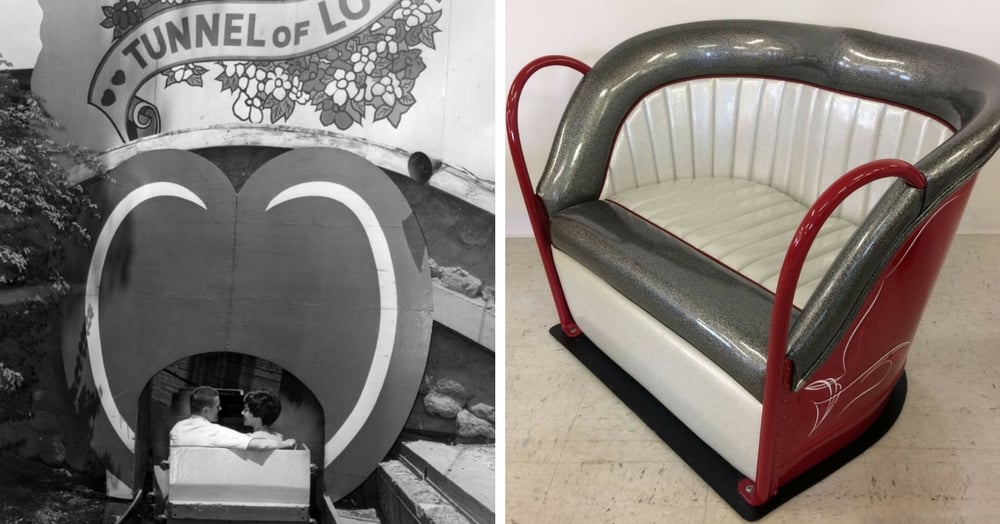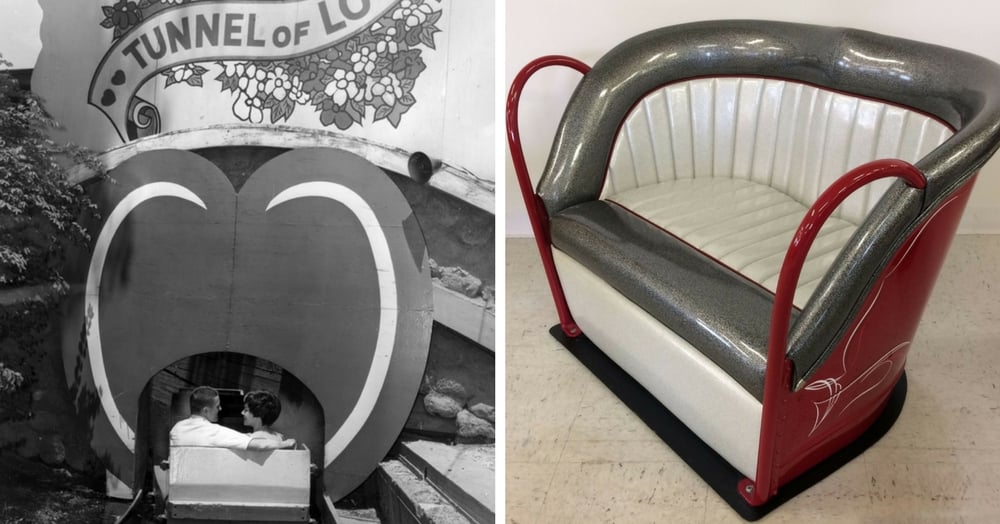 How about reliving that tantalizing feeling you got when putting the pedal to the metal, then ramming someone else's Dodgem car hoping to give them the jolt of a lifetime. (Thank God for the bumpers around each car, because I was always the victim.)
This vintage Lusse Auto Skooter bumper car has a listing price of $9,495 on eBay.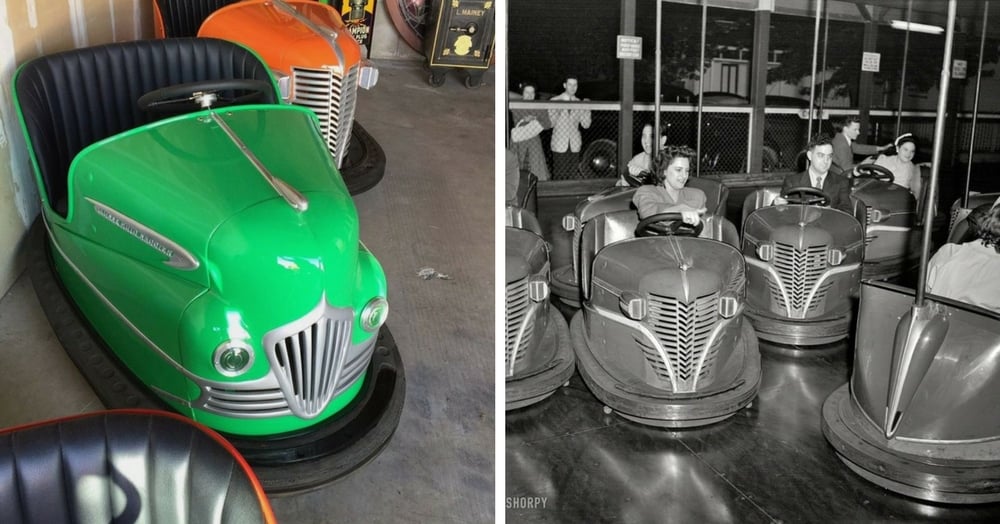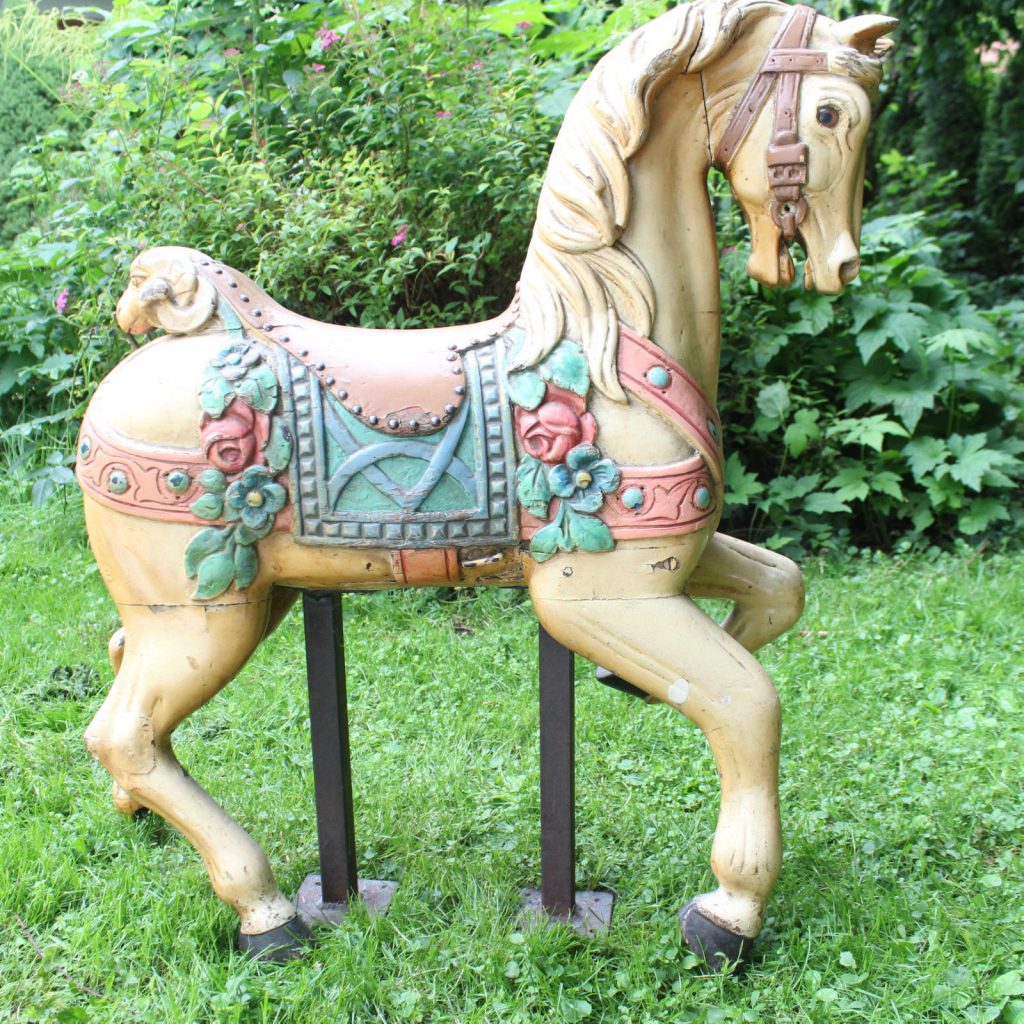 Everyone wants to own a beautiful original 1880, antique German hand-painted wood carousel horse! Selling price-$10,000! 
The Spinning Tilt-A-Whirl Ride
This Tilt-a-Whirl car sold recently from a Proxibid auction for $900! It would make a sweet backyard chair to relax in while enjoying your favorite beverage. (Let's face it, you wouldn't have to worry about spilling the drink or getting dizzy this time.)
Vintage Space Train… Choo Choo!


Vintage "Space Train" amusement park ride. eBay selling price $13,999. What a deal!
The "Whip it" Ride. I loved this ride when I was a child. The thrill of being pulled around the corner at high speed was awesome!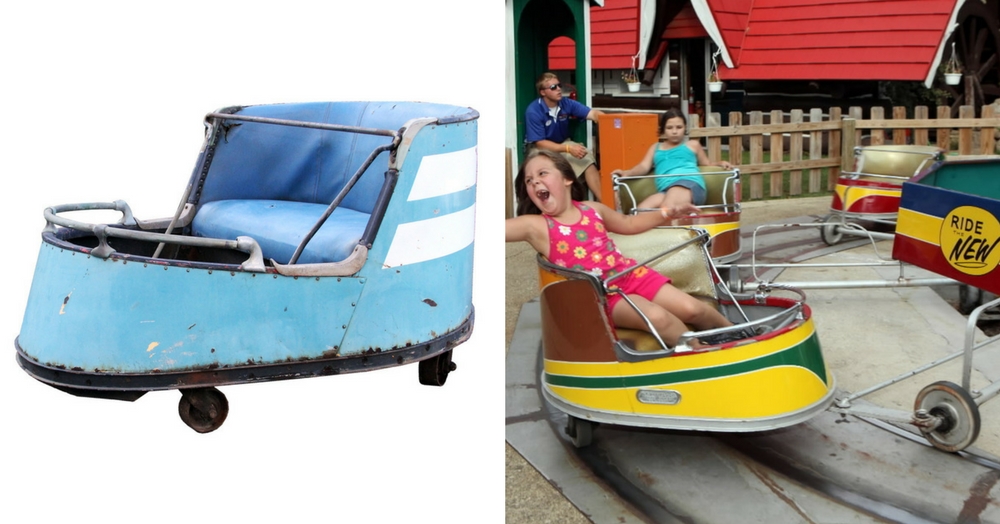 (You can purchase this 1940's, Coney Island blue "Whip" ride car for $1,625 on Etsy.com)
The ride known as the "Whip" was the most famous amusement park ride created by German immigrant William F. Mangels (1867-1958). Mangels came to America in 1883 as a teenager he settled in Coney Island and was a trained mechanic. Why is this important? Mangels held over 50 amusement ride patents and he ran the leading manufacturer of our much-adored amusement park rides, carousels, and shooting galleries in America. There were over 500 "Whip" rides across America and around the world at one time.
The Kiddie Helicopter Ride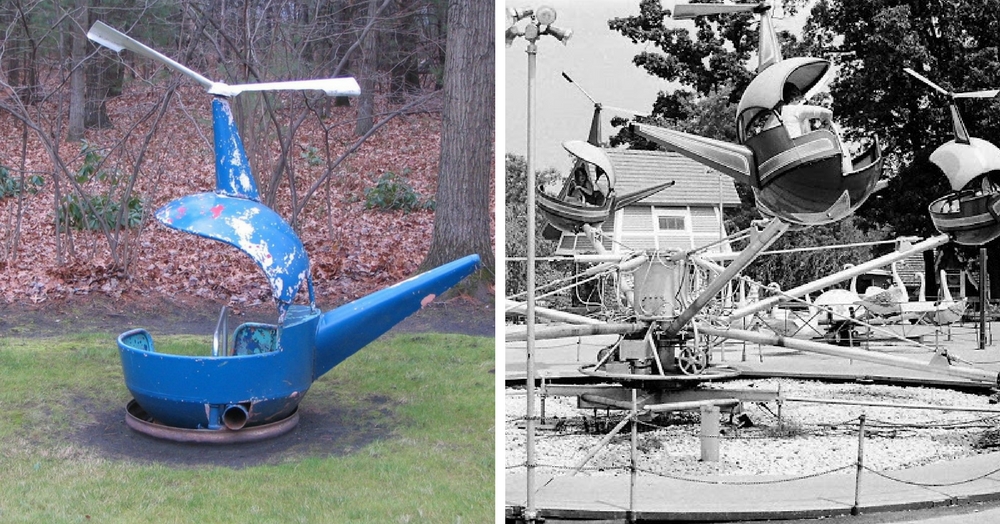 Another favorite amusement park ride from most of our childhood days was "The Helicopter Ride." Being the pilot in control of a hovering helicopter that moves up and down movements while going in circles, was the ultimate thrill for most youngsters. Having your very own backyard mid-century helicopter kiddie ride is sure to create some neighborhood enjoyment. Selling price-$900.
Last but not least: One terrifying amusement park rides my sister had gleefully taken me on when I was 5-years old- "The Octopus." (After I got sick on this ride, my sister's laughter turned into frantic hysteria.) An Octopus carnival ride-similar to this one below- is for sale online at a bargain price of only $8,900.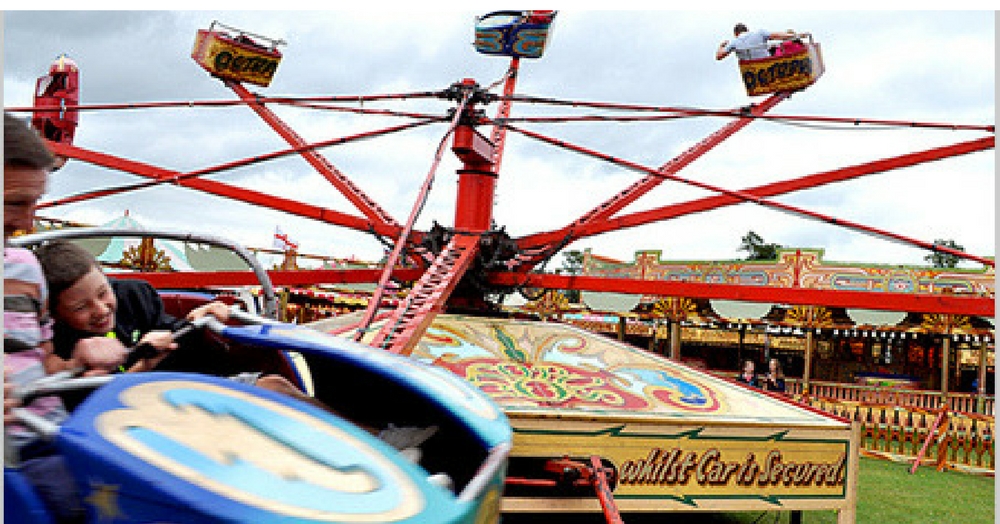 "So today, if you're feeling the need for a little "pick-me-up" antidote…Go out and purchase your very own amusement park ride, and cheer up!"
Quote for the day-
"Life is like a roller coaster, live it, be happy, enjoy life." -Avril Lavigne
For more stories from contributing writer, Patricia Penke, and to find out if you have any vintage items worth a substantial amount of money, check out her blog: Turn Trash 2 Cash