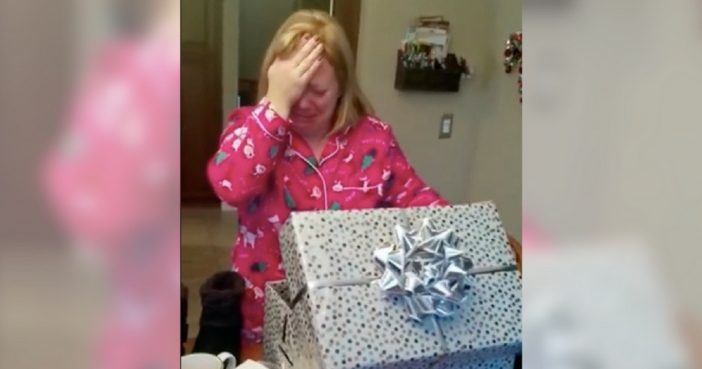 She was devastated after losing their family dog.
Family dogs are considered family members so once they are gone, the loss can be devastating to most people.
Unfortunately, this can be difficult to overcome as they cannot be replaced in our hearts. However, getting another dog is the best solution to help alleviate the grief and rely on this new family member.
For this woman, losing her English Bulldog seemed too much for her to bear at first.Just two weeks before Christmas, the family lost their dog, Zoe, from a surgery complication. This was a big blow to the woman, as Zoe was her only female companion in the household and therefore spent the most amount of time with her.
Other than Zoe, the couple's family also included a mastiff named Rufus, a pug named Tyson and a fish named Adam. Her emotional state worried her husband, who desperately thought of a way to cheer her up.
Although he was hesitant on buying a new puppy as a gift for his grieving wife, he soon began his search for one after consulting everyone he knew. He finally managed to find the perfect puppy, an another English Bulldog, whom he named Lily Noel as she was supposed to be a Christmas gift.
To surprise his wife, he placed Lily Noel in a gift box along with a card. He then watched as his wife started to tear up after reading the card before opening her present. After seeing the puppy, his wife becomes emotional and asked her husband if she is living in reality. Of course, her loving husband assured her and watched as his wife embraced Lily Noel.
His wife now has another female companion in the house, thanks to her thoughtful husband! She no longer grieves over the loss of Zoe but chose to move on with her new canine family member.
The video was posted on the Love What Matters Facebook page along with the caption:
"We lost our six-year-old English Bulldog, Zoe, due to complications from surgery, two weeks before Christmas. Our house is all MALE with 4 boys, myself, Rufus (mastiff), Tyson (pug) and Adam (fish). Zoe was the only other female in the house and was my wife's shadow. You would often hear comments, 'Come on Zoe, us girls have to stick together'; or my wife would be singing to her, calling her beautiful bull…
Needless to say, my wife was completely devastated by the loss of Zoe. After asking everyone I came into contact with, whether or not I should get a new puppy, my mother-in-law was the deciding vote, and the search was on! Lily Noel was dropped off Christmas morning by Santa; and has, hopefully, filled a major hole in my wife's heart!"
Credits: weloveanimals.me