Weddings are the perfect time to showcase a couple's love for one another. A wedding is a day most couples will remember for the rest of their lives, but this one was extra special. This woman found the perfect way to display her deep love for her husband.
Scott and Elizabeth met and fell in love as couples often do and their story is even more adorable than most. When she learned that Scott was actually deaf, this did not put even the slightest damper on their love. She was not going to let something as insignificant as a loss of hearing keep her from marrying the love of her life. Elizabeth even decided to learn sign language so that they could communicate more easily.
Once they set a wedding date, Elizabeth set about the task of making sure that their big day would be truly special. She wanted Scott to know just how much he meant to her and she was bound and determined to keep it a surprise. Scott had no clue what was about to take place on their wedding day and he is definitely lucky to have a wife who is this thoughtful.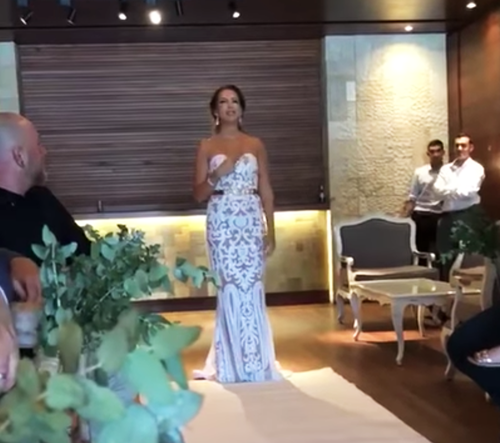 As the church began to fill with all of their guests, the friends and loved ones of this couple began to eagerly anticipate the event that was about to take place. Elizabeth had also chosen a very elaborate gown for the occasion and Scott could not wait to see his beautiful bride. As soon as she stepped through the church's double doors, it was plain to see just how lucky he is.
She did not make her way down the aisle right away. Instead, she stopped and prepared herself for the moment of a lifetime. Scott was aware that she already possessed a limited knowledge of sign knowledge but he could never have possibly expected what was about to take place. Elizabeth had expanded her sign language knowledge in an unbelievable way.
Elizabeth had learned how to sign an entire song to her husband to be! She chose "A Thousand Years" by Christina Perri and as you can imagine, there was hardly a dry eye in the house by the time the performance had been completed. Scott was among the first to lose his composure. We cannot begin to fathom what he must have been feeling inside at this moment.
The video below provides us with the chance to check out this amazing performance any time that we want. Elizabeth and Scott are providing the world with a shining example of what true love can be.
They did not allow one minor difference to keep them from finding one another and this story should serve as an inspiration to all of the rest of us who are still struggling to find our soulmates.
The wedding photographs were taken by Dreamlife Photography. 
Credits: Goodfullness.net