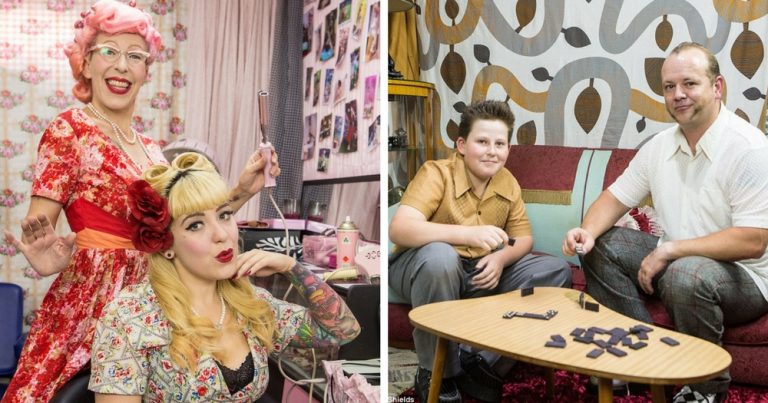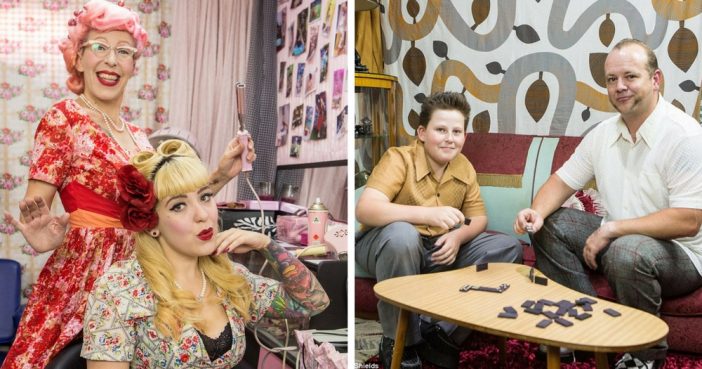 The Keenan family are living in the wrong era.
From their retro wardrobes to every single room and appliance in their house – they eat, breathe and live the 1950s lifestyle – today.
The Keenans' home is decked out with vintage appliances that color coordinate with the 50s wallpaper. And then there's the outfits and hair do's.
It's a style that Pixie Keenan, from Sydney, has been embracing for more than 30 years.
'I dress like this every day and have done so since the age of 15,' Mrs. Keenan told Daily Mail Australia.
Meet the Keenan family – (from left) Nasya, Pixie, Aaron, and Gage, who appear to have been born in the wrong era.
Mrs. Keenan, 47, dresses in floral vintage dresses, sets her candy-floss hair in curls and finishes the look with white cat's-eye spectacles.
'My whole family wears 1950s clothing too and they love it,' she said.
Her son Gage, 11, would generally wear a pair of jeans, a Bisley shirt and converse kicks when he goes out.
'The Bisley shirts were very popular in the 1950s and it's getting a little harder to find but I've got quite a collection.
Her husband Aaron, 37, wears the same and sports an Elvis-like hairstyle complete with sideburns. He's also the lead singer of a rockabilly band called No Brakes.
'He'll wear a Bisley shirt or a 1950s suit when he performs or something more rockabilly oriented like the country western style shirts.
'My daughter, Nasya, 22, wears vintage occasionally but she really likes the reproduction clothes. She looks fantastic in a 1950s wiggle skirt – so that's a high-waisted skirt or a pencil skirt that is well fitted and three-quarter length and she'll wear a pretty blouse with it.
'And I prefer the beautiful big skirts so the floral full skirts or even the double or triple skirts. And lots of petticoats, stockings and a good old-fashioned bullet bra because it gives you that perfect shape! And I have a fetish for fascinators and hats.'
Pixie's husband, Aaron (left) is the lead singer of a rockabilly band called 'No Brakes' so he's always dressed in a Bisley shirt or 1950's suit.
Like father, like son: The family's youngest member, Gage (left) dresses like his dad – sporting a pair of trousers and a Bisley shirt.
The 46-year-old was six years old when her obsession with the decade began after her parents took her to see Elvis Presley perform live in Las Vegas.
'I was very young but I was brought up on Elvis music,' she said.
'When I saw this man live, it was literally like seeing God himself because he had such an angelic voice, and to see the person that angelic voice belonged to was quite overwhelming.'
The family kitchen comes complete with utensils, a lemon colored Sunbeam Mixmaster, a Colda fridge and even an early Kooka gas oven – all in working condition.
They also own a huge Precedent TV in the lounge room, as well as a rotary-dial telephone in the hallway.
'The furniture in those days was such good quality and in fact, most of my life purchases that are 60 years old are still in good condition.
'Things back then were made to last – whereas these days, we are a disposable generation where things only last for a year or so and then you have to throw them out.
'We've also got a 1950s beauty parlor and a magnificent cocktail bar – these are all sentimental items to me and I can tell you when and where I got each and every piece from – they've become part of my family.'
Inside Mrs. Keenan's beauty parlor, her beauty products are true to the era, with authentic 50's roller set, hair dryers, and make-up.
Each and every item has been color coordinated with the wallpaper in every room of the family home.