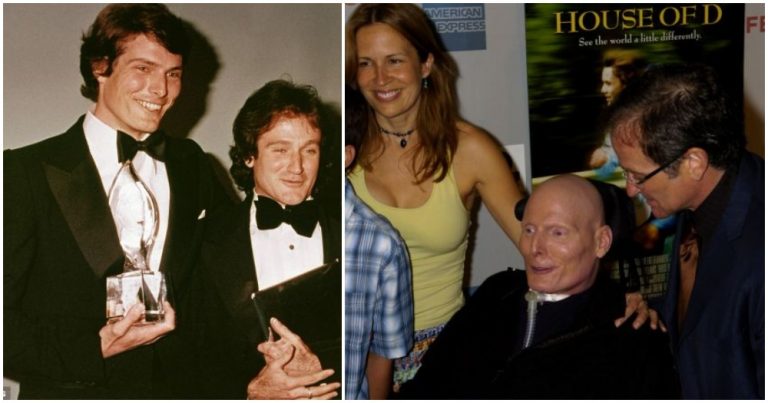 Williams was also the first student that Reeve met at university and he recalls watching Williams 'in awe as he virtually caromed off the walls of the classrooms and hallways.'
Their strong bond lasted way beyond college as their respective careers took off in the late 70s, with Williams enjoying massive television success in Mork and Mindy and Reeve staring in the 1978 blockbuster Superman.
During a Reddit AMA, Williams recalled his favorite memories of Reeve.
'Him being such a great friend to me at Juilliard, literally feeding me because I don't think I literally had money for food or my student loan hadn't come in yet, and he would share his food with me,' he wrote.
'And then later after the accident, just seeing him beaming and just, seeing what he meant to so many people.'
Reeve's widow Dana once described the pair as being 'closer than brothers' and it was rumored that Williams had helped pay for Reeves' treatment following his accident.
He also became actively involved in Reeve's foundation, The Christopher Reeve Paralysis Foundation.
Reeve died in 2004 after a cardiac arrest.
'The world has lost a tremendous activist and artist, and an inspiration for people worldwide. I have lost a great friend,' said Williams after his friend passed away.
The next year Williams dedicated his Cecil B. Demille Award at the Golden Globes to his old friend.
'Miss you. May flights of angels sing thee to thy rest,' he said.
For his dedication and support as an advocate for the Reeve Foundation, the charity honored him in 2007 at a gala in Los Angeles.
After the announcement of Williams' suicide, the charity posted a tribute to him on its website.
'While the world knew Robin Williams as an Oscar-winning actor, we knew a different side of the man whose smile was as big as his heart.
'While our hearts ache with the loss of our friend, it is unlikely Robin would want us to mourn his passing with silence, but to celebrate his life through laughter.
'Together, let's remember Robin for the man who made the world laugh.'
Credits: dailymail.co.uk
What a beautiful friendship they had. Do you have a friend like this?