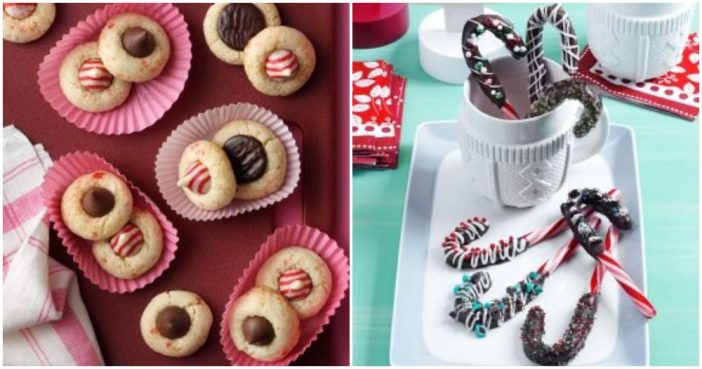 Stuck with a box full of perfectly good candy canes and don't know what to do with them? No worries! These candy cane desserts are the best ways to use up extra candy canes and get a great dessert out of it.
1. Ornament Popcorn Balls
These gooey-sweet treats are great for dressing up the tree with a little more than the classic popcorn string. And they're yummier and fun for the family, too. — Deirdre Cox, Kansas City, Missouri
2. Peppermint Meringues
These melt-in-your-mouth cookies are super as a Christmas gift or to pass around when guests drop in. —Dixie Terry, Goreville, Illinois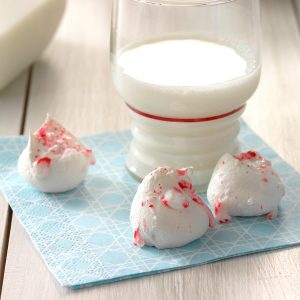 3. Spearmint Thins
No time to bake cookies from scratch? Create a tasty treat in little more than half an hour by doctoring butter-flavored crackers with vanilla chips and mint candies.—Kathleen Felton, Fairfax, Iowa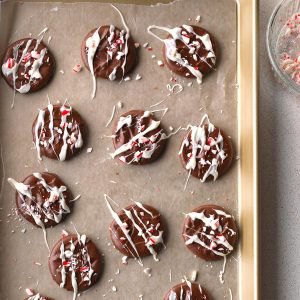 4. Crushed Peppermint Cheesecake
We're cheesecake fans. When we first tried peppermint Oreos, we knew they'd make an awesome crust. The minty cool crunch makes our favorite dessert even better. —Jeannie Burkhead, Pequot Lakes, Minnesota
5. Candy Cane Blossom Cookies
We like to stir differently flavored candy canes into the dough for fun variety. —Joan Cossette, Colbert, Washington.
6. White Chocolate Peppermint Crunch
This is my favorite confection to make for Christmas. Not only is it easy, it's delicious as well. I like to fill small bags with the crunchy candy to place in gift baskets.—Nancy Shelton, Boaz, Kentucky
7. Candy Cane Souffle
I came up with this recipe by modifying one of my mom's gelatin-based desserts. The pretty pink sweet is a welcome sight on the table.—Joni Hilton, Rocklin, California
8. Candy Cane Hot Cocoa Mix
We make batches of this minty, malted milk-flavored hot chocolate to give as gifts. Be prepared—friends will return the jars for refills! —Sara Tatham, Plymouth, New Hampshire
9. Chocolate-Dipped Candy Canes
I couldn't resist combining my two loves—peppermint and chocolate—in this recipe. These are so easy, but if one breaks in the process, just pop it in your mouth. —Sandra Baumgarten, Vancouver, Washington
10. Candy Cane Shortbread Bars
I created these bars for my daughter, who loves peppermint. The buttery shortbread texture just melts in your mouth. It's a hit wherever I take it. —Susan Ciuffreda, Wauwatosa, Wisconsin