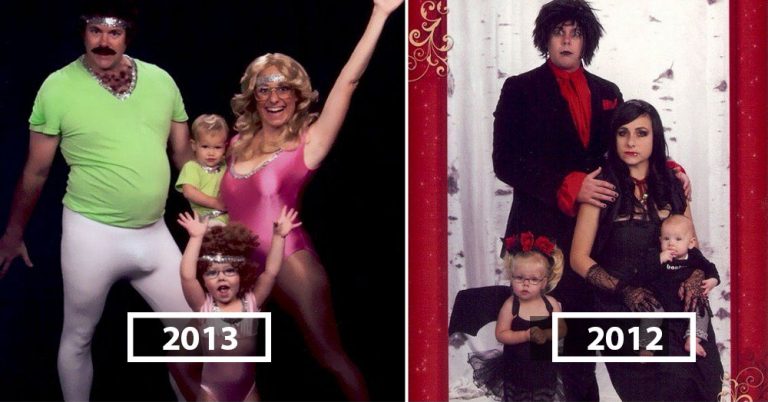 To some, the highlight of the Christmas season comes with creating unique Christmas cards to send to the masses. Some are exceptional. Others are just … awkward.
But being awkward is the point for the Bergeron family. They've been embracing their own brand of Christmas cards since 2003. And like a fine wine, each year they only get better.
Mike Bergeron and his wife Laura have two daughters, 'Gigi' and 'Juju.' Together, all four of them have completed ridiculously superb holiday themes from 'white trash Christmas' to 'goth,' with the help of the JCPenney Portrait Studio, of course.
Here's a year-to-year glimpse at family's genius. It's sure to give you rosy cheeks.
1. 2003 – Forty & Fighting It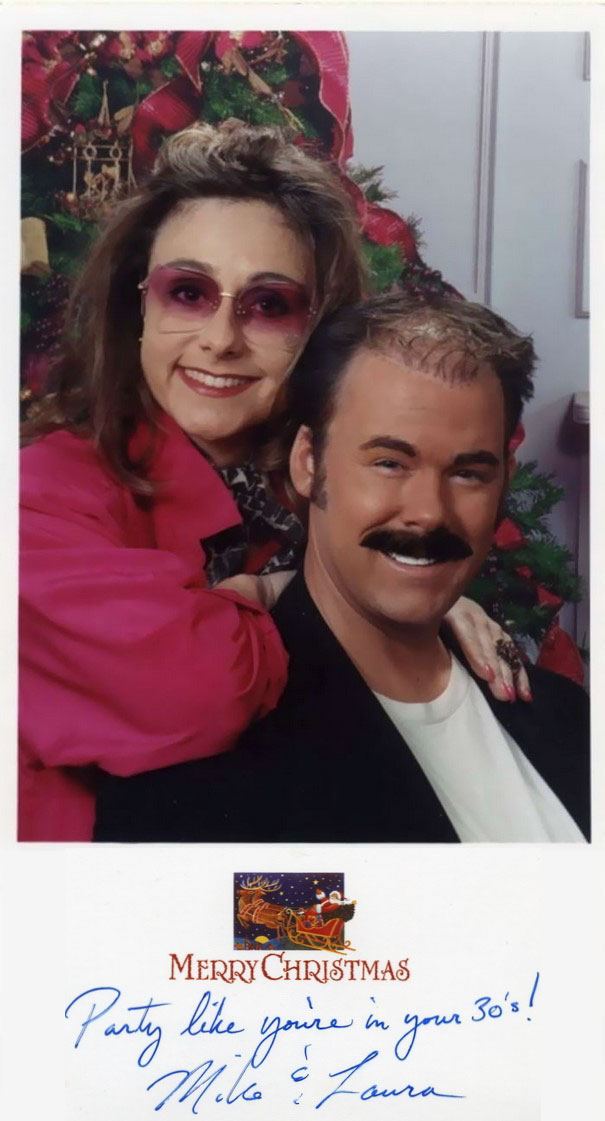 The original concept was "Plugs & Juggs", but we had to choose this photo because of the priceless facial expressions," said Mike. Thus, we call this "Forty & Fighting It".
The photographer tried to move the light away from overhead and I had to ask her to shine it directly down on me – she didn't know how to tell me that it was reflecting off of my head and making me look like I was balding. Finally, I just told her that the balding look was what I was after. She had no idea that we were dressed up in costumes!
2. 2004 – We're Dreaming of a White Trash Christmas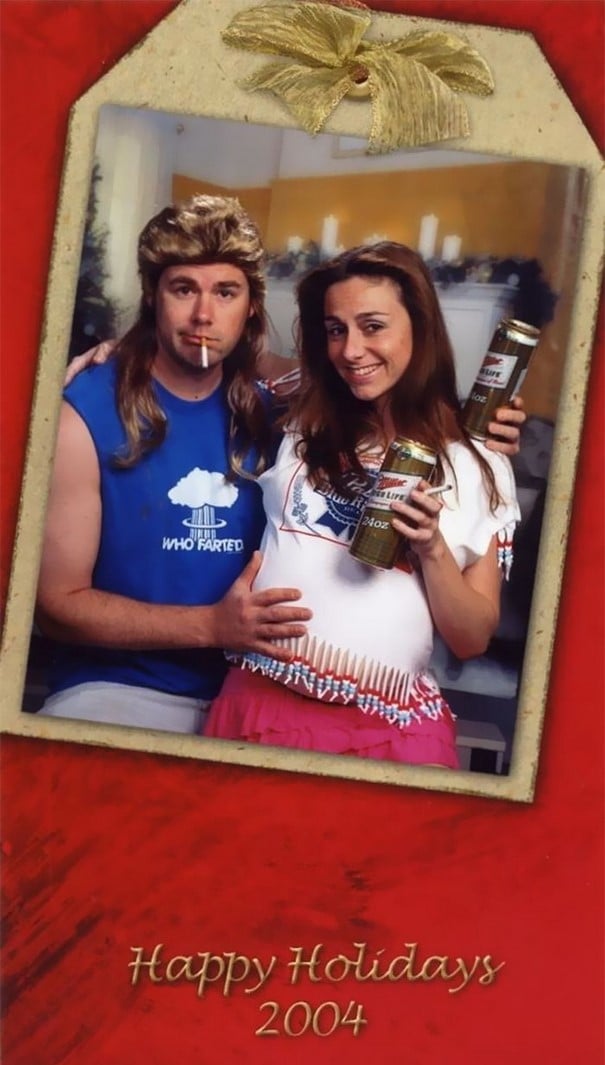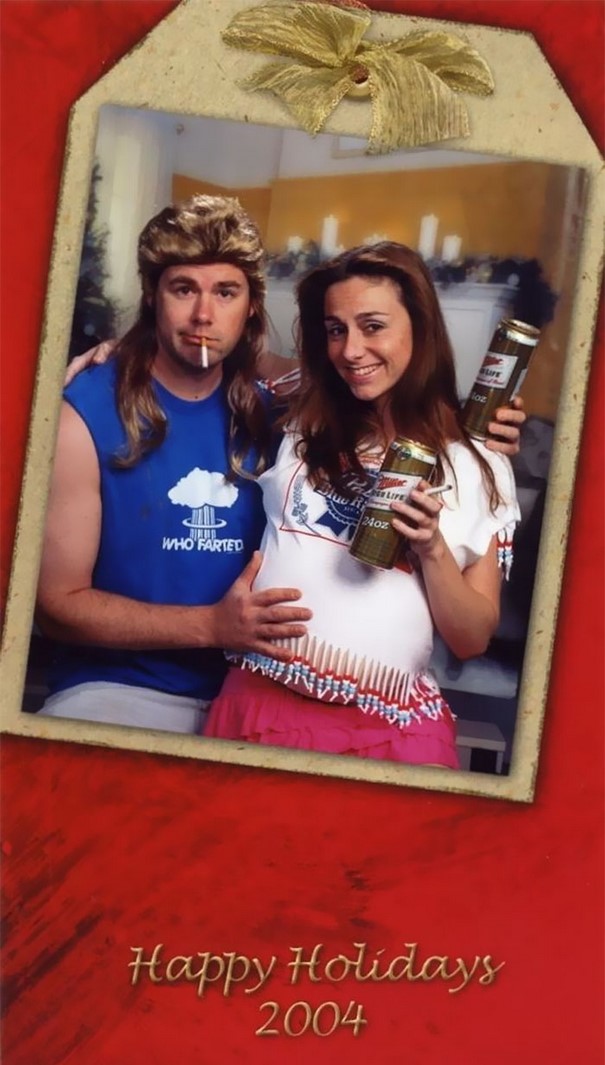 According to Mike, the JCPenney sales clerk didn't realize this was a joke card and encouraged the couple to come back for baby pictures. Mike let them know that she wasn't actually pregnant and that if she was he wouldn't let her drink and smoke. Mmhmm.
3. 2005 – Your Aunt & Uncle Who Live in the Midwest
Beginning to go bold for real, Mike actually shaved his head for this picture.
4. 2006 – A Very Special Christmas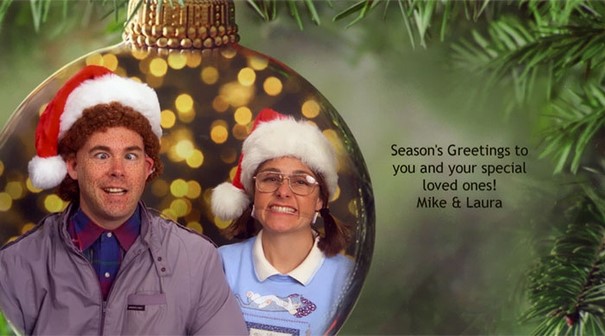 "A couple of years before we started this tradition, my friend, Jeremy, worked during the holidays in a photo studio. If he thought that a family portrait was particularly funny, he would print a copy for himself and put it on display in his living room. They were all awkward and wonderful in their own way, but there was one photo, in particular, that was so delightfully goofy and uncomfortable that it has always stuck with me. This card is an effort to recreate the magic of that card." – Mike
5. 2007 – American Gothic Christmas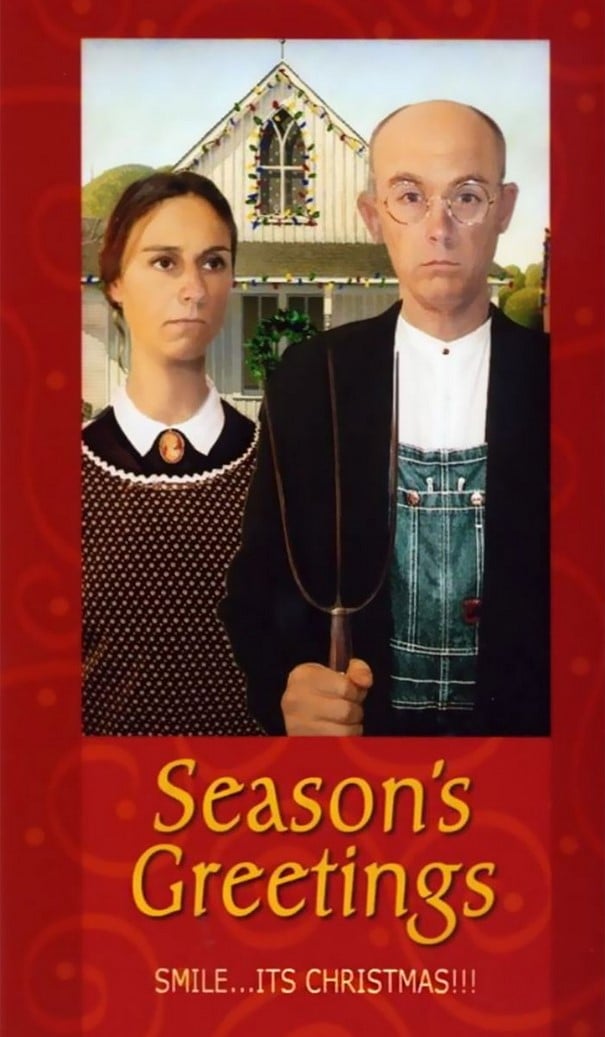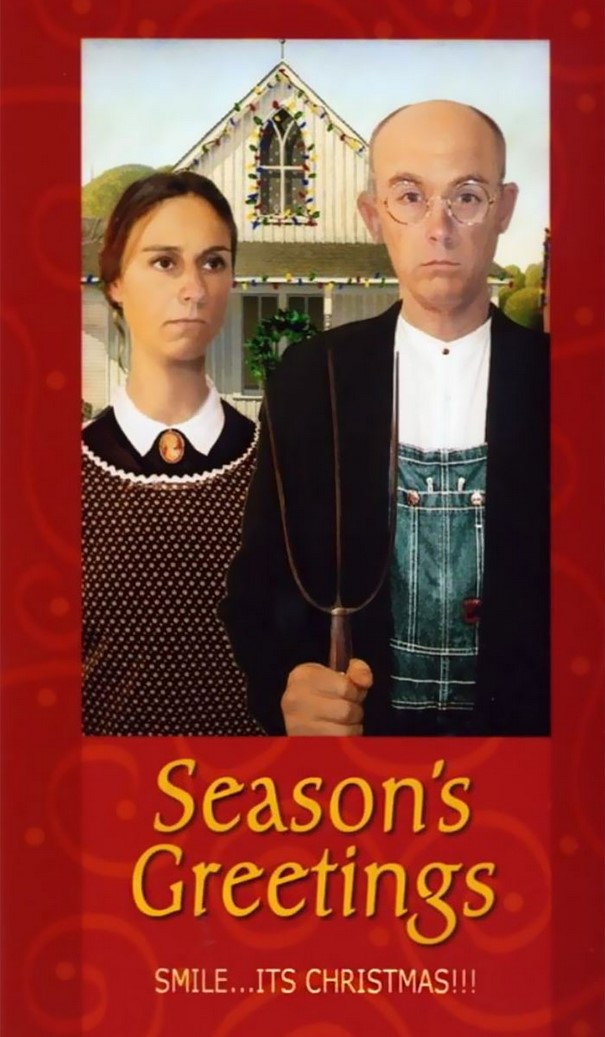 A real photo with some photoshopped magic.
6. 2008 – Merry Krishnas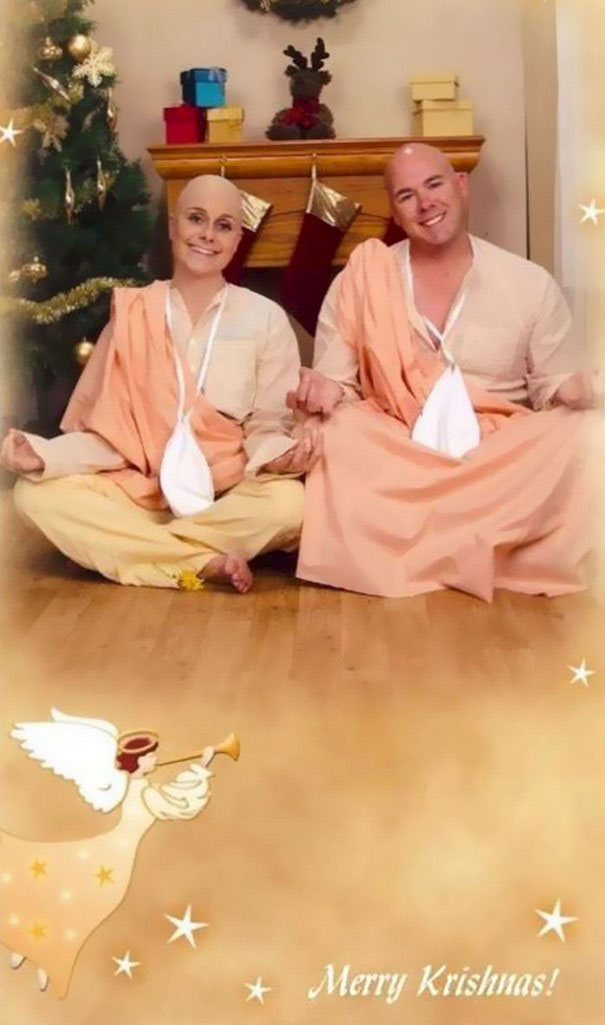 A Hindu-Christmas hybrid … again, straight from the JCPenney portrait studio. Mike said they awkwardly walked around the mall for an hour and got lunch as they waited in line to take these beauts.
7. 2009 – Los Cholos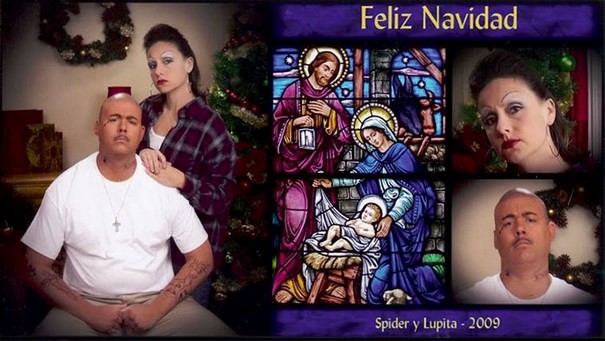 This is Mike's self-proclaimed favorite simply because it looks so real. He said Laura was worried about walking around the mall looking like this. But Mike reassured her that no one would "mess" with them. He was right. No one even made eye contact.
8. 2010 – Olin Mills Family Portrait from 1981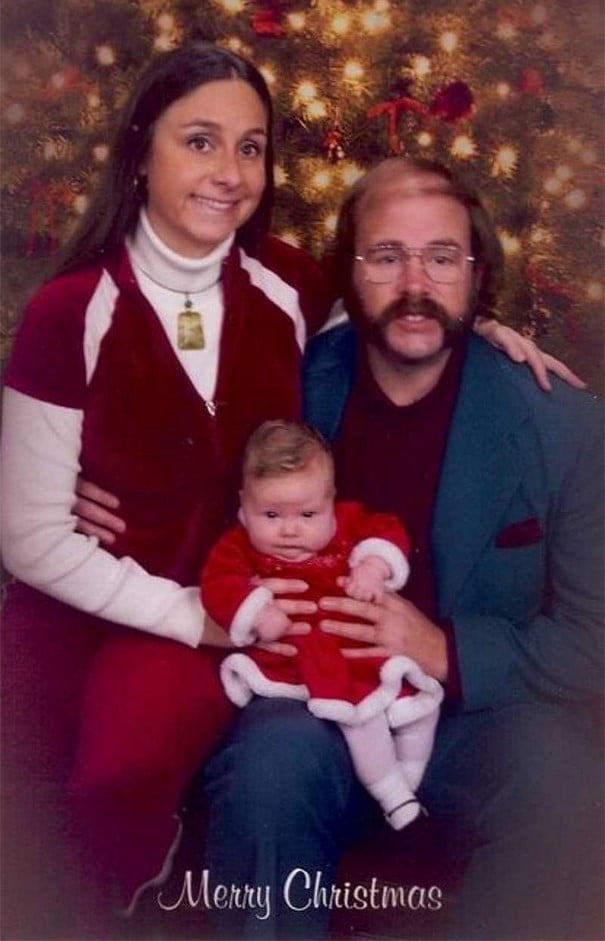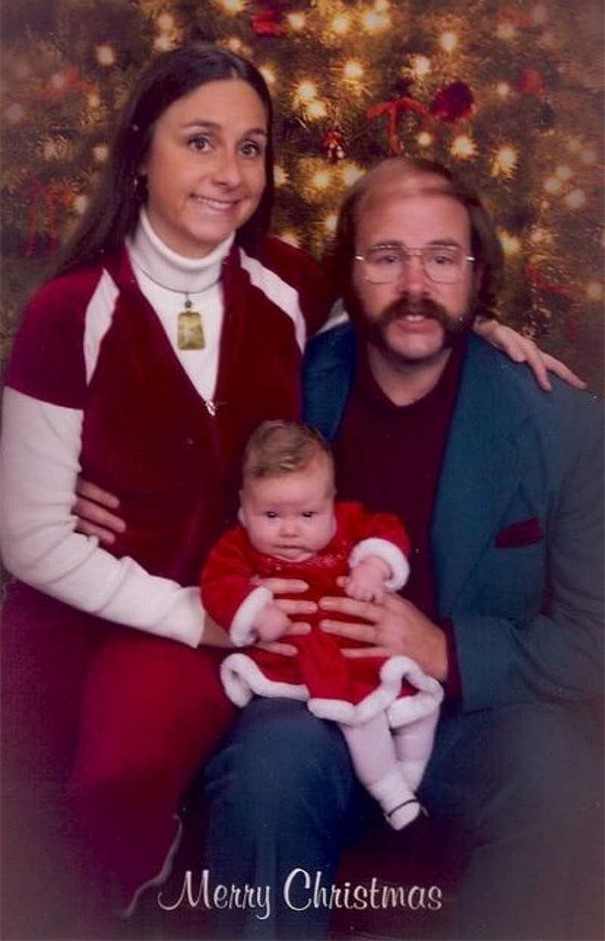 Seriously, where's the time machine? This picture truly does look 35 years old. Amazing. Mike said it was a long aspiration of his to sport a combover. Mission accomplished, my friend.