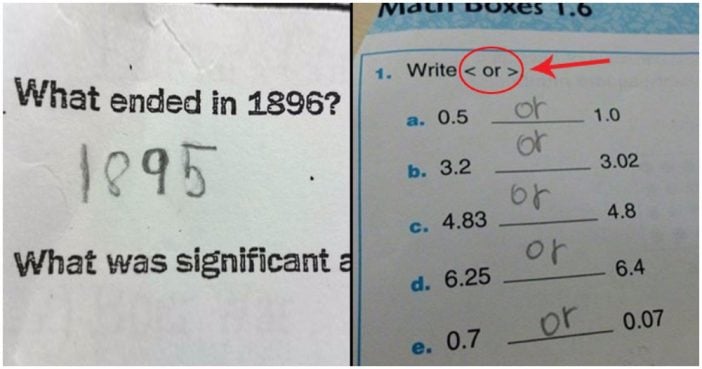 Learning new, fascinating, and sometimes boring facts in school is a rather daunting task. If you really think about it, kids have to be prepared to learn new things every day and then regurgitate that information in the form of test answers. Sometimes, kids nail their tests and other times they provide answers that are wrong but worth a few points just because of the humor they bring to our lives. Here are some absolutely correct but wrong test answers that will have you rolling on the floor laughing.
1. This Is The Perfect Example Of A Risk
If you really want to impress your teacher this is a good way to go. This type of "risk" might not have been what the teacher was expecting but it worked. This is one of those questions we were happy to see a checkmark next to. Kudos to this teacher since they allowed one of their pupils to take an actual risk and earn credit for it.
2. Hilarious Kid Answers To Test Questions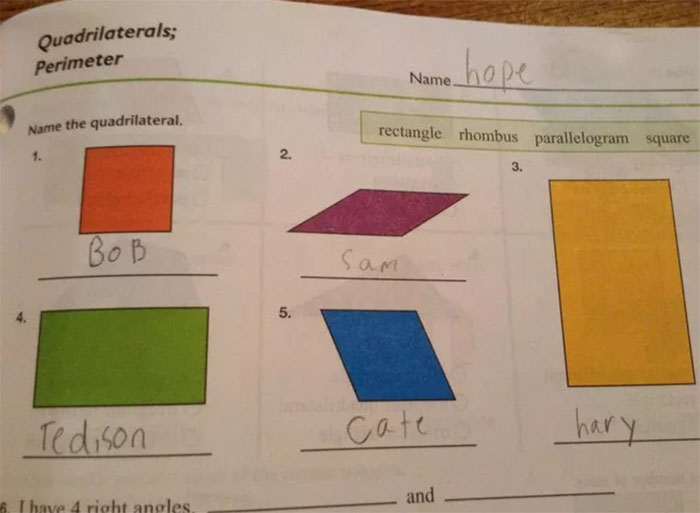 They Named Everything Like Asked
This geometry lesson went sideways very quickly. Also, this kid spelled 'Harry' wrong and who names someone Tedison? In any case, they did name the quadrilaterals and that's what the test question asked them to do. This won't fly in college so enjoy it while you can kid.
3. I Used Math — Give Me An 'A' Please
Math problems seem to deliver the funniest answers and this kid nailed their response with a simple answer, "math." We're big fans of letting the answer speak for itself so in our book this young child should have received an A+ just for this answer alone.
4. Technically, He Did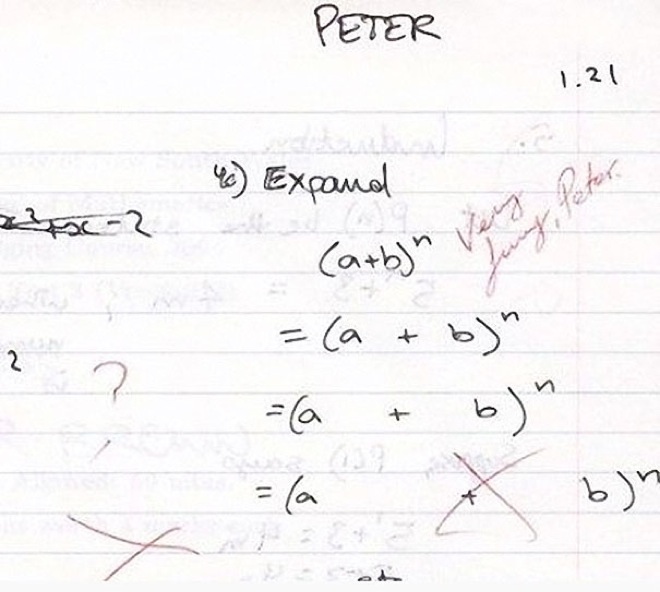 The test question only said to expand the answer. By adding more spacing after each part of his answer this kid did exactly as instructed. Sure it's not worth an "A" on his test, at least his teacher admitted that it was "very funny." Kids' minds work in some mysterious and funny ways.
5. This Kid Is Up To Something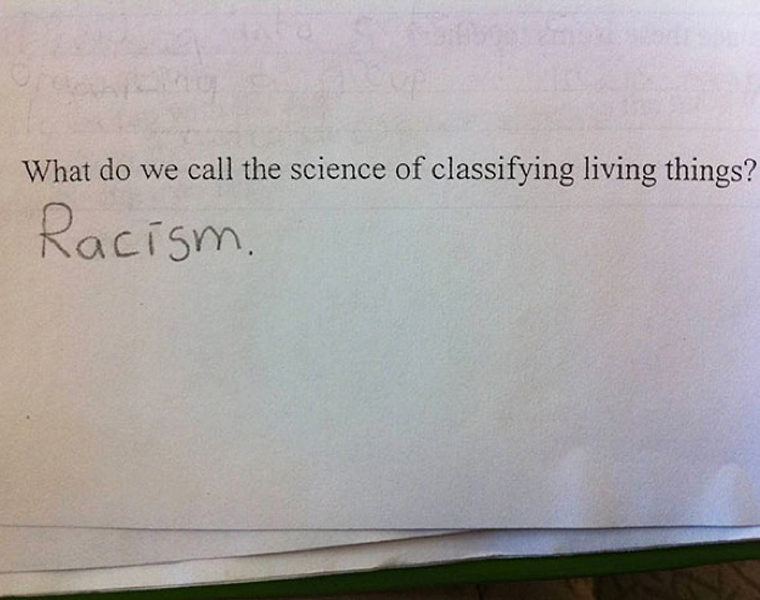 Well, whoever the parents are of this kid must be a pretty conscious couple. That or this kid has been reading a lot of books and watching plenty of documentaries. Do you think the teacher gave this student some points for effort or a big fat zero?
6. It Was Found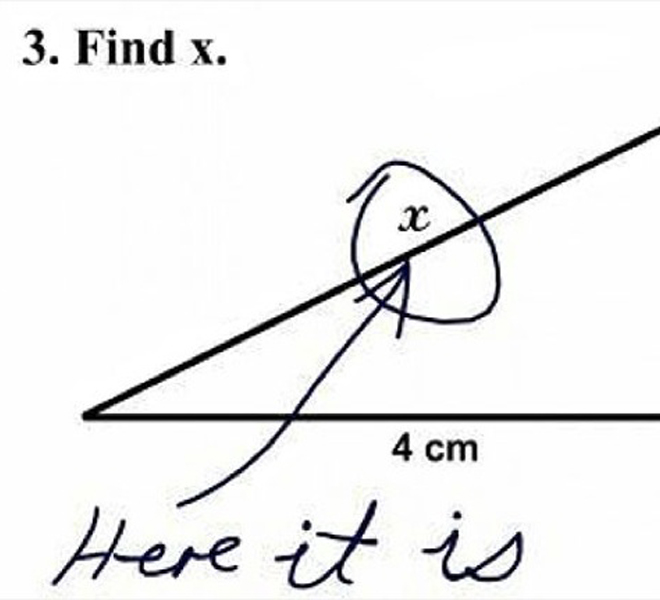 Well teacher, there it is. That was probably the easiest question on the test. Oh wait, you mean that's not what the question meant? Variables were never an easy concept to understand and this kid showed that you need to be specific or else you'll get what you asked for.
7. Good One

You really can't deny that this is the right answer. Like we just said, sometimes you need to be specific. When you sign most things, it's always at the bottom so this kid just used common sense to answer this question. Didn't have to study for this question, the life all students want.
8. We Have An Artist On Our Hands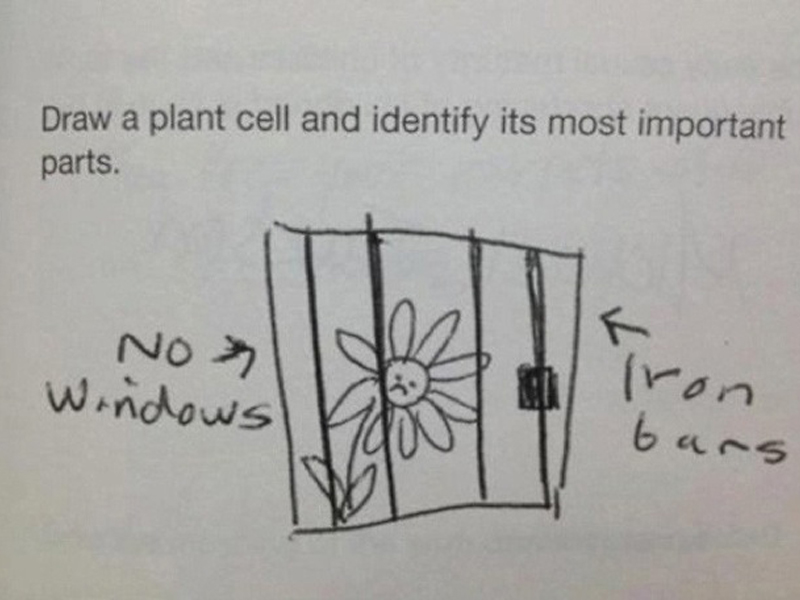 That plant looks highly depressed to be locked away. This drawing is almost as flawless as it is simple. The most important parts are identified as "iron bars" and "no windows". This isn't your ordinary smart answer, this is art in the face of pressure that deserved some credit.