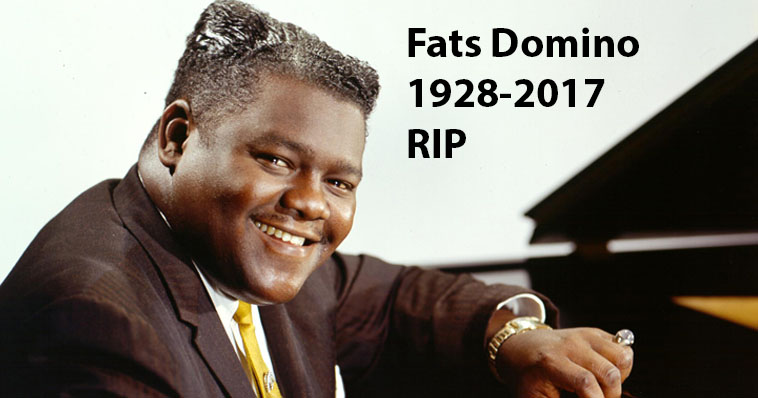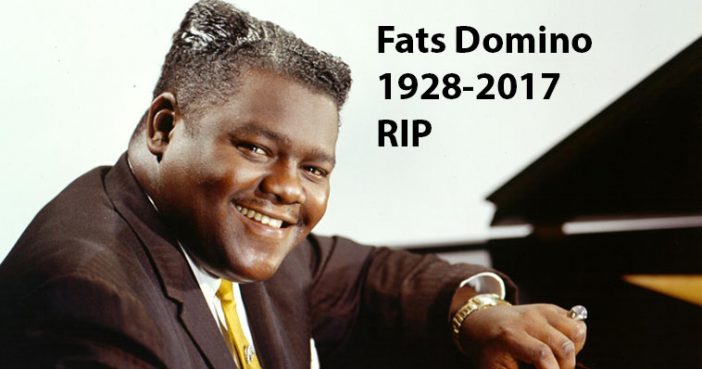 Antoine "Fats" Domino, the iconic New Orleans singer-songwriter whose piano-playing sound and smiling face entertained generations of audiences around the world and introduced an unmistakable rock and roll-rhythm and blues sound to the world, died Tuesday night. He was 89.
His daughter told WWL-TV anchor Eric Paulsen, a longtime friend, that Domino died peacefully at home surrounded by family.
The always-reclusive and shy Domino had retired from performing shortly after Hurricane Katrina and had been in declining health over the past few years. He gave his last public performance in 2007 at Tipitina's. In 2006, he famously at the last second backed out of a performance at the New Orleans Jazz and Heritage Festival, though he appeared on stage, encouraged by Paulsen and others to smile and wave at the thousands of fans who had gathered to see him perform.
New Orleans Advocate music writer Keith Spera once called Domino the most significant contributor to the New Orleans musical canon, second only to Louis Armstrong. "And Domino's bond with his hometown proved the more unbreakable." That's because although he traveled the world, often reluctantly, to perform – sometimes as many as 10 months out of the year- he was deep down a son of the Ninth Ward – so much so that he had to be rescued from his compound there after the levee breaches flooded the area during Hurricane Katrina. "It is difficult to imagine him habitating any other environment than his natural one," Spera wrote. "You can take Domino out of New Orleans – rarely – but you cannot take the New Orleans out of Domino."
Beginning in 1949 with "The Fat Man," Domino and his longtime collaborator and producer Dave Bartholomew cranked out hit after hit, laying a foundation for what would become rock and roll in the 1950s.
Born in New Orleans on Feb. 27, 1928, Domino was one of nine siblings in a musical family. He spoke Creole French before he spoke English, and was taught to play the piano by his brother-in-law, Harrison Verrett. He dropped out of school and began performing in music clubs and bars. That was where Bartholomew discovered him in 1949.
Another collaborator, bass player, and bandleader Billy Diamond gave him his now-famous nickname. "I knew Fats from hanging out at a grocery store. He reminded me of Fats Waller and Fats Pichon," Diamond said in an interview. "Those guys were big names and Antoine — that's what everybody called him then — had just got married and gained weight. I started calling him 'Fats' and it stuck."
It also helped generate the first recording for Domino and Bartholomew, "The Fat Man."  The song, written by the pair and recorded at Cosimo Matassa's studio, became one of a series of recordings for Imperial Records that sold between 500,000 and 1 million copies. The songwriting pair also found success in mainstream America with their 1955 song "Ain't It A Shame," which was retitled to its now widely known, "Ain't That A Shame." The next year, Domino's cover of "Blueberry Hill" became his highest charting hit.
Also that year, Domino had four other Top 40 hits including "My Blue Heaven." Later hits came in 1959 with "Whole Lotta Loving," "I'm Ready," and "I Want to Walk You Home."
The songs and lyrics Domino and Bartholomew wrote were often simple and to the point, with an unmistakable beat. Domino once described the songwriting process as taking inspiration from everyday life."Something that happened to someone, that's how I write all my songs. I used to listen to people talk every day, things would happen in real life. I used to go to different places, hear people talk. Sometimes I wasn't expecting to hear nothin', and my mind was very much on my music. Next thing I'd hear, I would either write it down or remember it good."
During his career and his rise to fame in a segregated America, Domino was also credited with enduring the challenges of racial discrimination to become one of the defining pioneers of rock and roll music – popular among fans of all races.
His distinctive style of piano playing, backed by the distinctive sound that Bartholomew arranged in the bands he led, helped Domino stand out. His work also influenced countless other musicians, including the biggest act of the 1960s – the Beatles, who gleefully met him backstage during their 1964 concert at City Park Stadium. "There wouldn't have been a Beatles without Fats Domino," John Lennon was once quoted as saying.
Ironically, it was the British invasion led by the Beatles that pushed Domino off of the popular music charts. But he continued to perform around the world, cementing his reputation as a music giant. He and Bartholomew were among the first inductees into the Rock and Roll Hall of Fame. His shyness led him to decline an invitation to appear at the ceremony, however. He also declined an invitation to perform at the White House, though he accepted the National Medal of Arts from President Bill Clinton in 1998. In 2006, President George W. Bush made a personal visit to Domino's 9th Ward home, still badly battered by Katrina.
Domino was one of the first inductees into the Rock and Roll Hall of Fame, inducted by Billy Joel in 1986.
Listen to some of our favorites from this legendary trailblazer on the NEXT page and see the tributes pour in: