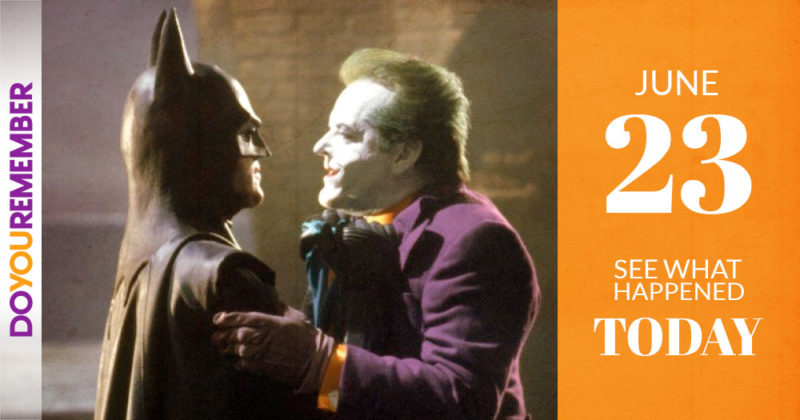 "BORN TODAY"
Connor Jessup (21)

Anna Duggar (27)

Duffy (31)

Melissa Rauch (35)

Memphis Bleek (37)

Jason Mraz (38)

Aaron Ruell (39)

Emmanuelle Vaugier (39)

KT Tunstall (40)

Joel Edgerton (41)

Selma Blair (43)

Chico DeBarge (49)

Joss Whedon (51)

Frances McDormand (58)

Randy Jackson (59)

Glenn Danzig (60)

Bryan Brown (68)
"DIED TODAY"
Aaron Spelling (Born: April 22, 1923 / Died: June 23, 2006)

Ed McMahon (Born: March 6, 1923 / Died: June 23, 2009)

Peter Falk (Born: September 16, 1927 / Died: June 23, 2011)

Bobby "Blue" Bland (Born: January 27, 1930 / Died: June 23, 2013)

Richard Matheson (Born: February 20, 1926 / Died: June 23, 2013)

Dick Van Patten (Born: December 9, 1928 / Died: June 23, 2015)
"MOVIES TODAY"
Click on the movie title to watch it's trailer.
"MUSIC TODAY"
1962 – Ray Charles started a 14-week run at No.1 on the US album chart with 'Modern Sounds in Country and Western Music'

1962 – The film soundtrack to 'West Side Story' went to No.1 on the UK charts for the first time

1965 – The Supremes made the studio recording of "Love Is Like an Itching in My Heart."
1965 – The Miracles released "Tracks Of My Tears."

1998 – Aqua released the home video "The Diary."

1965 – The Yardbirds appeared at The City Hall, Salisbury, England

1966 – The Beatles had their tenth consecutive UK No.1 single with 'Paperback Writer'/'Rain'
1973 – George Harrison started a five-week run at No.1on the US album chart with 'Living in the Material World'

1975 – Bob Marley and the Wailers played the first of 14 shows over  nights at Paul's Mall in Boston, Massachusetts

1976 – Paul McCartney and Wings played the last date on their Wings Over America tour at the Forum in Los Angeles

1984 – Duran Duran started a two week run at No.1 on the US singles chart with 'The Reflex'
1990 – Elton John had his first UK solo No.1 single with 'Sacrifice/Healing Hands'

1995 – Drummer Alan White made his live debut with Oasis at Glastonbury Festival

1996 – Bryan Adams went to No.1 on the UK album chart with '18-Till I Die'
"TV/RADIO TODAY"
1933 – Don McNeill's Pepper Pot (Breakfast Club) begins 35 ½ year run on NBC

1956 – "Jimmy Durante Show" last airs on NBC
1960 – "Pat Boone Show" last airs on ABC

1967 – Disney's The Happiest Millionaire opens in Hollywood, California

1970 – "Red Skelton Show" last airs on CBS

1980 – "David Letterman Show" debuts on NBC
1986 – Tip O'Neill refuses to let President Reagan address House
"OTHER IMPORTANT EVENTS…"
1931 – Wiley Post and Harold Gatty took off from New York on the first round-the-world flight in a single-engine plane
1934 – Italy gained the right to colonize Albania after defeating the country

1938 – The Civil Aeronautics Authority was established

1938 – Marineland opened near St. Augustine, Florida
1947 – The U.S. Senate joined the House in overriding President Truman's veto of the Taft-Hartley Act

1951 – Soviet U.N. delegate Jacob Malik proposed cease-fire discussions in the Korean War

1952 – The U.S. Air Force bombed power plants on Yalu River, Korea

1956 – Gamal Abdel Nasser was elected president of Egypt
1964 – Henry Cabot Lodge resigned as the U.S. envoy to Vietnam and was succeeded by Maxwell Taylor

1966 – Civil Rights marchers in Mississippi were dispersed by tear gas

1970 – Chubby Checker and 3 others were arrested in Niagara Falls after marijuana and unidentified drug capsules were found in Checker's car

1972 – U.S. President Nixon and White House chief of staff H.R. Haldeman discussed a plan to use the CIA to obstruct the FBI's Watergate investigation.
1975 – Alice Cooper fell from the stage and broke six ribs during his 'Welcome to My Nightmare' tour in Vancouver, Canada

1987 – Madonna was on the cover of "Cosmopolitan" magazine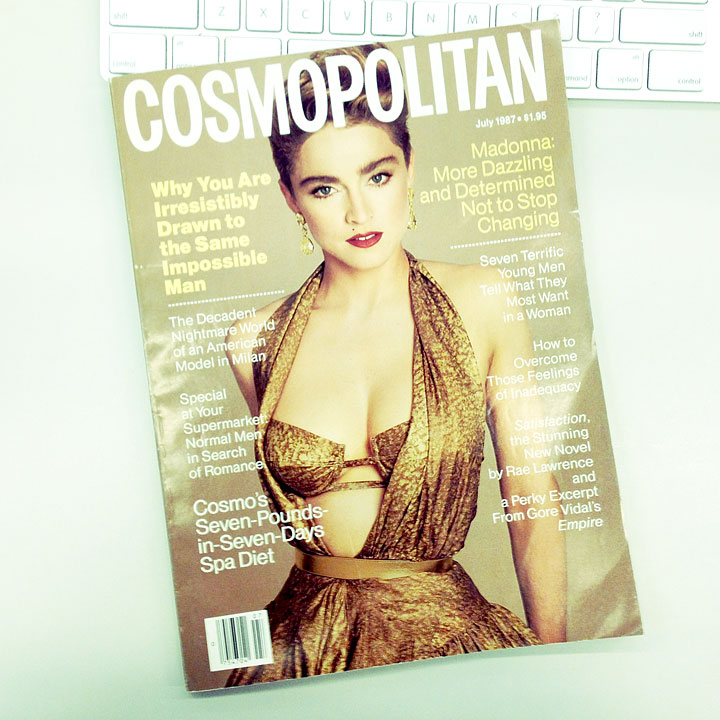 1989 – George Michael received the Silver Clef Award

1990 – Buddy Holly's Gibson guitar sold for $237,419 in a Sotheby's auction