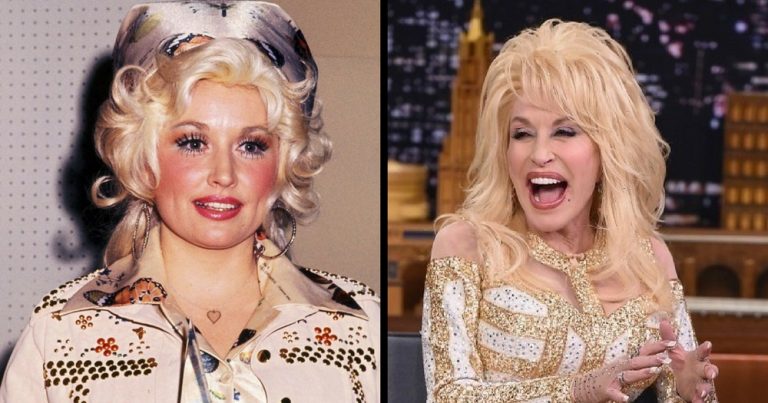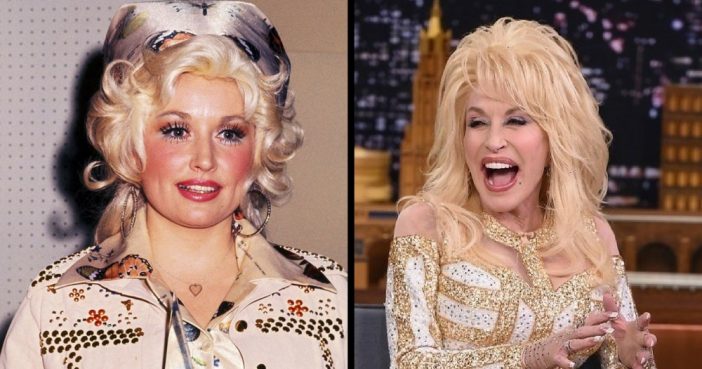 Dolly Parton, one of America's most favorite darlings, has been a mainstay in our music and entertainment industry for many years. Her signature style, sparkling personality and wit, angelic voice, and songwriting abilities are well-known. She's extremely likable, which is evident in every public appearance, guest spot, talk show, or interview she's a part of. She's even able to make us a little jealous of Miley Cyrus (Dolly is Cyrus' fairy godmother).
She's beloved in her private life as well as her public life. She's never afraid to try new things, which could explain her Twitter fascination, and she, at 70 years old, continues to be a beautiful and charming presence in our lives. About herself, she's said, "I've always been a writer. My songs are the door to every dream I've ever had and every success I've ever achieved." With the ability to describe such a fabulous career and life, we want her to be our fairy godmother, too. We're taking the time to celebrate a life well-lived and a lot more to come from this pint-sized powerhouse.
She didn't start out with much but love, but love was all she needed.
https://www.instagram.com/p/BJ0umldgvYJ/
Dolly grew up in Locust Ridge, Tenn. Her parents, Avie Lee Owens Parton and Lee Parton, married in 1939 and over the next (number of years) had a total of 12 children. Dolly Rebecca was born fourth in line, in 1946. Her father, a farmer, worked in a logging camp, and, according to his 2000 obituary, went as far as Detroit to find work to support his family. Dolly's mother, a preacher's daughter, worked hard at being a good mama and wife and was the inspiration for Dolly's famous song "Coat of Many Colors."
In a 1978 interview with Lawrence Grobel, Dolly talked about an aunt of hers possessing the first television, not to mention flushing toilet, that Dolly ever saw. She discussed making their own soap and going to the river to wash themselves in the warmer months. She joked that there were so many of them, and they were so dirty, that they'd leave a ring around the Little Pigeon River. In cold weather, Dolly says "we'd have a pan of water and we'd wash down as far as possible, then we'd wash up as far as possible..and when somebody cleared the room, we'd wash possible."
She knew from early childhood that she was meant to be a star
Dolly was first introduced to music by her mother, who knew how to play the guitar and sang. Dolly also discovered her voice at church, and when Uncle Bill gave her a guitar, she immediately started writing songs. At the tender age of 10, Dolly started singing and playing guitar on local TV and radio shows in nearby Knoxville, Tenn. Her Uncle Bill Owens (the same doting uncle who gave her the first real guitar; Dolly made her own at age 7) could see that the motivated, talented young girl had star potential and could see that she knew she was destined for greatness. He introduced young Dolly to Cas Walker, a successful grocery chain owner who had created a radio program to promote his stores that later turned into a local TV show. The name of the show was the Cas Walker Farm and Home Hour.
Uncle Bill brought Dolly backstage and she marched right up to Cas Walker and told him that she wanted to work for him. Dolly became a regular on his show, which led to future opportunities. She tells the story of her early career in the film Dolly Parton's Coat of Many Colors, which was released in December 2015. Dolly enjoyed success on Walker's show, and even made her first appearance at the Grand Ole Opry in 1959, when she was just 13. She was introduced by Johnny Cash, and her performance of George Jones' "You Gotta Be My Baby" earned her three encores.
As soon as she could, she moved to Nashville
While Dolly enjoyed her time on Cas Walker's show, any country singer worth his or her salt knew that to really make it, you had to move to Nashville. So, as soon as Dolly graduated she moved to Nashville, Tenn., home of country music. But before she found fortune and fame, she found something else first: a man who, in two short years, would become her husband. According to Dolly, she was doing her laundry on her first day in town at a laundromat called the Wishy Washy. During her first few months in town, Dolly worked at Couser's restaurant, which closed in October 2016. (Dolly, of course, made her mark everywhere she went, and when Norman Couser passed away, the restaurant's Facebook page said that Dolly was his favorite customer.)
Soon, she got a writing job with a publishing company but starting writing her own songs. One song, "Put It Off Until Tomorrow," was penned with Uncle Bill Owens and was recorded by Bill Phillips in 1966. Dolly sang harmony on the record, which peaked at number six on the Billboard charts. Dolly was signed to Fred Foster's Monument Records and had her first Top 40 hit with the song "Dumb Blonde," with lyrics like "Just because I'm blonde, don't think I'm dumb." Interestingly, Dolly did not write "Dumb Blonde," even though she was known as a songwriter.