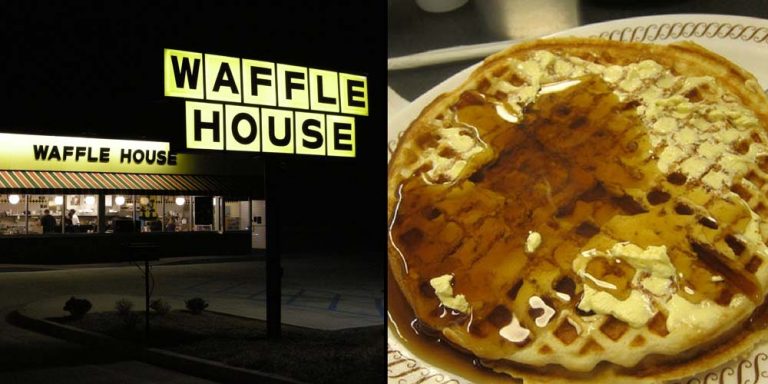 Driving down a dark, lonesome highway late at night with an empty tummy and a hankering for waffles, you can almost hear choirs of angels singing when a Waffle House appears on the horizon.
Waffle House signs have been a beacon of hope for hungry, late-night drivers for more than 60 years. But what's the story behind this time-honored 24-hour eatery? Read on to learn all the facts about Waffle House you didn't know.
1. THE FIRST WAFFLE HOUSE OPENED IN 1955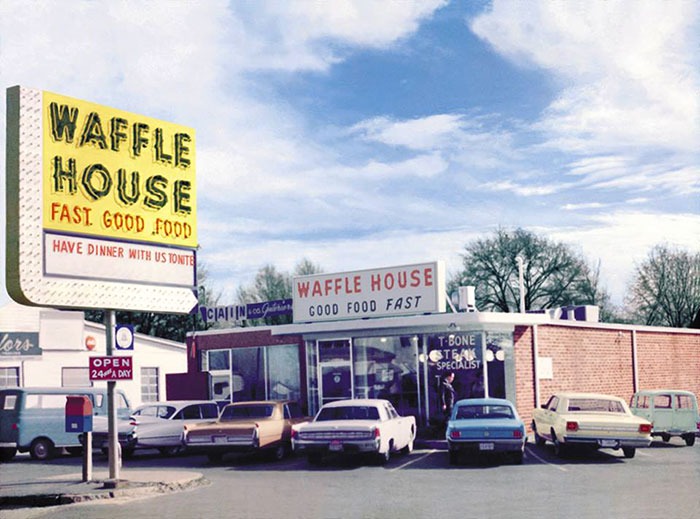 Two neighbors, Joe Rogers and Tom Forkner, decided to open a restaurant together that would focus on people and serve quality food at a great value. On Labor Day 1955, the first Waffle House opened its doors in Avondale Estates, a suburb of Atlanta. Did you know Applebee's also started as a mom and pop shop?
2. IT'S NAMED AFTER THE MOST PROFITABLE ITEM ON THE MENU
Waffle House is known for much more than its waffles; in fact, people order bacon and hashbrowns more than anything else. But the name comes from Forkner because of how profitable waffles are for restaurants. "It was the highest profit item you could do, so I said, 'Call it Waffle House and encourage people to eat waffles,'" he told the Associated Press in a 2005 interview.
3. EACH LOCATION IS OPEN 24/7
There's a reason Waffle House is a popular food destination after a late night out; every restaurant location is open 24 hours a day, seven days a week. It's also open 365 days a year, even on holidays including Christmas and Thanksgiving. So if you don't have any holiday plans, share a meal with the friendly Waffle House employees!
4. BUT THERE ARE STILL LOCKS ON THE DOORS
Since Waffle House is known for being open 24/7, there's an urban legend that the restaurants don't even have locks on their doors because why would they need them? Turns out, Waffle House restaurants do have locks on the doors, according to the official website. There's another rumor that each new location buries its keys in cement on the sidewalk in front — also not true.
5. WAFFLE HOUSE OFFERS CATERING
Big fan of Waffle House's menu? Have them cater your next event! The Waffle House website advertises on-location service for groups of 20 or more with a cost totaling more than $200. Waffle House Catering also delivers, which is perfect for business meetings or tailgates. Unfortunately, Waffle House Catering is only available in the Atlanta area.