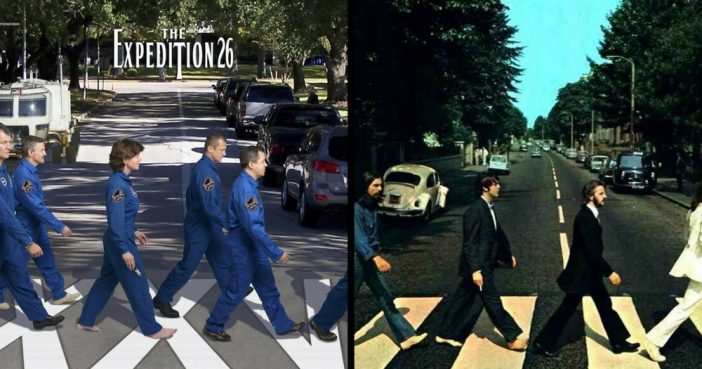 Astronauts tend to be a straight-laced bunch.
It makes sense, given the extreme discipline required of their job. But they like to lighten things up now and then just like anyone else, and that's on full display in the elaborately nerdy posters for International Space Station (ISS) missions.
The ISS is a space station where astronauts from the United States, Russia, Europe, Canada, and Japan cooperate on experiments for the benefit of future deep space explorations. International crews assemble for four-to six-month-long expeditions.
Since the first ISS expedition in 2000, NASA has been making expedition posters featuring the crew, first through its Office of Communications and then is Space Flight Awareness team. In 2007, NASA thought it would be fun to switch from standard group photos to something more fun — heavily Photoshopped posters based on some of the crew's shared favorite pieces of pop culture.
Over the past 10 years, this has included references to "Star Wars," The Beatles, and "Reservoir Dogs."
Dr. Alotta Taylor, NASA's head of the Space Flight Awareness program, told Business Insider that the posters serve both an external and internal purpose. They advertise the expeditions to the public and are hung within NASA facilities and the offices of other US government organizations. And the charming kitschiness of the posters give the ISS crews, who train together before living in close proximity, a chance to participate in something fun and goofy when they work with the graphic designers at NASA's Johnson Space Center in Houston.
You can see all of the posters on NASA's website, and we've included some of our favorites below.
The poster for Expedition 16 (2007) was the first time the crew went with a pop culture homage, inspired by 'The Matrix.'
Expedition 45's (2015) poster was inspired by "Star Wars."