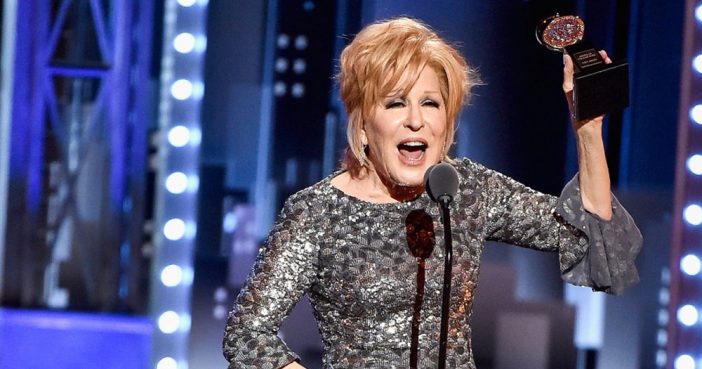 Bette Midler made sure she got every last "thank you" in at the 2017 Tony Awards on Sunday night, completely disregarding the play-off music. This gorgeous veteran actress enthusiastically took to the stage after she won "Best Performance Of An Actress In A Leading Role in a Musical," and she definitely took advantage of her time onstage.
https://www.youtube.com/watch?v=hmpARAYzbWA
"I am so privileged, I am so honored to receive this from you all tonight," the Hello, Dolly! superstar began her speech.
"I hope I don't cry. I have so many people I'd like to thank."

Midler, whose filmography consists of titles ranging from 1986's Ruthless People to 1993's Hocus Pocus to 1996's First Wives Club, proceeded to rattle off a long list of colleagues, mentors and industry veterans that included everyone from her makeup artist ("She makes me look 30 years younger than I am!") to Carol Channing, the original star of Hello, Dolly!
At one point in her earnest list of thank you's, however, the play-off music began to play, urging her to finish up her speech, but Midler ignored it, essentially overpowering the music with her voice.
The Hollywood legend even bantered about the music at one point.
"Shut that crap up!" She laughed.
To this, the audience of performers laughed and cheered wildly.
Midler's belated closer to her speech rang out with her saying:
"I just want to say that revival is an interesting word. It means that something is near death and it's been brought back to life. Hello, Dolly! never really went away. It has been here all along. It's in our DNA. It's optimism, it's democracy, it's color, it's love of life. It's hilarity. This is a classic. Come and see it. It's not just me! This has the ability to lift your spirits in these terrible, terrible times."
In total, Midler's speech lasted a little more than four minutes, but she still wasn't done getting her message out. Once she got offstage, Midler continued her speech in the press room, deeply apologizing for all the names she'd somehow missed during her speech, as if there weren't enough names.
Later that night, Bette Midler would add one last, very important announcement via her Twitter account:
"In all the pandemonium tonight I neglected to thank the brilliant ensemble of 'Hello Dolly', whom I adore. Please forgive me kids! I'm old!"