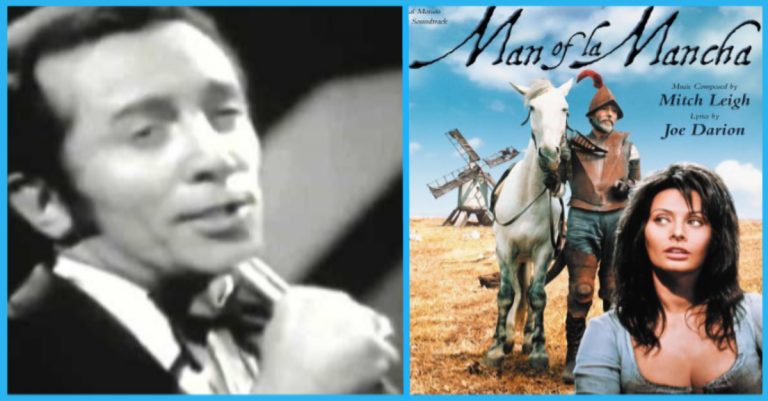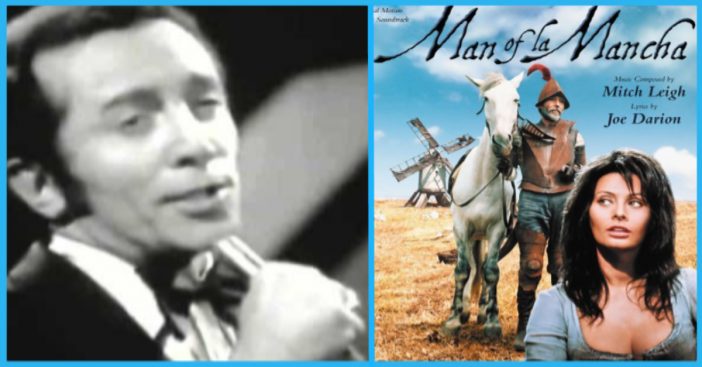 "The Impossible Dream (The Quest)" is a popular song composed by Mitch Leigh, with lyrics written by Joe Darion.
The principal song, "The Impossible Dream" became a musical theater standard. The musical has played in many other countries around the world!
"The Impossible Dream (The Quest)"
To dream the impossible dream
To fight the unbeatable foe
Bear with unbearable sorrow
To run where the brave dare not go
To right the unrightable wrong
Love pure and chaste from afar
To try when your arms are too weary
To reach the unreachable star
This is my quest To follow that star
No matter how hopeless No matter how far
To fight for the right Without question or pause
To be willing to march into hell for a heavenly cause
And I know if I'll only be true To this glorious quest
That my heart will lie peaceful and calm
When I'm laid to my rest
And the world will be better for this
That one man scorned and covered with scars
Still strove with his last ounce of courage
To reach the unreachable stars
The song is the most popular song from the 1965 Broadway musical Man of La Mancha and is also featured in the 1972 film of the same name starring Peter O'Toole.
The song is sung all the way through once in the musical by Don Quixote as he stands vigil over his armor, in response to Aldonza (Dulcinea)'s question about what he means by "following the quest".
It is reprised partially three more times – the last by prisoners in a dungeon as Miguel de Cervantes and his manservant mount the drawbridge-like prison staircase to face trial by the Spanish Inquisition.
The Contemporary Classics Award placed the song in the Songwriters Hall of Fame.
How about Robert Goulet singing this powerful song..
Here are a few Live Performances of Al Martino back in'67
"Somewhere My Love"
(Source)