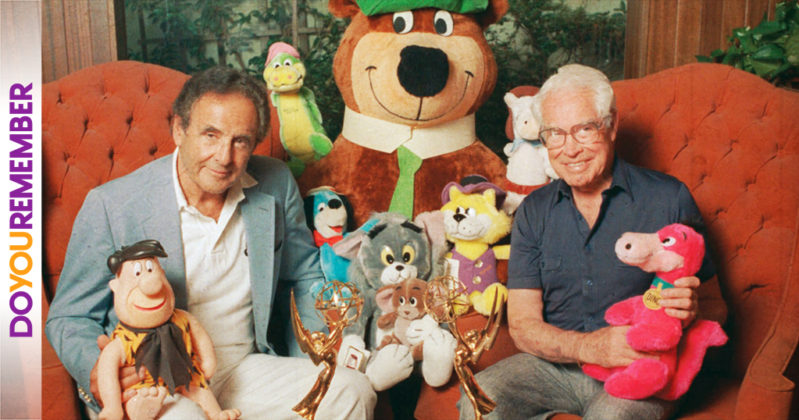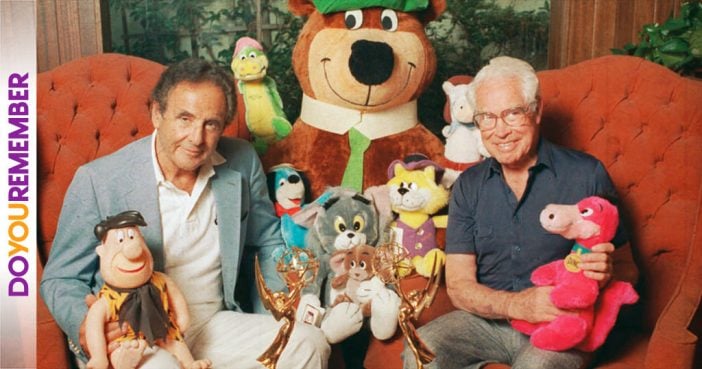 In 1957, MGM, weary of the expense involved in producing cartoons, closed the department, briefly leaving Hanna and Barbera at loose ends. But the pair was really on the verge of their greatest success, as their new studio produced a veritable wave of acclaimed characters and shows for television. Though the stylization and animation were forced, through economy, to be less elaborate than the studio cartoons, the bravado and sense of character was just as strong. Distinctive visual tropes seen throughout their work include a lack of necks or necks covered with collars and ties and the sort so the animator would only need to alter the head in differing shots, while the body remained the same. Speaking of sartorial get-ups, many of these anthropomorphized animals were partial to bow ties, boater hats and the like, borrowed from classic comedians such as Buster Keaton, Harold Lloyd, etc.
Today's animators often strive to re-create the classic Hanna-Barbera style, hoping its nostalgic lines will add a warm glow to their tales. Today, in the first of a series, we're looking at Hanna-Barbera and its legendary characters of the 1960s.
The Flinstones
One of Hanna-Barbera's signature hits was inspired by date that showed adults were also tuning in to the company;s popular cartoon shows featuring Huckleberry Hound and Quick Draw McGraw. It was thus decided that a program aimed squarely at adults show be developed. In September 1960, The Flintstones began its six-year run on ABC.
Based to a degree on Jackie Gleasons immensely popular sitcom The Honeymooners and transferred to the Stone Age, The Flintstones four main characters could be traced directly to their Brooklyn counterparts: Fred Flintstone as blustery Ralph Kramden; Wilma as long-suffering wife Alice; Barney Rubble as dim-witted best fried Ed Norton; and Betty as the bubbly Trixie. Fred was even drawn based on the physical appearances of both Gleason and Alan Reed, the voice actor who played him and who previously had done voice-overs for Gleason himself in films. At first the Great One threatened to sue, but then relented, saying, Do you want to be known as the guy who yanked Fred Flintstone off the air?
Meanwhile, Barney's voice changed considerably over the series, from a high-pitched, nasal yelp to the lower, more affable one known today, based on Art Carney's character in The Honeymooners. Other favorite characters included later were the Flintstones daughter, Pebbles, the Rubbles son, Bamm-Bamm (quite a strong tyke), and the pet dog, Dino.   Audiences were delighted by modern conveniences carried out in the fashion of the Stone Age, from an instant camera that actually employs a bird to peck out the image on rock to a record player put into operation by the beak of a woodpecker.
Current celebrities were conjured, but always with a name change in the form of a rocky pun: Ann-Margret became Ann-Margrock, Cary Grant was Gary Granite, Ed Sullivan hosted a show as Ed Sulleystone, and even Alfred Hitchcock became Alvin Brickrock.
Perhaps more than most Hanna-Barbera characters, the Flintstones have gone on to achieve a permanent fame, never leaving the public consciousness. Their images still sell cereal and vitamins, two feature films have been released, multiple cartoon series ensued over the decades, and a new Flintstones movie produced by Will Ferrell may be on its way.
The Jetsons
Hanna-Barbera hit pay dirt again when, two years after the success of The Flintstones, they traded the Stone Age for the Space Age in The Jetsons. Now regarded as one of the key blueprints for a brilliant future that has not yet come to pass, the show featured flying cars, jetpacks, robotic maids and houses that take care of themselves.
George, Jane, Judy and Elroy Jetson are the idealized nuclear family of the 2060s. Rosey is their robotic maid, and the dog is Astro, whose mix of canine-seeming noises with garbled words would create the vocal template for Scooby-Doo (also voiced by Don Messick) seven years later.
Surprisingly, for such an iconic show, it only ran for one season, producing 24 episodes. Pundits credit its failure to one if two things: 1) The plotlines were too similar to those of The Flintstones, merely sped up to accommodate the times and without a real feeling for the possibilities of the future; or 2) Too few households had a color set in 1962, and The Jetsons was nothing if not about color. Vibrant futuristic scenes became washed-out in black-and-white, and certainly seemed old-fashioned.
Scooby-Doo
One of the true masterpieces of the Hanna-Barbera universe, Scooby-Doo and his human crime-fighting gang have become animated icons. The series Scooby-Doo, Where Are You! premiered in 1969 and maintained a constant television presence until 1986. Since then there have been sequels, movies, video games, stage plays and myriad cultural references to unmasked villains whose plans would have been fulfilled if it weren't for those darn kids and their dog!
Scooby himself is a Great Dane who is able to speak a kind of broken English, comically inserting R before most letters. His name was suggested by CBS exec Fred Silverman, who was inspired by the words doo-be-doo-be-doo in Frank Sinatra's song Strangers in the Night.
All four main humans are based on types from the late-50s sitcom The Many Loves of Dobie Gillis. The blonde, ascot-wearing leader of Mystery Incorporated, Fred Jones, is a Dobie type (on the show, Dwayne Hickman sported both blonde and brunette locks over the run).
Sultry Daphne Blake is a takeoff on Tuesday Welds character from Dobie. A romantic foil for Fred, she also fulfills the damsel-in-distress role.
Smart Velma Dinkley is the tomboyish intellectual of the group, inspired by the Dobie character Zelda Gilroy. Many have considered her a proto-lesbian, with the screenwriter of the Scooby-Doo film saying he's pretty sure she's gay.
60s hippie Shaggy did you know his full name is Norville Rogers? is based on iconic beat Maynard G. Krebs in Dobie Gillis, played by Bob Denver pre-Gilligan. To voice Scooby's owner, producers approached late radio DJ Casey Kasem, who initially was reluctant, not knowing how to act out the part of a hippie. As years went by, Kasem's rendition became essential to the series, as all fans of the word, Zoinks! can attest.
Atom Ant
https://youtu.be/z45ZkISJXU4
Created in 1965 for NBCs Saturday-morning lineup, Atom Ant is a superhero operating out of an anthill in the countryside (a nod to the Batcave?).   He possesses not only the ability to fly and a nifty 60s mainframe computer, but also an essential crime-fighting tool: a catchphrase. Up and at em, Atom Ant!
Dastardly and Muttley
The nefarious villain and his snickering dog first came to nasty life in the 1968 cartoon Wacky Races, a spoof of the 1965 turn-of-the-century comedy The Great Race, which featured Jack Lemmon as the sinister Professor Fate.
Dick Dastardly's elaborate driving costume consisting of a long blue overcoat, red gloves and red and blue striped hat complete with goggles is inspired not only by ensembles of the 1900s but also Lemmon's clothes in The Great Race. Voiced by Paul Winchell, Dastardly utters one of his many catchphrases Curses, foiled again! or Drat, drat, and double drat when one of his sneaky schemes for victory goes asunder.
Forgoing speech for a wheezy snicker, Muttley is Dastardly's canine accomplice. He also can perform a mumbled grumble, usually against Dastardly. The pair reunited as aviators in the 1969 cartoon Dastardly and Muttley in Their Flying Machines, itself inspired by the 1965 film Those Magnificent Men in Their Flying Machines.
Jonny Quest
https://youtu.be/L0kg_tzQvf4
An early entry into Hanna-Barbera's more action-oriented programming, Jonny Quest was set in the near future, and detailed the globetrotting adventures of the titular 11-year-old, his scientist father, his Indian best friend, a special agent along for the ride, and a pet dog named Bandit. Though it was a hit, it only ran for one season, from 1964 into 1965, but remained in syndication for two decades on every network.
Magilla Gorilla & Ricochet Rabbit
In 1963, HB introduced a large ape Magilla Gorilla who starts every episode in a pet store before embarking on a weekly adventure with a new set of caretakers; ultimately, his new owners decide they cannot keep him, and he is returned to the store at story's end (We'll try again next week, is his catchphrase). Magilla is anthropomorphized in red shorts, green suspenders, shoes, a purple bow tie and an undersized derby hat. Some cultural commentators have equated the show with America's contemporary view of racial integration, as Magilla is regularly taken into white homes and just as regularly evicted.
Another segment of The Magilla Gorilla Show featured Ricochet Rabbit, an old-time Western sheriff in the tiny hamlet of Hoop n Holler. His amazing speed enables him to bounce off walls and avoid bullets while calling out his signature phrase, Ping, ping, PING Ricochet Rabbit! His slower deputy, Droop-a-Long Coyote (voiced by Mel Blanc as Festus from Gunsmoke), has a harder time making the grade.
Penelope Pitstop
The quintessential damsel in distress made her debut as one of the contestants in Wacky Races in 1968, but gained her own series The Perils of Penelope Pitstop the following year. A parody of silent melodramas, the show constantly placed pretty blonde Pauline at the mercy of the sinister Hooded Claw, voiced menacingly by Paul Lynde. She was always saved by the Ant Hill Mob, a Prohibition-era gangster pack led by a raffish Edward G. Robinson type.
Peter Potamus
A purple hippo who shared syndication with Magilla Gorilla and Ricochet Rabbit, Peter explores the world complete with pith helmet and safari jacket in a time-traveling hot air balloon. His signature Hippo Hurricane Holler can blast away baddies.
Quick Draw McGraw
Like Huckleberry Hound, Quick Draw McGraw was an early success for Hanna-Barbera, debuting in 1959 and spoofing the Westerns that seemed to rule the TV landscape at the moment. His partner, Baba Looey, spoke English with an exaggerated Mexican accent (both characters were voiced by Daws Butler). Although he is an anthropomorphic horse, Quick Draw often rides through town on real horses, adding a sense of surrealism that would later be parodied. He also has an alter ego, El Kabong, a spoof of the Spanish bandit Zorro, who assaults enemies by swooping down and bashing them with a guitar (the kabong sound of his name).
Quick Draw has had one of the longer lasting legacies of the HB family, and has been referenced by everyone from Dane Cook to Busta Rhymes to Lil Wayne to The Simpsons. Howard Stern famously calls his sidekick Baba Booey because Gary Dell Abate could not pronounce the name of the character when they were discussing the purchase of cartoon cells.
Snagglepuss
https://www.youtube.com/watch?v=yeKacFKfPho&feature=youtu.be
A pink mountain lion wearing a top hat, cuffs, starched collar and string tie? It could only be Hanna-Barbera, and it can only be Snagglepuss. Voice actor Daws Butler based his character on elements of the comedian Bert Lahr, famous for his role as the Cowardly Lion in The Wizard of Oz.
Such Snagglepuss catchphrases as, Heavens to Murgatroyd! and, Exit, stage left! are direct homages to Lahr, so much so that the latter sued when Snagglepuss began hawking Kellogg's cereals in the 1960s. A screen credit had to be inserted proclaiming the voice by Daws Butler, a fix never seen before or since in the annals of American advertising.
Top Cat
The charmingly raffish world of the Bowery Boys, city streets and Irish cops pervade the milieu of Top Cat, a savvy alley feline who with his gang of cats eludes the efforts of Patrolman Dibble to rid the streets of the furry menace. Elements of Phil Silvers Sergeant Bilko are also in the mix, evidenced by Arnold Stang's Top Cat voice taking on shades of Silvers.