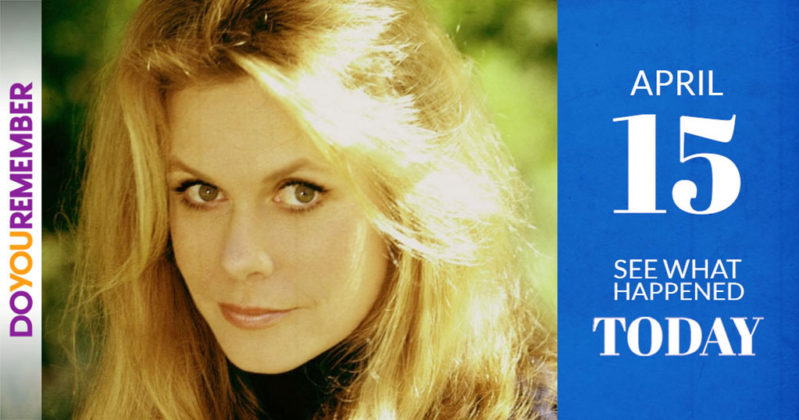 "BORN TODAY"
Maisie Williams (1997) – Actress ("Game Of Thrones")
Emma Watson (1990) – Actress ("Harry Potter" Series)
Eliza Doolittle (1988) – Singer, Camden Town
Samira Wiley (1987) – Actress ("Orange Is The New Black")
Alice Braga (1983) – Actress
Ester Dean (34) – Singer, Songwriter, Record Producer, and Actress ("Drop It Low")
Seth Rogen (1982) – Actor, writer ("Knocked Up," "Superbad")
Patrick Carney (1980) – American musician
Luke Evans (1979) – Actor ("Girl On A Train")
Chris Stapleton (1978) – American singer-songwriter.
Susan Ward (1976) – Actress and Model
Danny Pino (1974) – Actor ("Cold Case")
Jason Sehorn (1971) – former American football cornerback
Flex Alexander (1970) – American actor, comedian and dancer.
Dara Torres (1967) – Olympic Swimmer
Samantha Fox (1966) – English dance-pop singer, songwriter, actress, and former glamour model
Linda Perry (1965) – American Grammy nominated rock singer-songwriter, and record producer.
Emma Thompson (1959) – British Actress, Activist, Author, Comedienne and Screenwriter.
Linda Bloodworth-Thomason (1947) Writer & Television Producer ("Designing Women")
Michael Tucci (1950) – Actor ("Grease")
Amy Wright (1950) – Actress ("The Deer Hunter," "The Scarlet Letter")
Julie Sommars (1942) – Actress ("Herbie Goes to Monte Carlo")
Claudia Cardinale (1939) – Actress ("The Pink Panther")
Roy Clark (1933)
Robert Glynn "Bob" Luman (1937 – RIP 1978)
Elizabeth Victoria Montgomery (1933 – RIP 1995) (Featured Above)
Michael Ansara (1922 – RIP 2013) – Stage, Screen, and Voice Actor
Hans Conried (1917 – RIP 1982) was an American character actor
Lita Grey (1908 – RIP 1995), American actress and the second wife of Charlie Chaplin
Claudia Cardinale (1939) – Actress ("The Pink Panther")
Leonardo da Vinci (1452- RIP 1519) – Artist ("Mona Lisa," "The Last Supper")
"DIED TODAY"
Wallace Beery (Born: April 1, 1885 / Died:  April 15, 1949)

Clara Blandick (Born: June 4, 1876 / Died: April 15, 1962)

Richard Conte (Born: March 24, 1910 / Died: April 15, 1975)

Greta Garbo (Born: September 8, 1905 / Died: April 15, 1990)

William Bakewell (Born: May 2, 1908 / Died: April 15, 1993)

Joey Ramone (Born: May 19, 1951 / Died: April 15, 2001)
"MOVIES TODAY"
Click on the movie title to watch it's trailer.
"MUSIC TODAY"
1966 – Buffalo Springfield was the opening act for The Byrds in San Bernadino, CA.

1967 – The Nancy and Frank Sinatra duet "Somethin' Stupid" hit #1 on the U.S. singles chart. It was the first father and daughter act to hit #1.
1969 – Archie Bell (Drells) was released from military service after a tour of Vietnam.

1996 – In San Francisco, CA, Jerry Garcia's remaining ashes were scattered near the Golden Gate Bridge. A small portion of his ashes had been scattered in the Ganges River in India on April 4th.

1999 – Tammy Wynette's body was exhumed in an attempt to settle a dispute over how she had died.
2003 – Kelly Clarkson's debut album "Thankful" was released.

2015 – The Who began its 50th anniversary tour.
2016 – Metallica released the remastered versions of their first two albums.
"TV/RADIO TODAY"
1951 – The first episode of the "Adventures of Wild Bill Hickok" radio show aired.
1956 – The world's first, all-color TV station was dedicated in Chicago as WNBQ-TV, now known as WMAQ-TV.

1958 – The 10th Emmy Awards are hosted.

1992 – William Schatner and Leonard Nimoy are inducted into the National Association of Broadcasters Hall of Fame.
"OTHER IMPORTANT EVENTS…"
1923 – Insulin became generally available for people suffering with diabetes.

1934 – In the comic strip "Blondie," Dagwood and Blondie Bumstead welcomed a baby boy, Alexander. The child would be nicknamed, Baby Dumpling.

1947 – Jackie Robinson played his first major league baseball game for the Brooklyn Dodgers. Previously he had only appeared in exhibition games.

1956 – GM announced that the first free piston automobile had been developed.

1983 – In Urayasu, Chiba, Japan, the Tokyo Disneyland theme park opened.

1986 – U.S. F-111 warplanes attacked Libya in response to the bombing of a discotheque in Berlin on April 5, 1986.

1986 – Clint Eastwood was elected Mayor of Carmel, California.

1987 – "Asinamali!" opened as the first South African play on Broadway in New York City.

1997 – Christopher Reeve received a star on the Hollywood Walk of Fame.