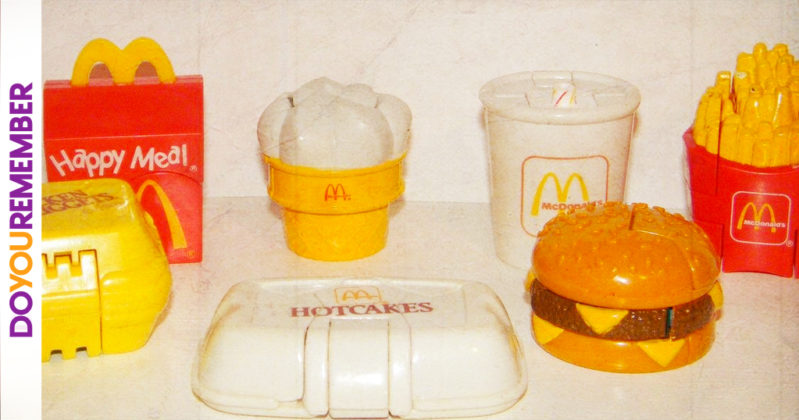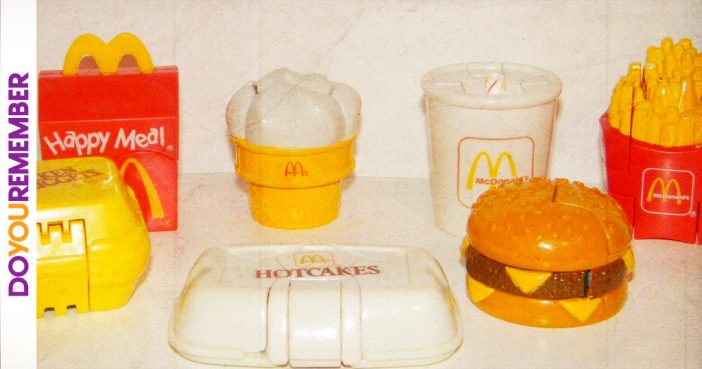 It's hard to imagine a time when the iconic McDonald's Happy Meal didn't exist. It's even harder to imagine a Happy Meal withou tMcDonald's happy meal toys! The fast-food chain started to officially offer its arch-handled boxed creation nationally in 1979. Even though it was featured in some test markets for a couple years prior. Here we will show you some very valuable McDonalds Happy Meal Toys and our all-time favorites!
There has been some dispute over who originated the Happy Meal concept credit has been given to both advertising executive Bob Bernstein as well as to Dick Brams, McDonald's advertising manager at the time. The golden child of the marketing industry, the Happy Meal continues to work its magic on youth today (It seems so simple now: Junk food + toy = surefire hit), and even though McDonald's has started to offer healthier Happy Meal options such as apples and milk, any kid will tell you that, apples or no apples, it's all about the toy.
Here is a selection of some of the quirky Happy Meal Toys offerings over the years:
McWrist Wallet, 1977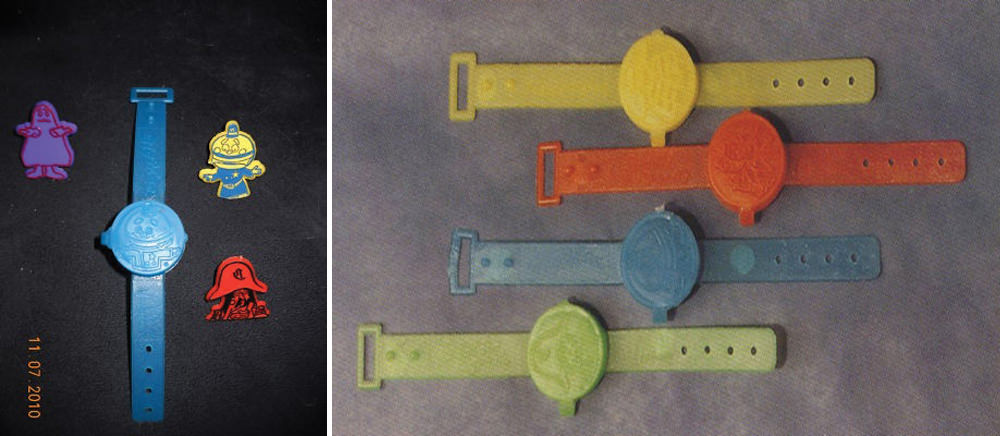 One of the very first Happy Meal toys, offered during the test-market period in Las Vegas, St. Louis, Phoenix and Kansas City, the colorful plastic McWrist Wallet gave kids just enough room beneath its snap cap to stow away something like a few extra crumbs from their meals.
Star Trek Meal, 1979. This one gets me all nostalgic
When Star Trek: The Motion Picture came out, people flocked to Mickey D's to pick up their first movie-themed meal. To this day, Trekkies still collect the toys offered at the time, including plastic USS Enterprise rings, glitter iron-on decals and a mini Starfleet game, as well as the meal boxes that feature comic-strip renditions of scenes from the movie.
Hot Wheels, 1983
In 1983, McDonald's started including the popular toy cars in its Happy Meals, adding to the collectibility of them by offering different models on different coasts.
Lego Building Set, 1984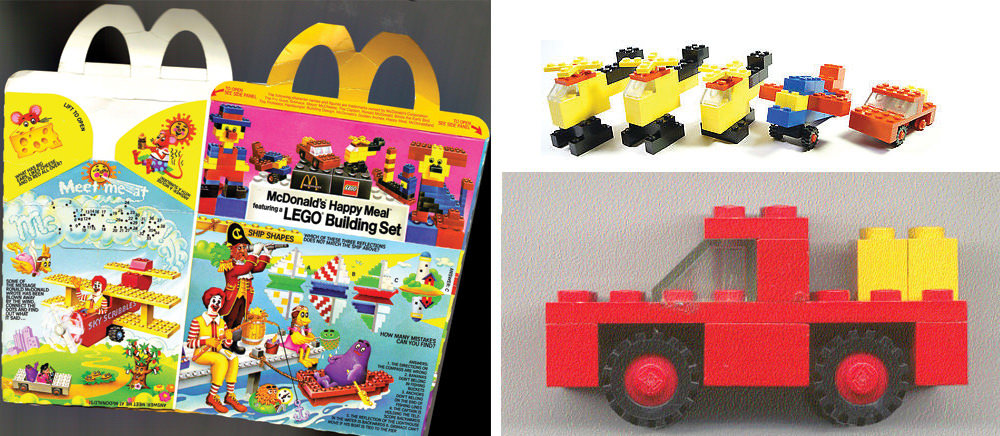 Why not let children construct their Happy Meal toy? With the building sets McDonald's offered, kids could create a helicopter, truck, airplane or ship.
Fraggle Rock,1988. These Are Very Valuable Happy Meal Toys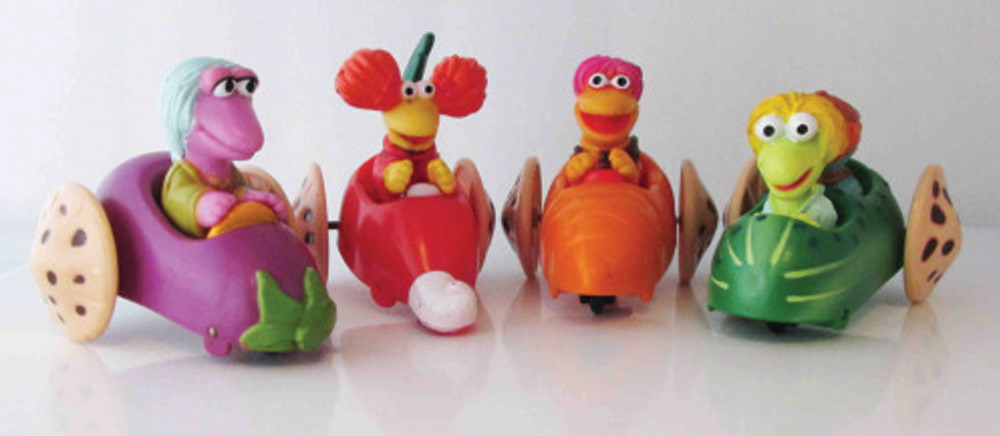 Along with special themed boxes featuring stills from the popular Jim Henson series, McDonald's offered toys that promoted healthy eating (better than the meal itself), with characters from the show sitting in cars made out of various root vegetables.
McDino Changeables, 1990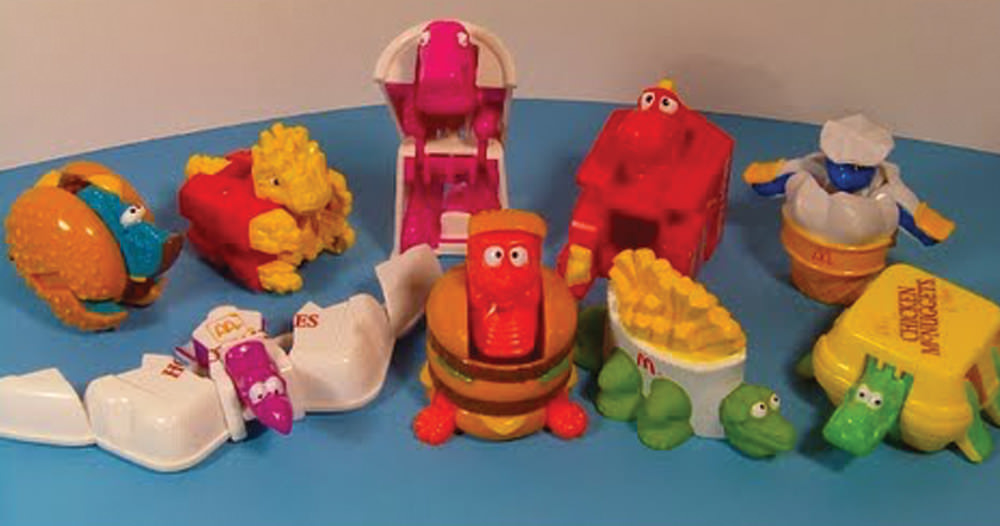 McDino Changeables, like this Hot-Cakes-O-Dactyl, are still among the most beloved Happy Meal toys to collectors. They're exactly what you think they are re-creations of popular McDonald's menu items that can be manipulated to transform into prehistoric creatures.
McDonaldland Good Morning McDonald's Happy Meal Toys, 1991
Because who doesn't want a toothbrush with his or her Happy Meal? For this Good Morning promotion, meals included pint-sized plastic versions of morning-routine accessories.[
Ty Teenie Beanies, offered 1996 to 2000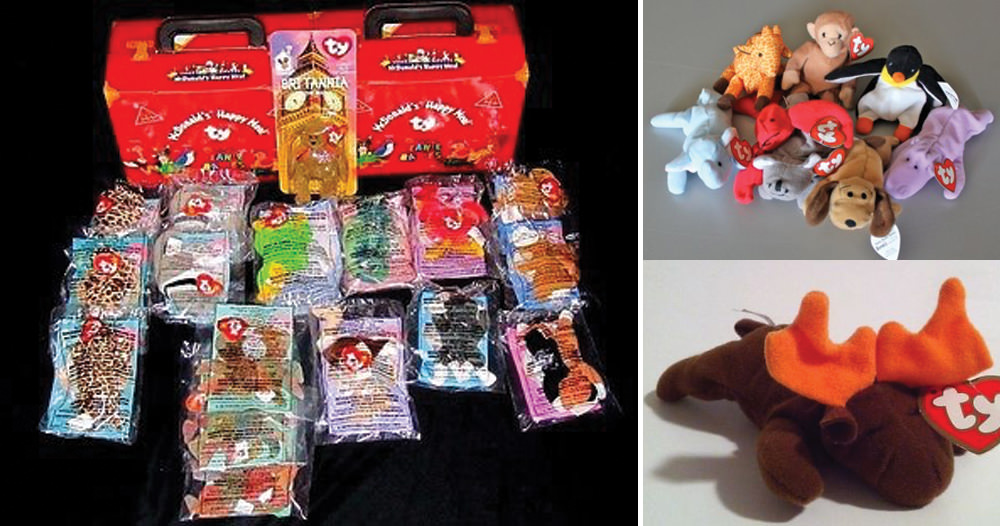 These mini versions of Ty Beanie Babies were so popular that when shortages arose, fights broke out among McDonald's patrons. People even took to reselling the toys on the underground market for pretty hefty prices. McDonald's ran a Teenie Beanies 2.0 promotion based on its newer line of dolls in 2009, and just recently launched a line of Ty Teenie Beanie Boos, bright, big-eyed plush creatures even more miniature than the originals to celebrate the Happy Meals 35th anniversary.
Here Are 5 Now Valuable Mcdonald's Happy Meal Toys:
Hopefully, you held onto some, because you may be surprised how much these toys can be worth. This list comes from Bustle.
1. 1989 Charlie Brown and Snoopy Happy Meal toys. A Snoopy 'World Tour' McDonald's Toy Sold for over $300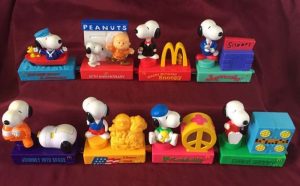 2. 1999 Furbies Happy Meal toys. A set sold for $899
3. 2017 A full set of Minion's can sell for over $400
The Best Of McDonald's Happy Meal Commercials From 
Do you remember how excited you were to find a special trinket in your McDonald's Happy Meal? Which toys did you get? What was your favorite happy meal toy?