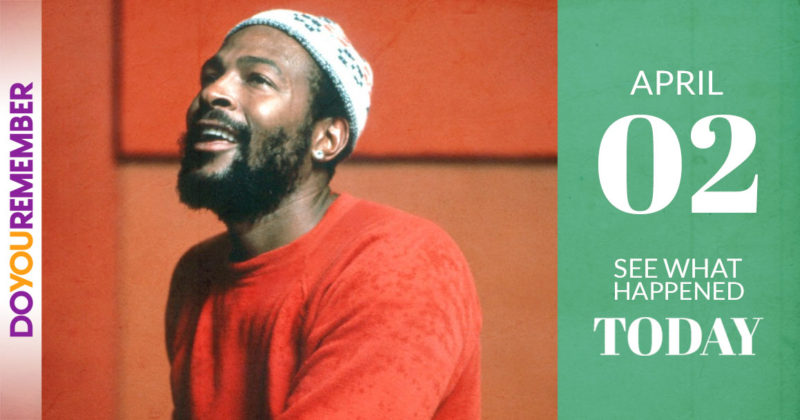 APRIL 2
"BORN TODAY"
Jesse Plemons (1988)
Lee DeWyze (1988)
Ashley Peldon (1984)
Yung Joc (1983)
Bethany Joy Lenz-Galeotti (1981)
Michael Fassbender (1977)
Aiden Turner (1977)
DeeDee Magno (1975)
Adam Rodriguez (1975)
Roselyn Sanchez (1973)
Traci Braxton (1971)
Ajay Devgan (1969)
Billy Dean (1962)
Clark Gregg (1962)
Christopher Meloni (1961)
Keren Woodward (1961)
Debralee Scott (1953) – (RIP 2005)
Pamela Reed (1953)
Leon Wilkerson (1952)
Ron "Horshack" Palillo (1949) – (RIP 2012)
Emmylou Harris (1947)
Camille Paglia (1947)
Glen Dale (1943)
Larry Coryell (1943) – (RIP 2017)
Linda Hunt (1945)
Leon Russell (1942)
Marvin Gaye, Jr. (1939) – (RIP 1984)
Warner Mack (1938)
Sharon Acker (1935)
Rita Gam (1928)
Jack Webb (John Randolf) (1920) – (RIP 1982)
Lou Monte (1917) – (RIP 1989)
Dabbs Greer (1917) – (RIP 2007)
Sir Alec Guinness (Alec Guinness de Cuffe) (1914)
Herbert Mills (1912)
Buddy Ebsen (1908)
Walter Chrysler (1875)
Hans Christian Andersen (1805) –  (RIP 1875)
"DIED TODAY"
Chester Clute (February 18, 1891 – April 2, 1956)
Fortunio Bonanova (January 13, 1895 – April 2, 1969)
Gil Hodges (April 4, 1924 – April 2, 1972)
Douglass Dumbrille (October 13, 1889 – April 2, 1974)
Ray Teal (January 12, 1902 – April 2, 1976)
Buddy Rich (September 30, 1917 – April 2, 1987)
Rob Pilatus (June 8, 1965 – April 2, 1998)
"MOVIES TODAY"
1902 – "Electric Theatre" opened in Los Angeles. It was the first full-time movie theater in the US.
1968 – "2001: A Space Odyssey" directed by Stanley Kubrick premiered in Washington, D.C.
1976 – The Eagle Has Landed is a British film based on the novel by Jack Higgins. The plot centers around a fictional Germany during the Second World War.
1972 – Charlie Chaplin returns to the US after being labelled a communist during the Red Scare.
"MUSIC TODAY"
1800 – 1st performance of Ludwig van Beethoven's 1st Symphony in C.
1942 – Glenn Miller and his orchestra recorded "American Patrol."
1963 – "Best Foot Forward" with Liza Minnelli opened in New York City.
1964 – The Beach Boys recorded "I Get Around."  One year later they appeared on ABC-TV's "Shindig!" and performed "Do You Wanna Dance?"
1965 – Freddie & the Dreamers recorded "Do The Freddie."
1967 – Steve Winwood left the Spencer Davis Group to form Traffic.
1968 – Beatles form Python Music Ltd
1975 – "Rock and Roll All Nite" / "Getaway" was released by KISS.
1977 – Fleetwood Mac's "Rumours" album goes #1 & stays #1 for 31 weeks.
1978 – KISS released the album "Double Platinum."
1987 – The Prince album "Sign O' The Times" was released worldwide.
1997 – Joni Mitchell was reunited with Kilauren Gibb. Gibb was the daughter that Mitchell had given up for adoption 32 years before.
1998 – Rob Pilatus (Milli Vanilli) died in a hotel room in Frankfurt, Germany.
1998 – A new wing opened at the Rock and Roll Hall of Fame and Museum opened in Cleveland, OH.
"TV/RADIO TODAY"
1954 – 1st local color TV coml WNBT-TV (WNBC-TV) NYC (Castro Decorators).
1956 – As the World Turns and The Edge of Night premiere on CBS-TV. The two soaps become the first daytime dramas to debut in the 30-minute format.
1971 – Sci-fi soap opera "Dark Shadows" concludes an almost 5 year run
1973 – CBS radio begins on hour news 24 hours a day.
1974 – 46th Academy Awards: "The Sting", Glenda Jackson & Jack Lemmon win.
1978 – TV soap show "Dallas" starring Larry Hagman and Barbara Bel Geddes premieres on CBS (as a 5 week mini-series).
1993 – Roberta Flack appeared on the ABC-TV soap opera "Loving."
"OTHER IMPORTANT EVENTS…"
1827 – Joseph Dixon begins manufacturing lead pencils
1908 – Mills Committee declares baseball was invented by Abner Doubleday
1912 – Titanic undergoes sea trials under its own power
1917 – US President Wilson asks Congress to declare war against Germany.
1921 – Albert Einstein lectures in New York City on his new "Theory of Relativity.
1932 – Charles Lindbergh turns over $50,000 as ransom for kidnapped son.
1958 – Antillean Brewery (Amstel beer) opens.
1978 – Velcro was 1st put on the market.
1989 – Wrestlemania V at Trump Plaza, Hulk Hogan beats "Macho Man" Savage
1992 – Mafia boss John Gotti was sentenced to life in prison.
 PLEASE LET US KNOW IF WE HAVE ANY MISTAKES, ADDITIONS TO BE MADE, OR OTHER CHANGES THAT WE MIGHT HAVE MISSED. WE APPRECIATE YOUR ASSISTANCE IN KEEPING "DYRT" CONCISE AND CORRECT!