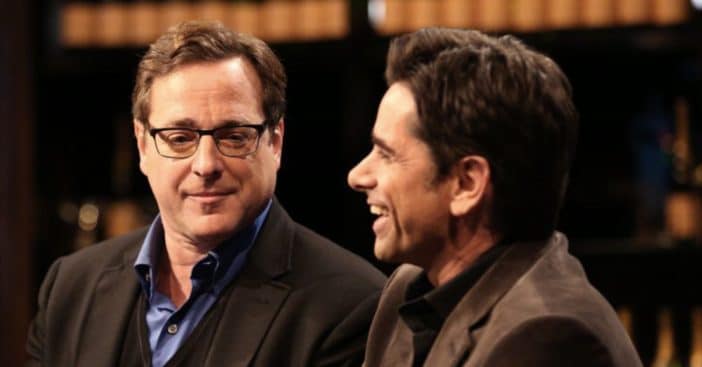 January 9th, 2023 marked the first anniversary of Bob Saget's death. He passed away suddenly while on tour and it shocked and saddened many of his friends, family, and fans. On the anniversary of his passing, his former Full House and Fuller House co-star John Stamos shared a throwback video in his honor.
In the video, John and Bob are seen laughing and talking to the audience while on the set of Full House. He captioned the video, ""The most lost day in our life is the day we don't laugh". It's hard sometimes Bob without you, but we'll try. We'll keep loving and will keep hugging just like you want us to. I can't believe it's been a year, time flies when you're grieving I guess."
John Stamos shares a throwback video of Bob Saget on the first anniversary of his death
View this post on Instagram
Many of his other co-stars, including Jodie Sweetin and Candace Cameron Bure, commented on the video, remembering their friend. Candace shared her own post featuring throwback photos. She said, "I stayed up for hours watching videos of Bob on my phone. Videos I couldn't watch a year ago because it hurt too much. Last night they made me laugh. They comforted me and warmed my heart."
She added, "I miss him so much and I'm grateful he was my friend for many years. I love you Bob." While the cast is very close these days, John admitted it wasn't always that way. When he began filming Full House, he said that he wasn't really friends with Bob at first.
John explained, "The truth is – and, you know, I have to say it's so funny – that we weren't the best friends [when we were] on the show. I came in wanting to approach the sitcom with structure, whereas Bob and Dave [Coulier] just want to make everyone laugh all the time." He continued, "He started popping into my life when I needed him the most. When I needed someone. And then vice versa. And then we just got closer and closer and close, and we ended up just being there for each other during the happiest and the saddest moments of our lives."