The opening of Breakfast at Tiffanys showcasing Audrey Hepburn in her pearls and black gown, having coffee and a Danish while gazing into the famed stores chandeliered window is one of Hollywoods most iconic movie scenes, as legendary as Marilyn Monroe in her white dress billowing above the subway grate in The Seven Year Itch. Truman Capote wrote the novella with Monroe in mind as Holly Golightly. But Monroe's acting coach, Paula Strasberg, thought playing a "call girl" would be bad for Marilyn's career. Capote described Golightly as "an American geisha."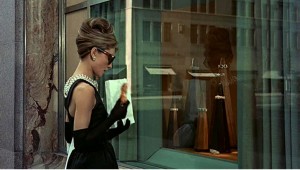 The writer thought Hepburn was miscast. Audrey herself thought so, too. Her biographer Barry Paris said the role "worried a lot of people around her as to whether or not the public would accept such a thing.
But director Blake Edwards didn't think she was concerned about it. "There was a very strong core to Audrey, in spite of certain obvious insecurities.  Those doubts surfaced when Capote showed up on the set, because she knew he would have preferred Monroe.
In spite of her qualms, Holly Golightly became Hepburn's defining movie role, and earned her a fourth Oscar nomination for Best Actress. She imbued the character with all the qualities Hepburn was known for in real life "aristocratic grace (her mother was a Dutch baroness), ethereal beauty and European chic. In a recent Harper's Bazaar interview, Hepburn's son Sean Ferrer described her earthier side:  "unassuming, humble, funny, emotional, strong, delicate.  All these currents run through Audrey's complex yet effortless performance.
As a girl, she discovered her passion for dance at a London boarding school and wanted to be a prima ballerina. When England declared war on Germany in 1939, she returned to Arnhem in the Netherlands and raised money for the resistance movement, dancing in basements of private homes in blackout performances. To avoid alerting the Nazis, audiences couldn't applaud. Hepburn said her "favorite audiences in life were the ones who never made a sound.  In 1944, after a disastrous Allied invasion, Hepburn and her family endured near-starvation conditions in what was known as the "hunger winter.
After the war, she returned to London and worked as a chorus girl, and was soon discovered by fashion photographers and casting agents. In Paris, the brilliant French writer Colette saw Audrey on a movie set, waiting to perform a minor role, and said,  "There is my Gigi."
Her award-winning role as Gigi, a courtesan, introduced the world to Hepburn's smoldering sexuality. In Breakfast at Tiffany's, it lit up the screen. Her chemistry with George Peppard, who plays Paul Varjak, is one reason the film has reached cult status among romantic-movie fans, who re-create its opening scene when they have "the mean reds."
Paul (George Peppard), a kept man, understands Holly's (Hepburn) desperate need to survive. Patricia Neal, as the older woman who supports Paul, plays it to cougar perfection. The only one miscast is Mickey Rooney in his controversial role as Mr. Yunioshi.
Buddy Ebsen's haunting portrayal of the country horse doctor who married 14-year-old Lula Mae Barnes (Holly's real name) and shows up in New York to fetch her is moving and tender. And in the end, it's Cat (played by nine orange tabbies), the no-name slob Holly tosses into a rainy alley, who really drenches your heart with love.