The rock world is full of some of the biggest stars and, subsequently, some of the biggest egos, as well. As bands hit the road with each other, run into one another at various award shows and celebrity events, personalities are bound to clash — and they have!
From punch outs at the MTV Music Awards to endless lawsuits to bitter social media exchanges and beyond, some of rock and metal's biggest names have engaged in memorable feuds over the decades. While tempers have simmered and cooler heads have prevailed in recent years, ending long-standing battles between rockers, other feuds remain red hot and burn to the touch.
For a few, time has not healed the wounds but merely prolonged the engagement as barbs are traded in the press whenever these contentious issues bubble back up to the surface, only to explode once again.
Guns And Roses: Axl Rose vs. Slash
One of rock's longest-standing feuds mercifully came to an end recently, when it was announced in early 2016 that Slash had indeed rejoined Guns N' Roses. The reunion of the guitarist and firebrand frontman Axl Rose was one most fans thought to be impossible. While it's difficult to pinpoint a singular cause of the feud, the band's former manager said it all started when Slash agreed to perform on a song with Michael Jackson. Axl, who apparently was molested by his father at a young age, believed the pedophilia accusations levied against Jackson and thought the idea of his guitarist working with the alleged offender was unacceptable. Another reason often cited is that Slash and Axl began to clash over the musical direction of the band in the mid '90s, leading to a big blow up and Slash's exit from GN'R.
Deep Purple: Ian Gillan vs. Ritchie Blackmore
While some of the most ironclad feuds have been resolved in recent years, the one between Deep Purple singer Ian Gillan and former guitarist and primary songwriter Ritchie Blackmore burns just as hot as ever. Gillan left the band in 1973 after tensions mounted with Blackmore, but it was Blackmore who left for good in 1993. After sacking Joe Lynn Turner and bringing Gillan back in, the singer changed Turner's melodies, incensing Blackmore. When the band received their long overdue induction into the Rock and Roll Hall of Fame, Gillan forbade Blackmore from attending. This one, truly, may never be over.
Sharon Osbourne vs. Iron Maiden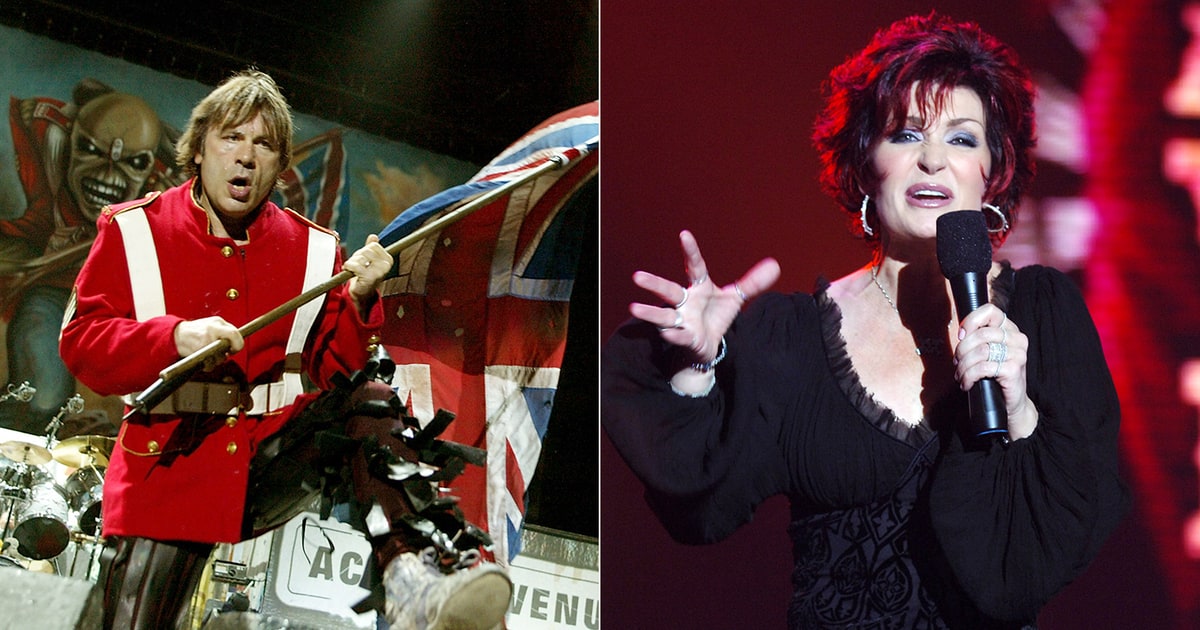 Iron Maiden's final performance on the 2005 Ozzfest tour was quite the memorable one. Playing in San Bernardino, Calif., the band experienced multiple sound cuts and a roadie ran out waving a flag, chanting "Ozzy" through the PA system. Pelted with eggs by audience members put in place by Sharon Osbourne, the manager and wife of Ozzy took the stage after Maiden were finished, calling Bruce Dickinson a "prick" for knocking the Osbournes for having a television series, among other demeaning words the singer spouted throughout the tour. Following the event, Maiden's manager, Rod Smallwood, released a single statement expressing the band's collective disgust and moved on.
Pink Floyd: David Gilmour VS. Roger Waters
After the stresses of recording "The Wall," the fights and alienation surrounding the subsequent "The Final Cut" (which reviewer Kurt Loder referred to as "essentially a Roger Waters solo album"), and worries about the increasingly poor mental health of Syd Barrett, Pink Floyd was more or less ready to call it quits at the end of the Eighties.
Waters made his solo career official, breaking away from the rest of the band (now headed by David Gilmour), but not before having his lawyer inform that despite consisting of the majority of Pink Floyd, they were legally barred from performing as Pink Floyd, referring to themselves as Pink Floyd, and/or using Waters' inflatable pig. "That's my pig. That's my plane crashing," Waters complained to Rolling Stone in an interview where he also stated, "If one of us was going to be called Pink Floyd, it's me."
Of course, the group under Gilmour was more than one people calling themselves Pink Floyd, and with the weight of numbers on their side they eventually convinced the court the same thing. The surviving members of Pink Floyd are on generally OK terms today and even performed together at a Live 8 show, but given that custody of the pig remains undetermined, a true reunion is probably out of the question.
The Everly Brothers: Don Everly VS. Phil Everly
A major influence on the pop music of the Sixties with their country-tinged rock and close-paired harmonies (among others, the Beatles were big fans, and based "Please Please Me" on the structure of "Cathy's Clown"), the Everly Brothers were influential in another way, as well: the creation and nurturing of long-simmering resentments that result in embarrassing, dramatic public outbursts.
Bickering over how much and what kind of speed each other were ingesting (Don was an early adopter of Ritalin, which eventually landed him in a hospital and disrupted a U.K. tour) and the stress of their waning popularity finally reached a crisis point in 1973, while they were performing with similarly fractious duo Simon and Garfunkel as a sort of unofficial "guys who clearly hate each other" tour.
During a performance of "Cathy's Clown," Phil abruptly decided he'd had enough, threw his guitar to the ground, and walked off stage. Don, apparently not too surprised, told the shocked audience that the Everly Brothers were officially finished. The brothers have since reconciled and occasionally even perform together, suggesting that in the end, blood is thicker than Ritalin.
THE KINKS: RAY DAVIES VS. DAVE DAVIES
Another brother-fronted pop legend, the Kinks arrived with the rest of the British Invasion fleet with hits like "You Really Got Me" and a fraternal battle that had apparently been brewing since unimaginatively named younger brother Dave Davies was born three years after Ray.
While the Kinks were the darling of the UK music press and were a crucial influence on the '90s Britpop scene, the fundamentally opposed personalities of the two men lead to clashes public and private, including one fight in the Eighties over the mastering of a record that reportedly made their manager cry.
Somehow they managed to perform together until 1996, when according to Dave, Ray interrupted his younger brother's 50th birthday party by jumping on the cake and making a brief speech about how he was a huge and insurmountable genius. The men have barely communicated since, with the exception of business emails and sniping at each other through articles in the Daily Mail.
The Rolling Stones: Mick Jagger and Charlie Watts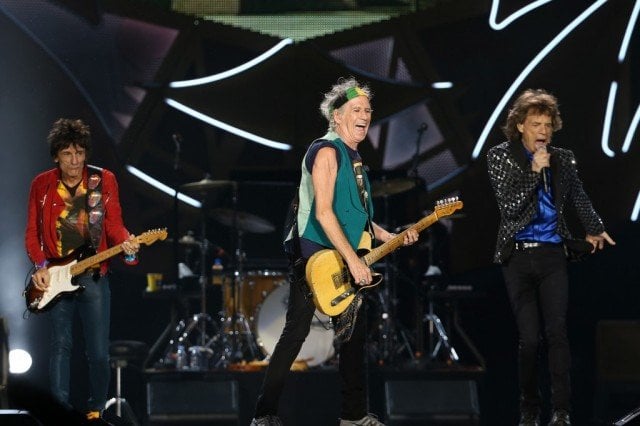 It's not uncommon for a band to start fighting due to egos. As the front man of The Rolling Stones, Mick Jagger wasn't afraid to throw that in everyone's face. However, the band members didn't always just take it.
"[Jagger said] something like: 'None of this should matter to you because you're only my drummer,'" wrote Bill German in Beggars Banquet. "[Watts] kept it bottled inside until he got back to his hotel room. He then clicked off his TV, put on his shoes, walked down the hall and knocked on Mick's door. When the lead singer of the Rolling Stones opened it, his drummer clocked him on the jaw. Charlie then turned round and calmly walked away."
The Beach Boys: Mike Love vs. Brian Wilson
Often called "America's Band," the California dudes have had a long history of legal issues surrounding songwriting credits, royalties and usage of the band's name. These came to a public head in 2012, when Love unexpectedly fired Wilson and fellow original members Al Jardine and David Marks after a surprising reunion. The group had been touring for the band's 50th anniversary, but Love decided that it was best not to get "overexposed." "I'm disappointed and can't understand why [Love] doesn't want to tour with Al, David and me," Wilson told CNN when asked about the firing. "We are out here having so much fun. After all, we are the real Beach Boys." Love continues to tour under the Beach Boys name with a substitute band.
Simon and Garfunkel: Paul Simon and Art Garfunkel
The two folk musicians recorded their last album, 1970's highly successful Bridge Over Troubled Water, at a time when their personal relationship was rapidly deteriorating. The two couldn't decide on the 12th and final song on the album and refused to record each others' choices, so the album was released with only 11 tracks. Then in the late '80s, a reunion album was planned, but Simon unexpectedly removed Garfunkel's vocals and released the disc solo. A couple of years later, when the duo was inducted into the Rock and Roll Hall of Fame, Art made the mature decision to put the past behind him and publicly praise Paul for his songwriting ability. Paul responded by saying, "Arthur and I agree about almost nothing, but it's true, I have enriched his life quite a bit."
The Beatles: John Lennon VS. Paul McCartney
After the death of their manager, Brian Epstein, in 1967, The Beatles found themselves headed for a breakup. McCartney took over the reigns, but Lennon later said he was just leading the band "around in circles," and the group split in 1970. Lennon then released "How Do You Sleep" in 1971, taking a dig at McCartney by singing, "The only thing you did was 'Yesterday' … The sound you make is Muzak to my ears. How do you sleep?" Years after Lennon's death, McCartney made a sly jab at Lennon by reversing the order of their famously trademarked songwriting credit (Lennon-McCartney) on 2002's Back in the U.S. live album; however, McCartney has since stated that he is now content to keep the credits as they originally were on future works.
Sources: (Crave Online , Loud Wire, Paste Magazine)