"Before Pinterest became the "It" source of inspiration, we turned to film to discover new places, looks and ideas. And when fashion magazines fell flat, we turned to the movies for sartorial guidance. From androgynous menswear first seen on Diane Keaton in Annie Hall to the sexed-up, 80s dancer style worn by Jennifer Beals in Flashdance to the smartly cut suits donned by the Misters in Reservoir Dogs, a plethora of popular trends first surfaced on the big screen. Here's a look back at the films eternalized in our wardrobes.
A Streetcar Named Desire (1951)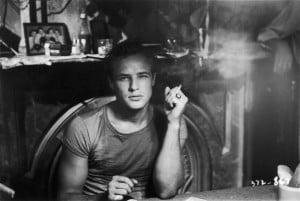 This film paved the way for casual menswear. T-shirts were no longer undergarments or worn solely for farming, and tailoring wasn't just for trousers. In fact, fitted cotton shirts were so out of fashion at the time that the costume department had to back-sew Marlon Brando's now infamous shirt. The actor may have been the first to sport the look on film but he certainly wasn't the last, starting a trend that continued in films such as Rebel Without a Cause and The Wild One.
Annie Hall (1977)
We can't give the fictional Annie all of the credit for the menswear trend the film inspired. Reportedly, Diane Keaton wore a similar outfit to the set, which wardrobe stylist Ruth Morley initially vetoed. Still, director Woody Allen, who was Keaton's boyfriend at the time, intervened, saying, "Leave her. She's a genius. Let her wear what she wants". Soon, slouchy jackets and wide-leg pants were seen on runways everywhere.
 Flashdance (1983)

Jennifer Beals character epitomized 80s style, right down to the torn neckline of her gray sweatshirt. Women everywhere dashed to the mall in search of an oversized, shoulder-bearing shirt, leggings and a headband. It didn't hurt that Flashdance premiered at the height of the decade's aerobics craze, when popular culture was saturated with gym-clothes-as-outerwear.
Desperately Seeking Susan (1985)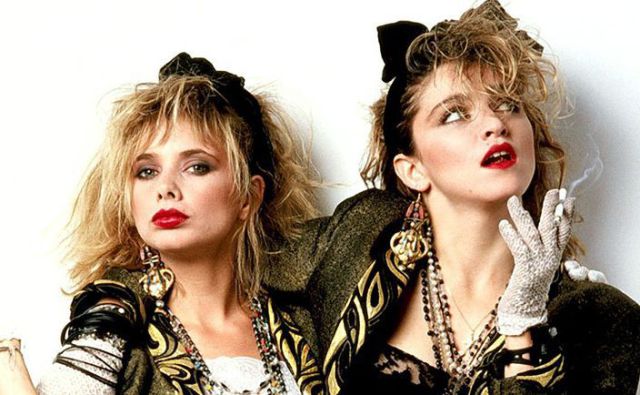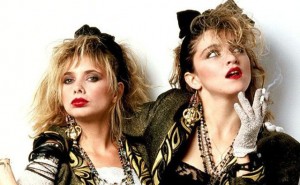 Madonna has always been rather eccentric. But when director Susan Seidelman hired her to star in the 1985 film, she had no idea the eclectically dressed singer/actress was just being herself. The movie, with its thrift-shopping scenes and Alice in Wonderland-style plot, launched Madonna's signature 80s look: two-toned locks, oversized hair accessories, Wayfarers and loads of long statement necklaces.

Pretty Woman (1990)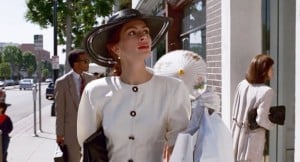 No, we're not referring to the skintight mini the down-on-her-luck Vivian Ward (Julia Roberts) wears as a trendsetting piece. Rather, it's what Vivian buys on her shopping trip on Rodeo Drive that audiences couldn't get enough of, particularly the brown polka-dot ensemble she wears to the polo match. It was a nice reprieve from the shoulder pads and skirt suits we were used to seeing in the 80s, and not quite as loud as what we'd soon see in the 90s.