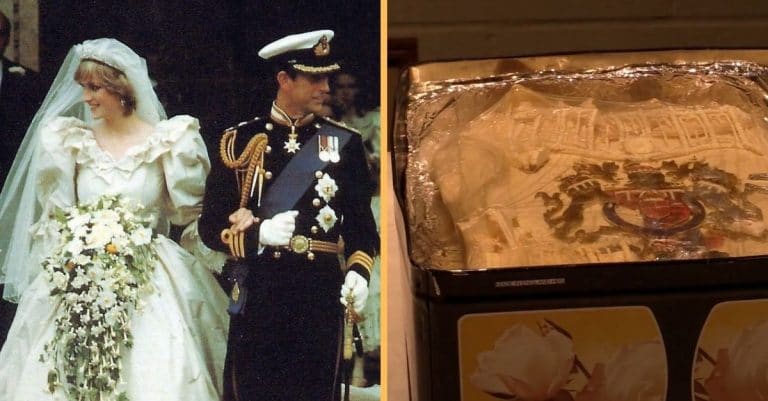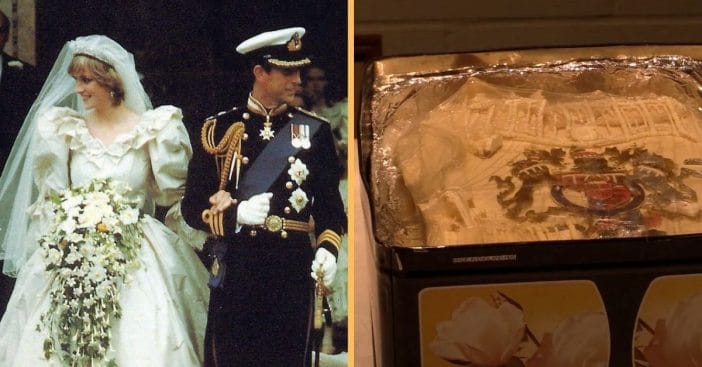 A slice of cake from Prince Charles and Princess Diana's 1981 wedding has officially sold – yes, you read that right. And, it sold for a very unexpected price. It was originally estimated to fetch between £300-£500 ($416-$693) but ended up selling for a whopping £1,850 ($2,565).
The 28-ounce slice comes directly from one of the 23 cakes made for the royal wedding, according to Dominic Winter Auctioneers. Auctioneer Chris Albury says that there was so much hype built up leading up to the auction that it was ultimately impossible to predict what the slice would sell for.
This slice of cake sold for $2,565 USD!
"It really seemed to capture a lot of people's imaginations, and wallets," Albury says. He adds: "£1,850 was very unexpected." The slice of cake features a coat-of-arms colored in gold, red, blue, and silver, a silver horseshoe and leaf spray, and some white decorative icing.
CNN
reports that the slice is likely part of one of the cakes sent to royal staff and given to Moyra Smith, who worked at Clarence House for the Queen Mother at the time.
The 40-year-old slice has been preserved by being kept in plastic wrap in an old cake tin. It was then sold to Dominic Winter Auctioneers in 2008 on behalf of Smith and her family. The white icing may have dulled a bit, but otherwise, the cake slice is in good condition. "It's an object that's going to last," Albury said.
CNN reports that slices of royal wedding came do come up for auction regularly, but Albury says that this piece, in particular, stands out from the rest due to it being such a large piece. "I've not seen anyone else trying to sell anything like this," he said. "It's quite a lump." The auction also included printed Ceremonial and Order of Service programs for the wedding and a memorial Royal Wedding Breakfast menu and table seating program.