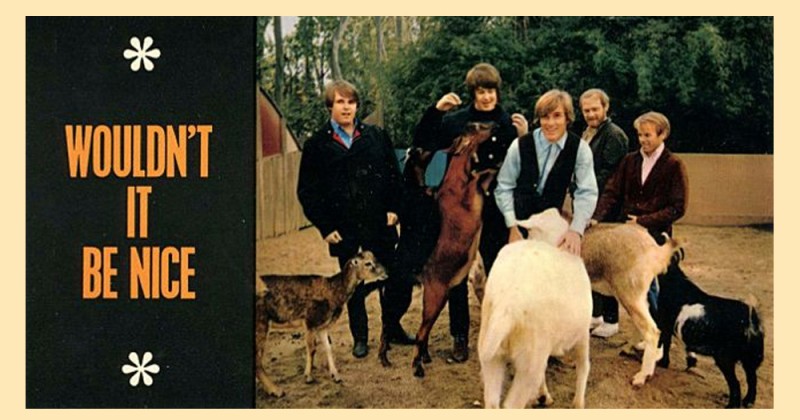 This was the leadoff track to The Beach Boys legendary Pet Sounds album. While the "Wouldn't It Be Nice" and "God Only Knows" singles sold very well, the album had very disappointing sales when it was first released. The album has since garnered massive critical acclaim and sold well in reissues, but upon first release it only made #10 on the charts. In the UK, it did much better, going to #2 and giving The Beach Boys a lot more notoriety.
Brian Wilson wrote the song with contributions from vocalist Mike Love and lyricist Tony Asher. Asher wrote all of the lyrics except for the "Good night, my baby, sleep tight, my baby" lines at the end of the song, which were Love's contribution. Wilson worked with a few different lyricists over the years, and Asher's talent was phrasing the words for commercial appeal – he was a copywriter at an advertising agency. Looking back on his time with Wilson, Asher said, "It was a great joy making music with him but that any other relationship with Brian was a great chore. I found Brian's lifestyle so damn repugnant. I mean, for say, every four hours we'd spend writing songs, there'd be about 48 hours of these dopey conversations about some dumb book he'd just read. Or else he'd just go on and on about girls… his feelings about this girl or that girl… it was just embarrassing."
"Wouldn't It Be Nice" Lyrics:
Wouldn't it be nice if we were older?
Then we wouldn't have to wait so long
And wouldn't it be nice to live together
In the kind of world where we belongYou know it's gonna make it that much better
When we can say goodnight and stay togetherWouldn't it be nice if we could wake up
In the morning when the day is new?
And after having spent the day together
Hold each other close the whole night throughHappy times together we've been spending
I wish that every kiss was never ending
Wouldn't it be nice?Maybe if we think, and wish, and hope, and pray, it might come true
Baby, then there wouldn't be a single thing we couldn't do
We could be married
And then we'd be happy
Wouldn't it be nice?
You know it seems the more we talk about it
It only makes it worse to live without it
But let's talk about it
Wouldn't it be nice?