"Born Today"
Sarah Hyland (25)

Sabi (28)

Elena Satine (28)

Karine Vanasse (32)

Leah Jenner (33)

Katherine Heigl (37)

Colin Hanks (38)

Stephen Merchant (41)

Lola Glaudini (44)

Shirley Henderson (50)

Dawn Robinson (50)

Garret Dillahunt (51)

Denise Crosby (58)

Ruben Santiago-Hudson (59)

Linda Tripp (66)

Lee Michaels (70)

Billy Connolly (73)

Pete Best (74)
"Died Today"
Diego Rivera (

Born

: December 8, 1886 /

Died

: November 24, 1957)

Lee Harvey Oswald (

Born

: October 18, 1939 /

Died

: November 24, 1963)

Freddy Mercury (

Born

: September 5, 1946 /

Died

: November 24, 1991)

Arthur Hailey (

Born

: April 5, 1920 /

Died

: November 24, 2004)

Pat Morita (

Born

: June 28, 1932 /

Died

: November 24, 2005)

Florence Henderson (Born:

February 14, 1934 / 

Died:

November 24, 2016)
"Movies"
"Music"
1962 – Brenda Lee topped the Adult Contemporary chart with "All Alone Am I"
1962 – "Big Girls Don't Cry" by the Four Seasons was #1

1973 – Ringo Starr was #1 with "Photograph"

1979 – Barbra Streisand and Donna Summers were #1 with "No More Tears (Enough is Enough)"
1979 – The Eagles were at the top of Billboard 200 with

The Long Run

1980 – Steely Dan released "Hey Nineteen"

1984 – Prince dominated the charts for 17 weeks with the album

Purple Rain

1985 – Starship's "We Built This City" was the #1 song
1990 – Mariah Carey remained #1 for her third week with "Love Takes Time"

1990 – Bette Midler was at the top of the Adult Contemporary chart with "From a 

Distance"
"TV/Radio"
1972 – The first episode of ABC-TV's "In Concert" was aired. Alice Cooper, Bo Diddley and Seals & Croft appeared in the first episode. It was recorded September 21.

1981 – The first episode of "Simon & Simon" aired on CBS.
https://youtu.be/lErE-l9iMiY
"Other Important Events"
1871 – The National Rifle Association was incorporated in the

U.S.

1874 – Joseph F. Glidden was granted a patent for a barbed fencing material.

1903 – Clyde J. Coleman received the patent for an electric self-starter for an automobile.

1947 – John Steinbeck's novel "The Pearl" was published for the first time.
1963 – Dallas nightclub owner Jack Ruby shot and killed Lee Harvey Oswald live on national television.

1969 –

Apollo 12

landed safely in the Pacific Ocean bringing an end to the second manned mission to the moon.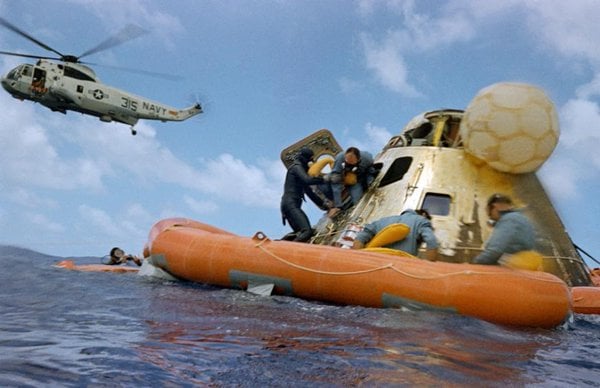 1996 – Rusty Wallace won the first NASCAR event to be held in Japan.

1996 – Barry Sanders (Detroit Lions) set an

NFL

record when he recorded his eighth straight 1,000-yard season.

1998 – AOL (America Online) announced a deal for their purchase of Netscape for $4.21 billion.