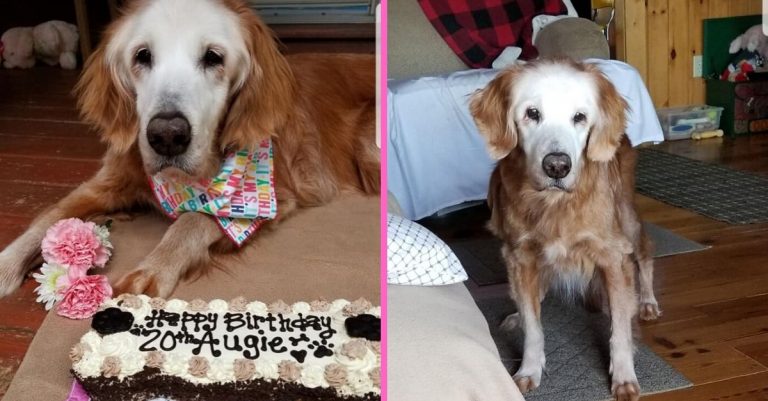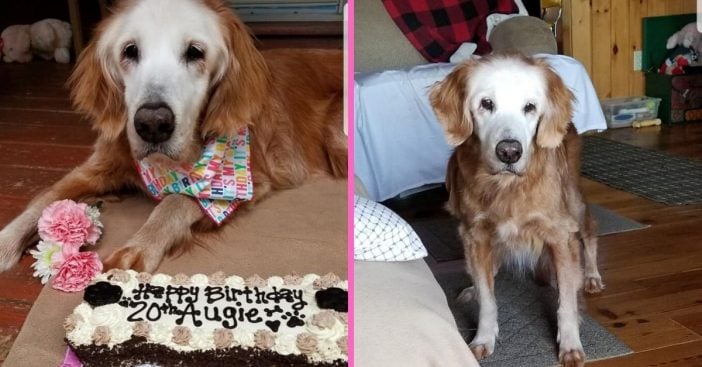 A dog named August that lives in Tennessee recently became the oldest golden retriever in history. Her owners Jennifer and Steve Hetterscheidt call her "Augie." They celebrated her 20th birthday on April 24, 2020.
Golden retrievers generally live to be around 10-12 years old. They have a shorter lifespan than most dogs because reportedly their genetics can increase their risk of cancer. However, Jennifer and Steve adopted Augie when she was 14 years old!
Augie becomes oldest Golden Retriever on record
https://www.facebook.com/GoldHeartGoldenRetriever/photos/pcb.3220202944708122/3220202564708160/?type=3&theater
GoldHeart Golden Retrievers Rescue shared a few photos and a post about Augie's special birthday. They wrote "Its official. Let it be known that Golden Retriever, "August", is the oldest known, oldest living Golden Retriever! She turned 20 years old on April 24, 2020. Augie, as she is affectionately called, lives in Oakland, Tennessee with Jennifer and Steve who gave her a furever home at age 14. Thank you for sharing your story with Goldheart, and Happy Birthday Augie!"
RELATED: WATCH: Golden Retriever Delivers Groceries To His Neighbor
https://www.facebook.com/GoldHeartGoldenRetriever/photos/pcb.3220202944708122/3220202718041478/?type=3&theater
Augie celebrated her birthday with a dog cake and her siblings, Sherman, Belle, and Bruce. Jennifer says that Augie is a bit shaky when she first gets up, but she still enjoys walks around the yard. She does have some kidney issues, but they are being treated.
According to GoldHeart Golden Retrievers Rescue, "She's lived so long largely because she's got great genetics, but also her owner, Jennifer, has done a great job of taking care of her and ensuring that they have a good relationship with Augie's vet. As Jennifer says, 'We care for them as long as we have them, and love them forever.'"
So sweet! Happy birthday, Augie!