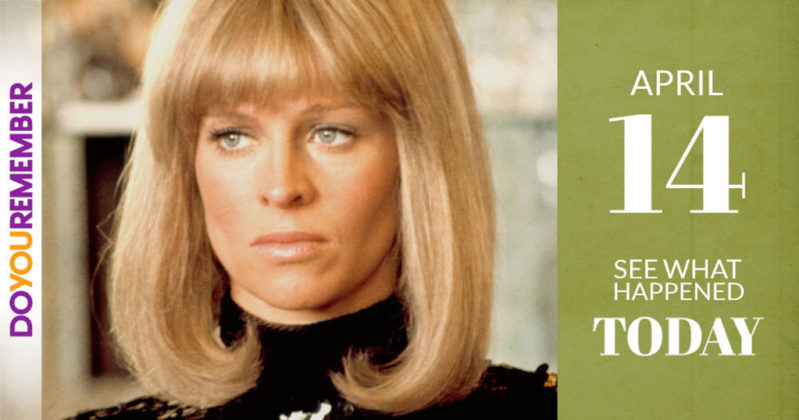 "BORN TODAY"
Abigail Breslin (1996) – Actress ("Little Miss Sunshine")
Nick Krause (1992) – Actor ("White Rabbit")
Chris Wood (1988) – Actor ("The Vampire Diaries")
Win Butler (1980) – Musician, "Arcade Fire"
Sarah Michelle Gellar (1977) – Actress ("Buffy the Vampire Slayer")
Rob McElhenney (1977) American Actor, Director, Producer, & Screenwriter ("Always Sunny In Philadelphia")
Georgina Chapman (1976) – English Designer & Actress
Amy Dumas (1975) – Retired Professional Wrestler
Antwon Tanner (1975) – Actor ("Moesha" & "One Tree Hill")
Da Brat (1974) – Rapper
Adrien Brody (1973) – Award Winning Actor ("The Pianist", "Midnight In Paris")
Faith Salie (1971) – American Journalist, Writer, Actor, Comedian & TV and Radio Host
Anthony Michael Hall (1968) – Actor (Movies:"Sixteen Candles", "The Breakfast Club", TV:"The Dead Zone")
Robert Carlyle (1961) – Scottish Actor
Brad Garrett ((born Brad H. Gerstenfeld) (1960) – Actor ("Everybody Loves Raymond")
Peter Capaldi (1958) – Scottish Actor
Lothaire Bluteau (1957) – Canadian Actor
Bobbi Brown (1957) – Professional Makeup Artist
John Shea (1949) – Actor ("Lois & Clark", "Honey, I Blew Up the Kid")
Larry Ferguson (1948 – RIP 2015) – Musician (Hot Chocolate)
Ritchie Blackmore (1945) – Musician (Deep Purple)
Pete Rose (Peter Edward Rose) – Nicknamed "Charlie Hustle" (1941) – Baseball player
Julie Christie (1940) – (Featured Above) Award Winning Actress ("Dr. Zhivago", "Shampoo")
Joan Darling (1935) – Actress & Director
Francesco Vincent "Frank" Serpico (1936) – Retired NYPD ("Serpico" was based on his character)
Loretta Lynn (1932) – Country Music Singer/Songwriter
Bradford Dillman (1930) – Actor & Auther ("Compulsion", "Falcon Crest")
Jay Robinson (1930 – RIP 2013) – Character Actor
Gloria Jean (Schoonover) – (1926) – Actress & Singer ("Copacabana", "The Ladies Man")
Rod Steiger (Rodney Stephen Steiger) – (1925 – RIP 2002) Actor ("Dr. Zhivago", "The Longest Day")
Anne Mansfield Sullivan (1866 – RIP 1936) – "The Miracle Worker", best known for  teaching Helen Keller to read, write and speak
"DIED TODAY"
Fredric March (August 31, 1897 – April 14, 1975)

Burl Ives (

June 14, 1909 – April 14, 1995)

Ellen Corby (June 3, 1911 – April 14, 1999)

Anthony Newley (September 24, 1931 – April 14, 1999)

Percy Sledge (November 25, 1940 – April 14, 2015)
"MOVIES TODAY"
Click on the movie title to watch it's trailer.
"MUSIC TODAY"
1958 – Van Cliburn won the International Tchaikovsky piano competition.
1958 – Van Cliburn appeared on national TV for the first time. He was on NBC's "The Tonight Show" with Jack Paar.

1960 – The musical "Bye Bye Birdie" opened in New York City.

1963 – The Beatles met the Rolling Stones after a Stones concert in Richmond, England.

1967 – The Bee Gees released their first English single. It was "New York Mining Disaster 1941."
1970 – Stephen Stills broke his wrist in an auto accident.

1970 – The 5th Academy of Country Music Awards was hosted. Merle Haggard and Tammy Wynette won.

1976 – Motown Records and Stevie Wonder held a news conference to announce he had signed a "$13 million-plus" contract with the label.

1976 – Bay City Rollers singer Eric Faulkner almost died after swallowing Seconal and Valium tablets.

1980 – A New Jersey state assemblyman introduced a resolution to make Bruce Springsteen's "Born to Run" the official state song. Springsteen also decided if this song wasn't going to be a hit, he would quit his musical career forever.
1980 – Iron Maiden's self-titled debut album was released.

1983 – Pete Farndon died of a drug overdose at the age of 29. He had been fired from the band the year before due to his drug problem.

1989 – Tom Petty released his first solo album "Full Moon Fever."
1999 – It was reported that Prince intended to re-record the entire catalog of his music and re-release it.
"TV/RADIO TODAY"
1953 – WHYN (now WGGB) TV channel 40 in Springfield-Holyoke, MA (ABC) begins

1955 – WBRZ TV channel 2 in Baton Rouge, LA (ABC/NBC) begins broadcasting

1959 – KDIN TV channel 11 in Des Moines, IA (PBS) begins broadcasting

1961 – 1st live television broadcast from Soviet Union

1969 – 41st Academy Awards is hosted.

1969 – KEET TV channel 13 in Eureka, CA (PBS) begins broadcasting
"OTHER IMPORTANT EVENTS…"
1910 – U.S. President William Howard Taft threw out the first ball for the Washington Senators and the Philadelphia Athletics.

1939 – John Steinbeck's novel "The Grapes of Wrath" was first published.

1956 – Ampex Corporation of Redwood City, CA, demonstrated the first commercial magnetic tape recorder for sound and picture.

1959 – The Taft Memorial Bell Tower was dedicated in Washington, DC.

1969 – For the first time, a major league baseball game was played in Montreal, Canada.

1981 – America's first space shuttle,

Columbia

, returned to Earth after a three-day test flight. The shuttle orbited the Earth 36 times during the mission.

1984 – The Texas Board of Education began requiring that the state's public school textbooks describe the evolution of human beings as "theory rather than fact".

1986 – U.S. President Reagan announced the U.S. air raid on military and terrorist related targets in Libya.

2008 – Delta Air Lines and Northwest Airlines announced they were merging.