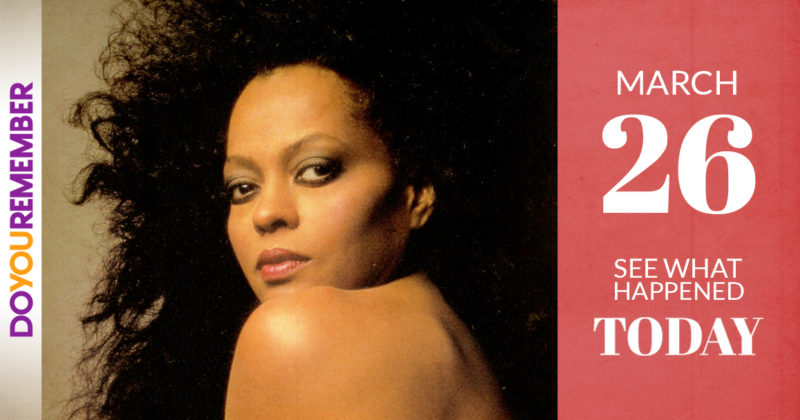 "BORN TODAY"
Jonathan Groff (1985)
Keira Knightley (1985)
Amy Smart (1976)
Natalia Livingston (1976)
T. R. Knight (1973)
Larry Page (1973)
Heather Goldenhersh (1973)
Leslie Mann (1972)
Jon Reep (1972)
Evan Richards (1970)
James Iha (1968)
Kenny Chesney (1968)
Michael Imperioli (1966)
Eric Allan Kramer (1962)
Marcus Allen (1960)
Jennifer Grey (1960)
Leeza Gibbons (1957)
Dean Dillon (1955)
Curtis Sliwa (1954)
Martin Short (1950)
Ernest Thomas (1950)
Teddy Pendergrass (1950) RIP
Vicki Lawrence (1949)
Steven Tyler (1948)
Johnny Crawford (1946)
Diana Ross (1944)
James Caan (1940)
Nancy Pelosi (1940)
Phillip R. Allen (1939)
Alan Arkin (1934)
Leonard Nimoy (1931) RIP
Sandra Day O'Connor (1930)
Richard Shull (1929) RIP
Bob Elliott (1923) RIP
Strother Martin (1919) RIP
"DIED TODAY"
Ludwig van Beethoven (Born: December 1770 / Died: March 26, 1827)
Sarah Bernhardt (Born: October 22, 1844 / Died: March 26, 1923)
Duster Bennett (Born: September 23, 1946 / Died: March 26, 1976)
Halston (Born: April 23, 1932 / Died: March 26, 1990)
Rapper Eazy-E (Born: September 7, 1963 / Died: March 26, 1995)
Jan Berry (Born: April 3,1941 /Died: March 26, 2004)
Paul Hester (Born: January 8, 1959 / Died: March 26, 2005)
"MOVIES TODAY"
"MUSIC TODAY"
1955 – "The Ballad Of Davy Crockett" sung by Bill Hayes – and written by George Bruns & Tom Blackburn – peaks at #1 on the pop singles chart (it will stay there for five weeks).
1956 – Kay Starr had the #1 song in both the United States and the U.K. with "Rock And Roll Waltz".
1957 – Ricky Nelson recorded his first songs.
1965 – The Yardbirds announced that Jeff Beck would take Eric Clapton's place in the group
1966 – Ballads of the Green Berets by Sgt. Barry Sadler was the top album for the third week .
1969 – Marvin Gaye's version of "I Heard It Through the Grapevine" was #1 in the U.K.
1973 – Elton John released the single "Daniel".
1975 – Tommy, the movie based on the rock opera by the Who, premiered in London.
1977 – A brand new group consisting of both British and American musicians first appeared on the chart on this date and they would take the world by storm.  Foreigner's first hit song was "Feels Like The First Time".
1977 – "Rich Girl" by Hall & Oates was on top, but only briefly.  Wonder if there's a message in there for us all–if you're rich, you're really only on top briefly before everything comes crashing down.
1977 – The first single by Elvis Costello, "Less Than Zero", was released.
1983 – Duran Duran was mobbed by 4,000 screaming fans at an in-store appearance in New York City to promote their single "Is There Something I Should Know".
1983 –  Duran Duran reached #1 in the U.K. with "Is There Something I Should Know".
1983 – John Anderson goes to #1 on the Billboard country chart with "Swingin'"
1988 – "Man In The Mirror" from Michael Jackson moved to #1 on the R&B chart.
1983 – INXS debuted on the chart with their first single in the U.S. – "The One Thing".
1988 – Michael Jackson began a two-week stay at #1 with "Man In The Mirror".
1988 – Rick Astley remained at #1 on the Adult Contemporary chart with "Never Gonna' Give You Up".
1988 – British reggae band Aswad were at No.1 on the UK singles chart with 'Don't Turn Around.' Ace of Base scored a US No.1 hit in 1994 with their version of the Diane Warren song.
1990 – "Diamonds & Dirt" becomes Rodney Crowell's first gold album
1994 – Soundgarden debuted on the Album chart at #1 with Superunknown.
1996 – The Woman in Me the second studio album by Shania Twain was at No.1 on the Country chart.
2000 – Melanie C of the Spice Girls replaced former Spice Girl Geri Halliwell at #1 in the U.K. with "Never Be The Same Again", her duet with Lisa "Left Eye" Lopes of TLC.
2000 – Santana started a two-week run at No.1 on the UK album chart with 'Supernatural.' The album went on to win eight Grammy Awards including Album Of The Year, Record Of The Year (for Smooth) and Song Of The Year.
"TV/RADIO TODAY"
1960 – The television special Welcome Home Elvis, hosted by Frank Sinatra, was recorded at Miami Beach, Florida. Elvis Presley had recently been discharged from active duty in the United States Army. Presley and Sinatra sang duets of "Love Me Tender" and "Witchcraft".
1966 – Final episode of The Adventures of Ozzie and Harriet airs on ABC.
1967 – Television show Man on Wheels airs.
1969 – Pat Boone starred in an episode of The Beverly Hillbillies on CBS-TV.
1972 – Part 1 of Television show Michael O'Hara the Fourth airs.
1985 – Radio stations in South Africa banned all of Stevie Wonder's records after he dedicated the Oscar he had won the night before at The Academy Awards to Nelson Mandela.
1987 – Final episode of The Colbys airs on ABC.
1989 – Animated television movie Super Ducktales airs.
"OTHER IMPORTANT EVENTS"
1953 – Dr. Jonas E. Salk, announced a vaccine had been used safely and successfully used in preliminary trials on 90 children and adults as a polio vaccine, two years later the vaccine was released and given to every child in the United States.
1956 – Elvis Presley had a screen test for the first of three days at Paramount Studios in Hollywood.  Presley performed two scenes from The Rainmaker.
1976 – Anita Pallenberg the girlfriend of Rolling Stone  Keith Richards gave birth to a baby boy, Tara, (he died ten weeks later from pneumonia).
1982 – Groundbreaking ceremonies took place in Washington, D.C., for the Vietnam Veterans Memorial.
1990 – At the 62nd Academy Awards, Driving Miss Daisy won four awards including Best Picture and Best Actress for Jessica Tandy, the oldest person at the time to win a competitive acting Oscar.
1992 – Former heavyweight boxing champion Mike Tyson is sentenced to six years in prison for raping Miss Black Rhode Island, Desiree Washington. He was released in March 1995 after serving three years.
1997 – The bodies of 39 members of the Heaven's Gate cult were found dead in a California mansion all having committed suicide by ingesting a lethal mixture of phenobarbital and vodka.
1998 – Chuck Negron filed a suit against the other members of Three Dog Night, alleging that they had breached a 1990 settlement and interfered with his career.
PLEASE LET US KNOW IF THERE IS ANYTHING WE ARE MISSING, SHOULDN'T BE HERE OR NEEDS ADJUSTING. WE APPRECIATE YOUR ASSISTING US ON THE DYRT (DO YOU REMEMBER TODAY)