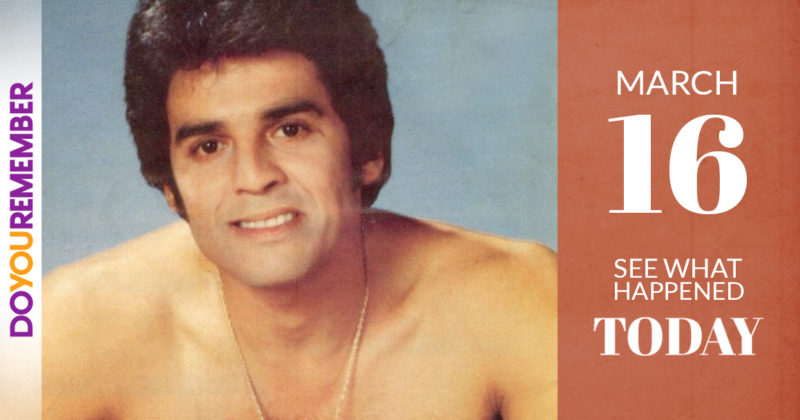 "BORN TODAY"
1986 – Alexandra Daddario
1986 – Nicole Trunfio
1978 – Brooke Burns
1978 – Sophie Hunter
1976 – Blu Cantrell
1975 – Sienna Guillory
1971 – Rupert Sanders
1971 – Alan Tudyk
1969 – Judah Friedlander
1967 – Tracy Bonham
1967 – Lauren Graham
1964 – Gore Verbinski
1964 – Patty Griffin
1959 – Flavor Flav
1954 – Nancy Wilson
1953 – Isabelle Huppert
1950 – Kate Nelligan
1949 – Erik Estrada
1949 – Victor Garber
1941 – Bernardo Bertolucci
1941 – Chuck Woolery
1926 – Jerry Lewis
1751 – James Madison (RIP)
"DIED TODAY"
Tammi Terrell (Born: April 29, 1945 / Died: March 16, 1970)
T-Bone Walker (Born: May 28, 1910 / Died: March 16, 1975)
Arthur Godfrey (Born: August 31, 1903 / Died: March 16, 1983)
Johnny Cymbal (Born: February 3, 1945 / Died: March 16, 1993)
Joseph Pope (Born: November 6, 1933 / Died: March 16, 1996)
Jakson Spires (Born: April 12, 1951 / Died: March 16, 2005)
"Movies Today"
1934  – Popeye the Sailor
1945 – Disney's Pluto short Dog Watch, directed by Charles Nichols, is released.
1960 – Islands of the Sea
1961 – The Absent-Minded Professor
1973 – The Crazies (also known as Code Name: Trixie)
1979 – The China Syndrome
1984 – Tank
1989 – Blind Fury
1990 – The Forbidden Dance
1990 – Lambada
1990 – Nuns on the Run
1990 – Lord of the Flies
"MUSIC TODAY"
1957 –  Mickey and Sylvia moved to #1 on the R&B chart with "Love Is Strange".
1959 –  The Platters moved to #1 in the U.K. with "Smoke Gets In Your Eyes".
1963 –  Skeeter Davis took over at #1 on the Easy Listening chart with "The End Of The World".
1963 –  The 4 Seasons continued to own the top song with "Walk Like A Man" for the third week.
1964 –  The Beatles sold 2,100,000 advance copies of their single "Can't Buy Me Love", setting a new record.
1965 –  The Rolling Stones had the top song in the U.K. with "The Last Time".
1968 –  Blooming Hits by Paul Mariat & His Orchestra was the #1 album for a third week.  Bob Dylan would have to settle for #2 with John Wesley Harding while the Jimi Hendrix Experience had #3–Axis – Bold As Love.
1968 –  Otis Redding had the top R&B song with "(Sittin' On) The Dock Of The Bay".
1968 –  "(Sittin' On) The Dock Of The Bay" began a five-week run at #1 on the U.S. charts.  The song was posthumously released in 1968 after Otis Redding died in a plane crash on December 10, 1967, three days after recording the song.
1970 –  Novelty artist Ray Stevens shocked everyone by coming up with the single "Everything Is Beautiful", which he released on this day.
1970 –  The Guess Who released the double-sided single "American Woman"/"No Sugar Tonight".
1974 –  Barbara Streisand's The Way We Were was atop the U.S. Album chart.  Joni Mitchell's excellent Court And Spark was #2 for a third week with previous #1 Planet Waves from Bob Dylan falling to third.
1974 –  John Denver reached #1 on the Adult chart with "Sunshine On My Shoulders".
1974 –  Terry Jacks made it three straight weeks at #1 with "Seasons In The Sun".
1977 –  Paper Lace owned the top song in the U.K. with "Billy Don't Be A Hero".
1981 –  REO Speedwagon released the single "Take It On The Run".
1985 –  Julian Lennon had the #1 Adult Contemporary song with "Too Late For Goodbyes".
1985 –  The Commodores achieved #1 on the R&B chart without Lionel Richie with the song "Nightshift".
1985 –  Make It Big by Wham was #1 on the Album chart for a third week, just ahead of Centerfield from John Fogerty and Born in the U.S.A. from Bruce Springsteen.
1991 –  Mariah Carey had the #1 song with "Someday".
1991 –  Gloria Estefan's great song "Coming Out Of The Dark" was #1 on the Adult Contemporary chart.
1991 –  The self-titled debut Mariah Carey was #1 on the Album chart for a third week.
1996 – Garth Brooks gains a #1 single in Billboard with "The Beaches Of Cheyenne"
1998 –  Popular television and movie star Will Smith had a number one song with "Gettin' Jiggy 'Wit It".
1998 – LeAnn Rimes' debut single, "Blue," is certified gold
Other Important Events…
1972 –  Neil Diamond performed at the Royal Albert Hall in London.
1972 –  John Lennon and Yoko Ono were served with deportation papers.  Lennon immediately filed an appeal with the U.S. Immigration Office in New York City.
1973 – David Cassidy played the first of six sold out shows at the Empire Pool, Wembley.
1974 –  Elvis Presley played the first of four concerts (two shows on March 16, and evening shows on the 17th and 20th) at the Mid-South Coliseum in Memphis, Tennessee.
1974 – Embattled US President Richard Nixon dedicates the new multimedia auditorium in Nashville that will serve as the new home of the long-running "Grand Ole Opry" show. Then, at the behest of Roy Acuff, he sticks around to perform "Happy Birthday," "My Wild Irish Rose," and "God Bless America" on piano. (No, really.)
1984 – William Buckley, the CIA station chief in Beirut, was kidnapped by gunmen. He died while in captivity.
1988 – Mickey Thompson and his wife Trudy were shot to death in their driveway. Thompson, known as the "Speed King," set nearly 500 auto speed endurance records including being the first person to travel more than 400 mph on land.
1991 –  Seven members of Country singer Reba McEntire's band and her road manager were among 10 people who were killed when their private jet crashed in California just north of the Mexican border. McEntire, who had given a private concert in San Diego for IBM employees the night before, was not on the plane.
1992 – During a Metallica gig at Orlando Arena fans dangled an usher by his ankles from the balcony as trouble broke out at the concert. The band were charged $38,000 for repairs and cleaning after the audience trashed the building.
1992 – The Dapper Dans film one of the opening segments of The Magic of Christmas At Disneyland (a souvenir video which is available during the holidays only at the Anaheim park).
1994 – Tonya Harding pled guilty in Portland, OR, to conspiracy to hinder prosecution for covering up the attack on her skating rival Nancy Kerrigan. She was fined $100,000. She was also banned from amateur figure skating.