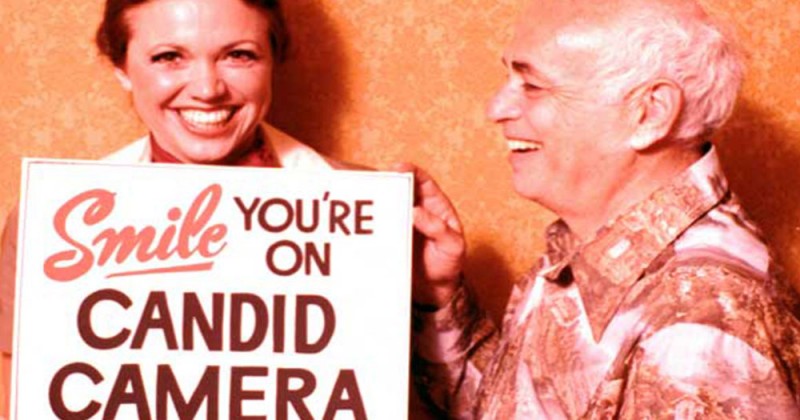 "Reality shows are everywhere nowadays, but did you know that the now ubiquitous genre had its start on the radio? Back in 1947, before every American had a television set, producer Allen Funt had the brilliant idea of playing practical jokes on unsuspecting civilians while taping them for the voyeuristic enjoyment of the listening audience. The idea blossomed into Candid Microphone, which eventually became Candid Camera. One of the longest running programs in TV history, the show has been on and off the air for more than half a century, but is now back on the TV Land network. Today we're taking a look back at the early days of the show that made people smile at being caught with their metaphorical pants down on camera.
Bowling Alley
Allen Funt was the host and narrator of the show from its inception until 1993, when his son, Peter, who had co-hosted several times with his father, took over the duties. The Funts became almost as endemically tied to the franchise as its tagline, "Smile, you're on Candid Camera."
Woody Allen Dictates a Letter
Early versions of the show had celebrities and comedians guest-starring as the naughty pranksters. Here Woody Allen, long before his days behind the camera, plays the role of an uncouth executive dictating a steamy letter to his new stenographer. For those of you who don't remember, before Microsoft Office, typing things was its own profession.
Ice-Cream Cone Challenge
Another genre of gags consisted of having adorably chubby-cheeked children do the most absurd challenges for a sugary reward. This joke is hilarious because we've all had to use non-traditional appendages to jiggle open a door. Here's a tip from a seasoned pro: Use your inner thighs, kids.
Buster Keaton on CC
The Great Stone Face made an appearance on CC, bringing his own comedic flair to the series. The iconic silent-film star makes his way to a lunch counter and sits down next to some patrons who have no idea who he is. Hilarity ensues as diners get a glimpse of the physical comedy that made Keaton a star in the era before the talkies.
Car Without a Motor
It's incredible how people's emotions can turn on a dime when they're told they're on television. In this clip, Good Samaritans get more than they bargained for when they offer to help a woman with engine trouble and discover the motor itself is missing in action. The exasperated strangers grow buoyant within a matter of seconds after they're let in on the gag.