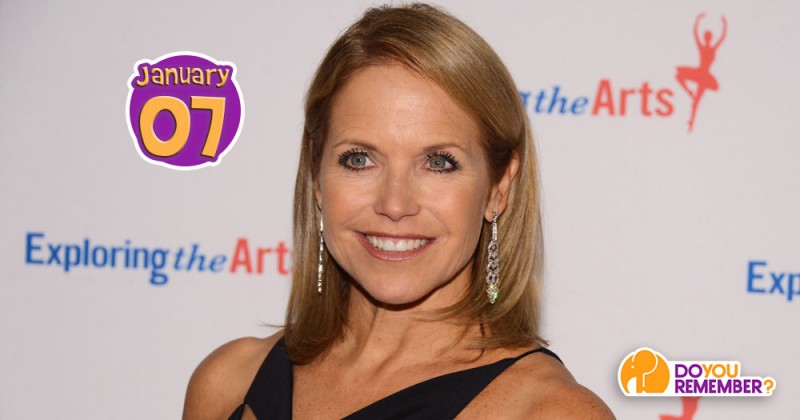 "Birthdays"
Liam Aiken (27)

Michael Sam (27)

Haley Bennett (29)

Lyndsy Fonseca (30)

Lewis Hamilton (32)

Lauren Cohan (35)

Ruth Negga (35)

Brett Dalton (34)

Ivan L. Moody (37)

Dustin Diamond (40)

John Rich (43)

Jeremy Renner (46)

Doug E. Doug (47)

Rex Lee (48)

Nicolas Cage (53)

Christian Louboutin (54)

Rand Paul (54)

Hallie Todd (55)

Kathy Valentine (58)

Donna Rice (59)

Katie Couric (60) Featured Above

David Caruso (61)

Sammo Hung (65)

Erin Gray (67)

Kenny Loggins (69)

Jann Wenner (71)

Juan Gabriel (RIP)

Butterfly McQueen (RIP)
Death Anniversaries 
Andre Courreges (Born: March 9, 1923 / Died: January 7, 2016)

Nikola Tesla (Born: July 10, 1856 / Died: January 7, 1943)

Magnus Magnusson (Born: October 12, 1929 / Died: January 7, 2007)
"Movies"
"Music"
1961 – Johnny Tillotson had the #1 U.K. song with "Poetry In Motion".

1971 – Black Sabbath released 'Paranoid' their second studio album in the US.

1972 – David Bowie released 'Changes' as a single in the UK.

1974 – Cher released the single "Dark Lady".
1978 – Con Funk Shun moved to #1 on the R&B chart with "Ffun"

1978 – Billy Joel had the new #1 Adult song with "Just The Way You Are".

1978 – Fleetwood Mac's Rumours, already the record holder for weeks at #1 with 29, returned to #1 on the Album chart after 46 weeks of release.  

1980 – Pink Floyd released 'Another Brick In The Wall (Part 2)' in the US. The single peaked at No.1 on both the US and UK charts, giving Pink Floyd their first and only No.1 hit single.

1989 – Roberta Flack achieved a #1 R&B song with "Oasis".
1992 – Eric Clapton released the single "Tears In Heaven".

1994 – Oasis started recording their debut album Definitely Maybe at Monnow Valley Studio in South Wales.
"TV & Radio"
1940 – "Gene Autry's Melody Ranch" debuted on CBS Radio. The show aired for 16 years.

1941 – The NBC Blue radio network presented "The Squeaky Door" for the first time. The show was later known as "Inner Sanctum.

1964 – The Beatles recorded a seven-song appearance for the BBC Radio program Saturday Club. The show was broadcast on February 15, while the Beatles were in the US.
"Other Important Events…"
1789 – Americans voted for the electors that would choose George Washington to be the first

U.S.president.
1894 – W.K. Dickson received a patent for motion picture film.
1926 – George Burns and Gracie Allen were married.
1927 – In Hinckley IL, the Harlem Globetrotters played their first game.
1929 – The debut of "Buck Rogers 2429 A.D." occurred in newspapers around the U.S. The title of the comic strip was later changed to "Buck Rogers in the 25th Century."
1953 – U.S. President Harry Truman announced the development of the hydrogen bomb.
1954 – The Duoscopic TV receiver was unveiled this day. The TV set allowed the watching of two different shows at the same time.
1980 – U.S. President Jimmy Carter signed legislation that authorized $1.5 billion in loans for the bail out of Chrysler Corp.
1990 – The Leaning Tower of Pisa was closed to the public. The accelerated rate of "leaning" raised fears for the safety of its visitors.
1998 – Former White House intern Monica Lewinsky signed an affidavit denying that she had an affair with U.S. President Clinton.