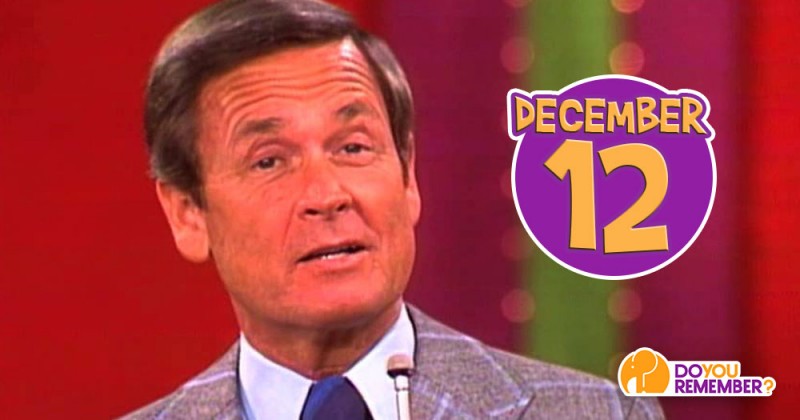 "Born Today"
Kate Todd (29)

Bridget Hall (39)

Maren Ade (40)

Mayim Bialik (41)

Hank Williams III (44)

Madchen Amick (46)

Regina Hall (46)

Jennifer Connelly (46)

Sheree Wilson (58)

Sheila E. (59)

Cathy Rigby (64)

Bill Nighy (67)

Paula Wagner (70)

Dionne Warwick (76)

Connie Francis (78)

Bob Barker (93) Featured Above

Frank Sinatra (RIP)
"Died Today"
Douglas Fairbanks Sr. (

Born

: May 23, 1883 /

Died

: December 12, 1939

)

Tallulah Bankhead (

Born

: January 31, 1902 /

Died

: December 12, 1968

)

Ian Stewart (

Born

: July 18, 1938 /

Died

: December 12, 1985

)

Peter Boyle (

Born

: October 18, 1935 /

Died

: December 12, 2006

)

Ike Turner (

Born

: November 5, 1931 /

Died

: December 12, 2007

)
"Movies"
"Music"
1955 – Bill Haley & the Comets recorded "See You Later Alligator".

1963 – The Beatles were at No.1 on the UK singles chart with 'I Want To Hold Your Hand', the group's third No.1 (and first Amercan No.1) and this year's UK Christmas No.1.

1970 – Smokey Robinson and the Miracles started a two week run at No.1 on the US singles chart with 'Tears Of A Clown'. It was the group's 26th Top 40 hit and first No.1, and also a No.1 hit in the UK.

1970 – The Doors played what would be their last ever live show with Jim Morrison when they played at the Warehouse in New Orleans.

1970 – "Stoned Love" by the Supremes was the new #1 R&B song.

1981 – The Human League had their only UK No.1 single with 'Don't You Want Me.' The Christmas hit of 81, the biggest seller of 1981 and Virgin Records first No.1 UK single.

1987 – George Michael started a four week run at No.1 on the US singles chart with 'Faith'. Taken from the album of the same name, it became the top-selling single of the year in the US in 1988.

1987 – Good news for Michael Jackson–"The Way You Make Me Feel" was the new #1 song on the R&B chart.

1992 – Whitney Houston started a twenty-week run at No.1 on the US album chart with 'The Bodyguard'.

1998 – A seven inch single by the Quarry Men featuring John Lennon, Paul McCartney and George Harrison was named as the rarest record of all time, only 50 copies were made with each copy being valued at $20,500.
"TV & Radio"
1901 – The first radio signal to cross the Atlantic was picked up near St. John's Newfoundland, by inventor Guglielmo Marconi.

1980 – Marie Osmond began her television series on NBC.
"Other Important Events…"
1897 – The comic strip"The Katzenjammer Kids" (Hans and Fritz), by Rudolph Dirks, appeared in the New York Journal for the first time.

1951 – The U.S. Navy Department announced that the world's first nuclear powered submarine would become the sixth ship to bear the name Nautilus.

1957 – Still married to his first wife Jane Mitcham, Jerry Lee Lewis secretly married his 13-year old second cousin Myra Gale Brown.

1985 – Dionne Warwick earned a star on the Hollywood Walk of Fame.

1994 – IBM stopped shipments of personal computers with Intel's flawed Pentium chip.

1997 – The

U.S.

Justice Department ordered Microsoft to sell its Internet browser separately from its Windows operating system to prevent it from building a monopoly of Web access programs.

1997 – Denver Pyle received a star on the Hollywood Walk of Fame.