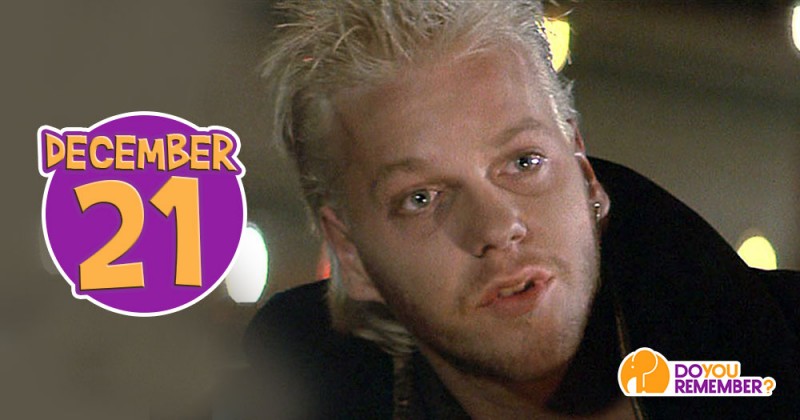 "Born Today"
Tom Sturridge (31)

Steven Yeun (33)

Tom Payne (34)

Shaun Morgan (38)

Lukas Rossi (40)

Natalie Grant (45)

Julie Delpy (47)

Kiefer Sutherland (50)

Andy Dick (51)

Ray Romano (59)

Jane Kaczmarek (61)

Jeffery Katenberg (66)

Samuel L. Jackson (68)

Jane Fonda (79)

Frank Zappa (RIP)
"Died Today"
H.B. Warner (Born: October 26, 1875 / Died: December 21, 1958)

Robert Paige (Born: December 2, 1911 / Died: December 21, 1987)

Albert King (Born: April 25, 1923 / Died: December 21, 1992)
"Movies"
"Music"
1963 – The #1 song on the Adult Contemporary chart was "Dominique" by The SInging Nun

1968 – Glen Campbell's "Wichita Lineman" was the #1 song on the Adult Contemporary chart

1968 – "I Heard it Through the Grapevine" was #1 for its second week
1974 – Chicago reached #1 with "Wishing You Were Here"

1983 – Van Halen released the single "Jump"
1985 – Heart's self titled album was #1 on the Billboard 200

1985 – "Say You, Say Me" by Lionel Richie continued to top the charts
1991 – "I Love Your Smile" by Shanice was the #1 R&B song

1991 – Richard Marx's hit "Keep Coming Back" topped the Adult Contemporary chart
"TV/Radio"
1945 – The Disney short

Old Sequoia

premiered.
https://youtu.be/wbeZrhoFVZ0
1969 – The Supremes had their final television appearance with Diana Ross on

The Ed Sullivan Show.
"Other Important Events…"
1937  – Disney's first full length animation

Snow White and the Seven Dwarfs

premiered.

1968 – Apollo 8, the first spacecraft to leave Earth's orbit and orbit the moon, was launched.