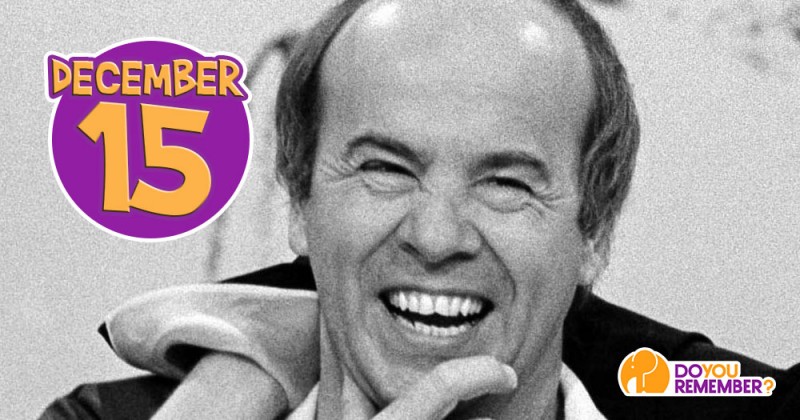 "Born Today"
Ronnie Radke (33)

Camilla Luddington (33)

Charlie Cox (34)

Michelle Dockery (35)

Brendan Fletcher (35)

Adam Brody (37)

Geoff Stults (39)

Surya Bonaly (43)

Stuart Townsend (44)

Imani (45)

Michael Shanks (46)

Helen Slater (53)

Donna Brazile (57)

John Lee Hancock, Jr. (60)

Julie Tamer (64)

Don Johnson (67)

Rodney Bingenheimer (69)

Dave Clarke (74)

Cindy Birdsong (77)

Tim Conway (83) Featured Above

Gustave Eiffel (RIP)
"Died Today"
Walt Disney (Born: December 5, 1901 / Died: December 15, 1966)

Joan Fontaine (Born: October 22, 1917 / Died: December 15, 2013)
"Movies"
"Music"
1962 – "Big Girls Don't Cry" remained the #1 song for its fifth week on the Adult Contemporary chart

1962 – Steve Lawrence was #1 on the charts with his single "Go Away Little Girl"
https://youtu.be/unu3bhxPd_g
1964 – The album

Beatles '65

was released

1973 – Helen Reddy remained on top of the Adult charts with "Leave Me Alone (Red Ruby Dress)"

1973 – Charlie Rich was #1 with the single "The Most Beautiful Girl"
1979 – "Babe" by Styx was the #1 song

1984 –

Purple Rain

stayed the #1 album for its 20th week

1990 – Ralph Tresvant had the top song on the R&B chart with "Sensitivity"
1990 –

To The Extreme

by Vanilla Ice was the #1 album
"TV & Radio"
1950 – The Donald Duck short

Out on a Limb

was released

1968 – Grace Slick appeared in blackface when Jefferson Airplane appeared on the "Smothers Brothers" TV show on CBS.
1977 – The Sex Pistols were denied visas to enter the U.S. only two days before they are to appear on NBC's "

Saturday Night Live

."

1994 – "Elvis – The Tribute" aired on ABC-TV.
1999 – Garth Brooks said on TNN's "Crook & Chase" show that he planned to keep an "extremely low" profile in 2000 and that he would "probably" announce his retirement at the end of the year.
"Other Important Events…"
1877 – Thomas Edison patented the phonograph.

1938 –

U.S. President Franklin D. Roosevelt

presided over the ground-breaking ceremonies for the Jefferson Memorial in Washington,

DC

.

1939 – "Gone With the Wind," produced by David O. Selznick based on the novel by Margaret Mitchell, premiered at Loew's Grand Theater in Atlanta. The movie starred Vivien Leigh and Clark Gable.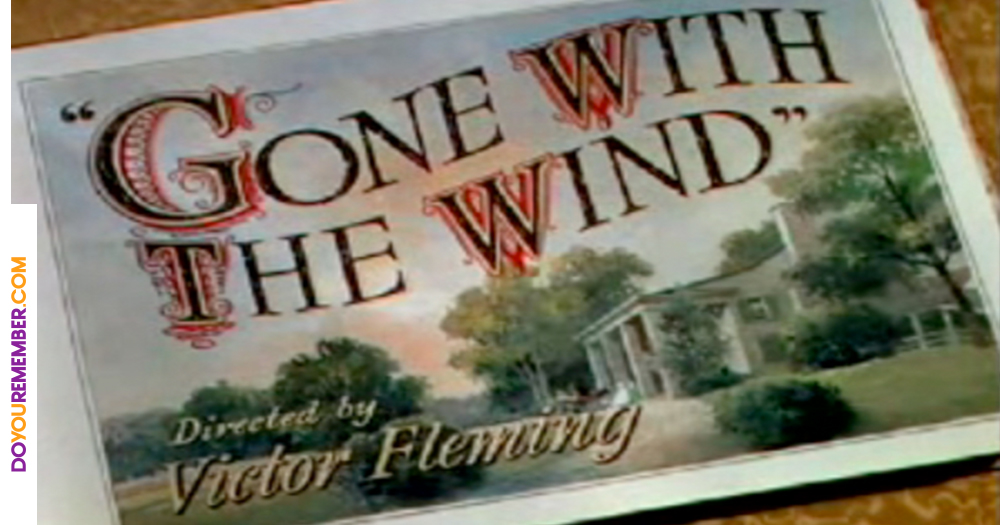 1941 –

U.S. President Franklin D. Roosevelt

signed into practice Bill of Rights Day.

1964 – Canada's House of Commons approved a newly designed flag thereby dropping the Canadian "Red Ensign" flag.