Peter Frampton  announced a farewell tour in light of the revealing of a degenerative muscle disease diagnosis. He will be releasing a double album this summer, which will be the first release of his in three years. He will then be on tour for about 50 dates before fully retiring due to his health.
The disease is called inclusion body myositis. The disease causes muscles to weaken over time but, thankfully, it is not known to affect overall life expectancy. While the disease would not affect his singing voice/vocal cords, it will affect his ability to move his fingers along his instruments over time.
"In a year's time, I might not be able to play," Frampton said to Rolling Stone amid the announcement of his tour, "I want to record as much as I can in the shortest space of time."
Frampton also told Rolling Stone about the warning signs of the disease that he experienced over the course of the last few years. He said he noticed tightness in his ankles around eight years ago and he fell on stage while trying to kick a beach ball about four years ago. He has also tripped over a guitar cord onstage and was unable to put things in overhead compartments on planes.
While all of these shortcomings seem like not a huge issue, they were ultimately leading up to the eventual diagnosis of his degenerative muscle disease. However, according to Frampton, he also told Rolling Stone that only his children and his band members knew about the diagnosis for four years.
There is no traditional medicine to treat the specific disease that he has, but he has been exercising every day and hoped to participate in drug trials in the future. According to Frampton, now seemed like the appropriate time to let the public in on his long-kept secret.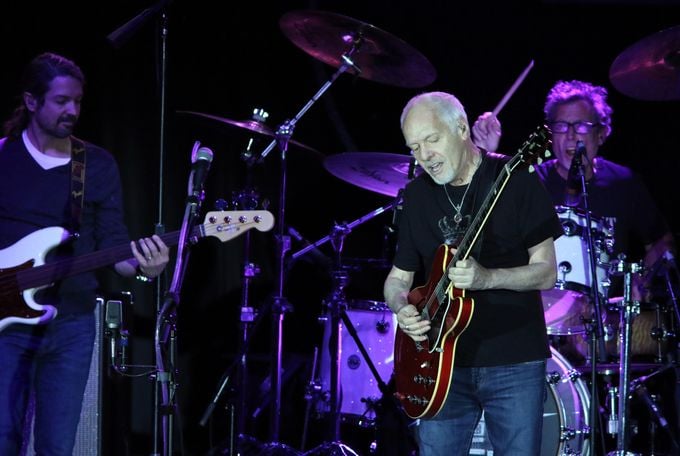 Frampton has also revealed that $1 from every ticket sale for his tour will go toward a fund he started with Johns Hopkins University to research myositis.
"Maybe a huge door is closing in my life, but then there's lots of other doors that open," he said. He has sadly confirmed that the disease has already begun to affect his fingers, but he can still play guitar fairly well at this time. "If I'm going to do a farewell tour, I want to play good… I want to rock it. I know that this tour, I will be able to do everything I did last year and the year before. That's the most important thing to me. I want to go out screaming as opposed to, 'He can't play anymore.'"