7. He had a Top 5 hit song
Willis was so popular in the '80s, it's safe to say the public indulged him a little. Thus, 'The Return of Bruno,' Willis' 1987 soul album released on the venerable Motown label. The album — which was boosted by back-up from R&B legends like The Temptations and Ruth Pointer from The Pointer Sisters — was a moderate success thanks to Willis' cover of the soul classic 'Respect Yourself.' Willis released one more album, 'If It Doesn't Kill You, It Just Makes You Stronger,' in 1989 before refocusing his career back to acting. Though that hasn't stopped Bruce from showcasing his pipes on everything from 'Rugrats Go Wild' soundtrack to a spoken word track off the Blues Traveler album 'North Hollywood Shootout.'
8. He had his own cartoon
Willis found another way to expand the "Bruno" franchise with the 1996 animated series 'Bruno the Kid.' The actor provided the voice for the title character, a small kid with a receding hairline (see the resemblance?) who lived a double life as an ordinary 11-year-old and a secret agent working for a government agency. Willis also sang the show's theme song (naturally), adding another notch to his short-lived music career.
9. He was married to Demi Moore by Little Richard
Bruce's famous marriage to fellow superstar Demi Moore added to Hollywood's long list of power couples and rocker Little Richard was the one who literally brought them together. Moore and Willis were married in Las Vegas by Little Richard who became a religious minister later in his career, shortly after the death of his mother. The flamboyant singer has also conducted nuptials for such celebrities as Cindy Lauper and Bruce Springsteen.
10. He put a $1 million bounty on Saddam Hussein and Osama Bin Laden
Willis has been an outspoken political supporter of Republican presidential candidates such as Fred Thompson and George W. Bush. He has also made his personal views on Operation Iraqi Freedom and the "War on Terror" well known in interviews and visits with military personnel. He actually put out not one, but two, bounties on enemy combatants Saddam Hussein and Osama Bin Laden for their capture. He originally wanted to make the offer to members of the military but couldn't because U.S. military personnel aren't allowed to accept rewards for their work outside of their government pay. So he left the offer open to any civilian who completed the mission instead.
11. He personally recommended Michael Clarke Duncan for 'The Green Mile'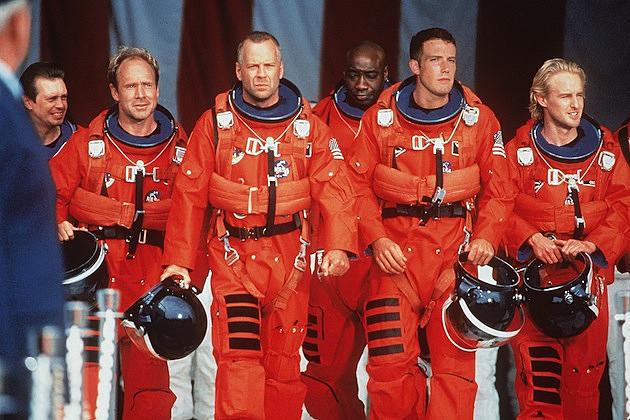 The late Michael Clarke Duncan became a household name with his memorable performance in the supernatural drama 'The Green Mile' opposite Tom Hanks. Interestingly enough, he actually had Willis to thank for scoring him his Oscar-nominated role.
Green got his big break with the action epic 'Armageddon' after working around Hollywood as a bodyguard for big-name stars like Will Smith and LL Cool J. Willis got to read a copy of the script for 'The Green Mile' and thought MCD would be perfect for the role of John Coffey. So he personally called writer/director Frank Darabont and recommended him for the role. Willis and Duncan later worked together in the films 'Breakfast of Champions,' 'The Whole Nine Yards' and 'Sin City.'
12. He starred in 'The Sixth Sense' because he owed Disney for sinking another film
One of Willis' most memorable performances in recent years was a child psychologist Dr. Malcolm Crowe in M. Night Shyamalan's 'The Sixth Sense.' However, it wouldn't have happened if he hadn't caused the cancellation of another film project. Willis had been tapped to star in a Disney-backed hockey movie called 'The Broadway Brawler,' but tensions arose between Willis and the filmmakers. Willis had a producer credit and abruptly stopped the production by firing the director and just about everyone else in the crew. 20 days into the project, he walked off the set, successfully killing the film.
Disney chairman Joe Roth didn't want to see Willis or the studio embroiled in a lengthy legal battle, so he convinced Willis to make amends by committing to at least two other films with the Mouse House. Those movies ended up being the sci-fi comedy drama 'The Kid' and the far-more-memorable blockbuster 'The Sixth Sense.'
Credits: thefw.com
Share this story on Facebook with your friends.