We all remember the TV sitcom Mama's Family, the American television sitcom starring Vicki Lawrence as Thelma Harper (Mama). The show is a spin-off of a recurring skit on the The Carol Burnett Show called "The Family", which led to the made-for-TV movie, Eunice, and finally the television series. The show starred with Vicki Lawrence (Mama), Carol Burnett (Eunice), Harvey Korman (Ed) and Betty White (Ellen).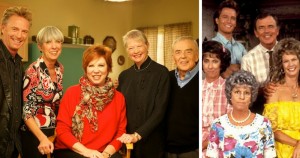 There are things you probably didn't know about America's beloved, comical family…
All of

Vicki Lawrence

's on-screen children (

Ken Berry

,

Carol Burnett

and

Betty White

) are older than her by at least 16 years.
There was no pilot made
There were two different houses shown in the opening credits

MeTV

ORIGINAL OPENING:

THE LATER OPENING:
The Instrumental Theme Song Actually Had Lyrics
CLICK HERE TO READ THE FULL FACTS
Were you a fan? What was your favorite episode of Mama's Family?