Saying goodbye to a pet is never easy. They become one of your own, a true family member, and it feels like a massive loss when they're gone that lingers for a long time to come. Well, this 90-year-old man is a neighbor to this furry friend and his owner. Bailey, the dog, was dying and their friendly elderly neighbor would come over daily to give Bailey treats and play.
In the video, the owner is recording the 90-year-old who swiftly gets down on his knees to pet the dog who is laying down on the grass. "My 90-year-old neighbor came to say goodbye to my dog…" the caption on top of the video reads.
90-year-old man says goodbye to his furry friend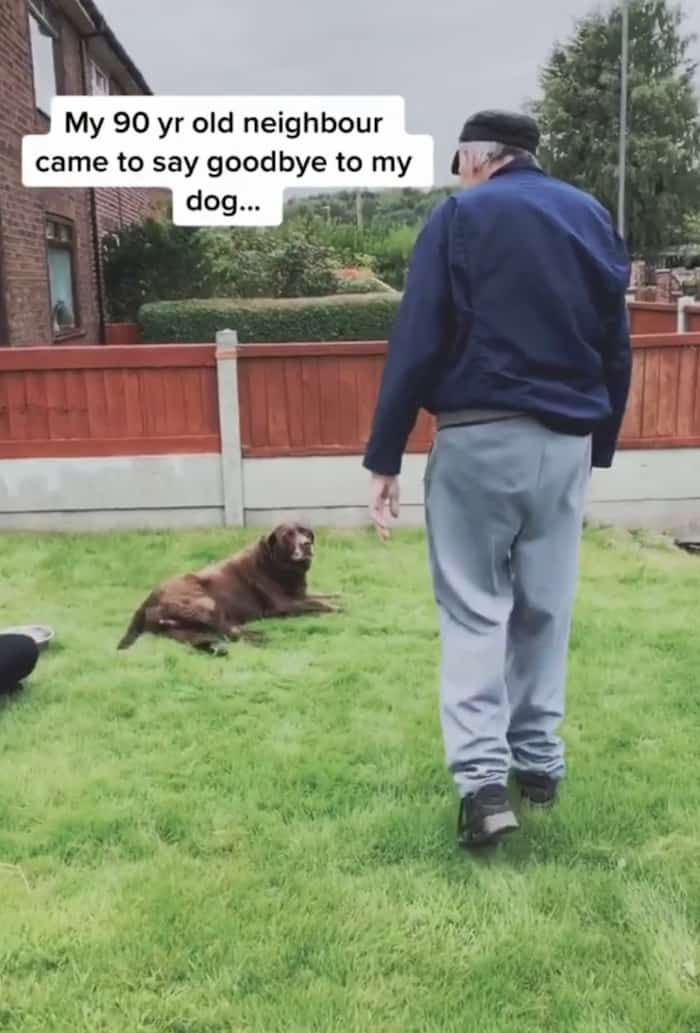 "She was so happy to see him," the caption continues. "He gave her a biscuit every day. They adored each other. It broke my heart to watch them together one last time." The video then shows the elderly man cupping water from the dog's water bowl into his hands to make sure she gets a sip. "2 friends saying their last goodbyes," the caption concludes.
RELATED: 20-Year-Old Dog Becomes Oldest Golden Retriever In History
The video ends with the man continuing to cup water into the dog's mouth as music plays as an overlay for added effects. The original video was posted on TikTok and it's not clear why the dog had passed away or what the man's name was, but it's heartwarming and heartbreaking at the same time, to say the least. Watch the video below to watch this man say goodbye to his furry friend for the last time.