Disney World announcing its first-ever Mary Poppins attraction.

It will take place within Epcot and will play a big role in the 11 featured countries.

There's no telling if it will be a show or a ride.
Epcot will be opening up Disney World's first-ever Mary Poppins attraction! For fans of the iconic 1964 movie with Dick Van Dyke and Julie Andrews, this should be great fun! Dick Van Dyke took the stage at Disney's D23 Expo fan convention recently to unleash the news to fans.
Epcot will also be expanding in other ways, too, as Epcot's United Kingdom opens its own version of Cherry Tree Lane. This will allow fans to walk on cobblestone streets just like Jane and Michael Banks!
What we know about the 'Mary Poppins' attraction
There were no additional details given on what the new park will consist of, or whether it will be a show or a ride. Either way, we're all very excited to see what becomes of it! Currently, Epcot is undergoing quite the transformation and will be seeing an entire re-theming of the whole park. The newest Mary Poppins attraction ties into adding some cinematic flair to each of the 11 featured countries in Epcot.
With this being said, it's worth noting that Norway's pavilion has Frozen and the United Kingdom pavilion has a Mary Poppins meet-and-greet. It sounds pretty likely that the United Kingdom pavilion may be taken over with this brand new attraction!
Other things to expect in the near future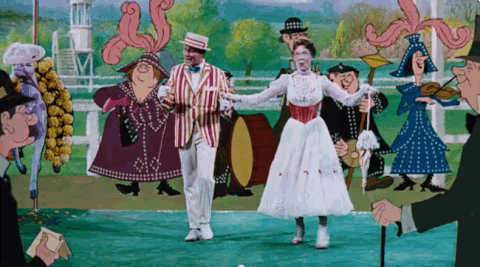 Furthermore, the France pavilion will be honoring none other than Beauty and the Beast in a new sing-along show. It will also be honoring Ratatouille with a new ride opening in 2020. Disney World will also be incorporating its current box-office hits such as Pixar's Coco with a live puppet show, interactive exhibit, and marketplace stalls.
In the near future, park-goers may also note that there will be a Moana princess and Guardians of the Galaxy superhero squad. It's safe to say that the Mary Poppins additions are easily the most historic given how far this movie dates back to.
A new poster featuring Mary Poppins floating above Cherry Tree Lane and the London skyline was also featured at Disney's D23 Expo fan convention. We're so excited to hear more about this new Disney World venture!
Have you ever met Mary Poppins at any of the Disney parks? She's an absolute delight! Check out the video below of a park-goer meeting Mary Poppins!